alt_N.O.R.D.
Participants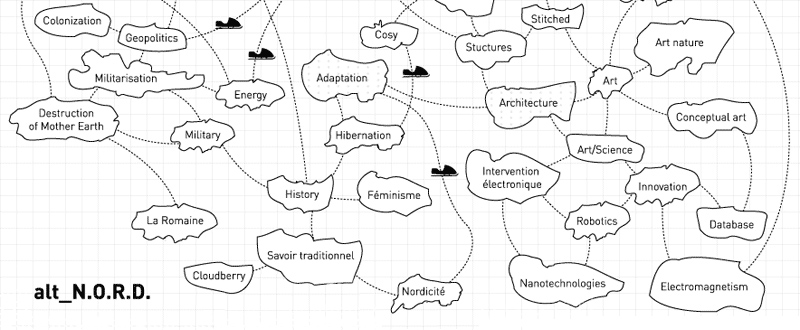 Saturday, February 27, 2010
4:30-6:30PM
PARC DE LA PAIX (Beside SAT: Corner of St-Laurent and René-Lévesque Blvds.)
A discussion/workshop on nordicity + hacking winter & the city
Participants / Projects:
Sophie Le-Phat Ho * Guest Curator
Keywords: circuits, cloudberry, colonialism, energy, feminism, militarization, Plan Nord, La Romaine, climate change
Sophie Le-Phat Ho is a researcher and cultural organiser from Montreal. She completed her coursework in Environmental studies and earned a Master's Degree in Anthropology of Health and the Body in the 21st Century at Goldsmiths College, University of London. She is the co-founder of Artivistic and works at the intersection of art, science and activism. www.artivistic.org
+++++++++++++++
Nina Segalowitz * Moderator
One of the issues that I enjoy discussing is Inuit identity and the evolution of Inuit culture, as more and more Inuit move south to large cities. I grew up in a non-native home and have since discovered who I am. Along the way, I looked at how Inuit were portrayed in the media and society, as well as how we measure each other and the consequences of our judgement.
Keywords: contemporary culture, city life, history, identity, moving forward
Nina Segalowitz is from Fort Smith, Northwest Territories. She grew up in Montreal in a Jewish-Filipino family. She reconnected with her community at the age of 18. She strongly believes in the rights of Aboriginal children, women and men. Her strength comes from being able to walk in two worlds and help each side hear the other.
+++++++++++++++
Mouna Andraos * Courtepointe d'hiver
The winter installation Courtepointe d'hiver will premier amongst the park's snowy banks. This outdoor quilt, composed of three sections measuring 14′ x 8′, is portable and retractable, and can be installed almost anywhere within the urban environment. Within the context of alt_N.O.R.D., the piece marks a meeting space that welcomes hours of discussion and exchange to take place.
Keywords: cozy, oversized, stitched
Mouna Andraos reinvents everyday electronic objects with a touch of poetry, humanity or humour, feeding into conversations about the role of new technologies in our environment. She is the SAT's current Artist in Residence.
+++++++++++++++
Sofian Audry * Absences
A presentation based on the hibernating electronic intervention developed in Dawson City, Yukon as part of the series Absences (2009) will be given.
Keywords: adaptation, art in nature, electronic intervention, hibernation
Sofian Audry holds a Bachelor's Degree in Computer Sciences and Mathematics, a Master's Degree in Computer Science from the Université de Montréal and a second Master's Degree in Communication from the Université de Québec à Montréal. Since 2004, he has developed various installations and web projects, both individually and collectively. He joined the artist-run centre Perte de Signal in 2005. His work has been presented in Canada, Europe and Asia in various exhibitions and festivals.
+++++++++++++++
Matthew Biederman * Arctic Perspective Initiative
A brief overview and project report on the Arctic Perspective Initiative's current and future work will be discussed.
Keywords: architecture, art/science, geopolitics, mobility, tactical media
New media artist Matthew Biederman is a member of the Arctic Perspective Initiative, an international art/science group working toward the implementation of an open-source media-centric mobile architecture in the circumpolar regions. www.arcticperspective.org
+++++++++++++++
Julie Bourbonnais & Lucie Paquet * 138 vs. 1
Subjective documentation: a comparative look at the architecture along the roads of Route 138, Côte-Nord, Quebec and Road 1, Ring Road, Iceland.
Keywords: architecture, database, nordicité
Lucie Paquet holds a Master's Degree in Architecture. She is interested in the database as urban concept and the particularities of architecture within northern climates. Scenographer by trade, Julie Bourbonnais is interested in documentation as artistic process. She prefers winter to summer and eagerly await this winter's snowfall.
+++++++++++++++
Moe Clark & Emilie Monnet * Bird Messengers
We feel deeply concerned with the destruction of Mother Earth and Indigenous ways of living. It is our intention to bridge the wisdom of Indigenous peoples of the Americas, from the past, present and future generations, through storytelling and song. Through ethical transmission, reflection and artistic action, we wish to celebrate traditional knowledge with contemporary performance that defies convention. This is how we hope to contribute toward a better world.
Keywords: colonization, destruction of Mother Earth, community collaboration, elders-youth, indigenous peoples of the Americas, multidisciplinary performance, teachings on how to live a good life
Bird Messengers is an independent collective of two Aboriginal female performance artists.
+++++++++++++++
Gretchen King & Squatter Andy * Homelessness Marathon
CKUT 90.3's eighth annual Homelessness Marathon will once again serve up 14 hours of people-powered radio, broadcasting this year from multiple cities across Canada. With the goal of being a consciousness-raising event, the Marathon will provide an opportunity for homeless people and their allies to take to the airwaves, and allow a nationwide discussion on homelessness issues and possible solutions.
Keywords: campus-community radio, homelessness, poverty
Gretchen King and Squatter Andy co-founded the Homelessness Marathon in Canada in 2003. Gretchen King has worked in radio since 1998 and sought to use the medium as a resource for popular mobilizations, including poor people's struggles. Squatter Andy has organized among Montreal's poor all of his life and was an active participant with his family in the Overdale/Préfontaine Squat of 2001.
+++++++++++++++
Véronique Meunier * contracted researcher for the Agence d'efficacité énergétique du Québec
"There's no such thing as bad weather, only bad clothes." — Norwegian lore
Keywords: adaptation, traditional knowledge, innovation, nanotechnologies
Veronique Meunier has a Master's Degree in Architecture. She is an amateur researcher studying how to better adapt Northern and Arctic buildings to the distinctive populations of these regions. With a certain degree of scepticism, she first and foremost views her surroundings in search of aesthetic pleasure.
+++++++++++++++
Pieter Sijpkes * Experiments in Ice
Pieter Sijpkes will report on over 30 years of experimenting with ice and snow. He has worked large scale, outside, with ice blocks, cast snow and nylon-reinforced ice, and small scale, inside, using rapid prototyping with robots in a freezing environment.
Keywords: ice, snow, structures, robotics
Pieter Sijpkes is an architect who has taught at McGill for over thirty years. A native from Holland, he has always been fascinated by the abundance of snow and ice in Quebec. One of his key interests is social and physical structures. Snow and ice structures have been one of the fields he has researched and experimented with over the years.
+++++++++++++++
Charles Stankievech * Magnetic Norths
Produced by the Leonard & Bina Ellen Gallery, this project includes an exhibition, film screenings, radio broadcasts, writings and talks that explore a 500-year history of experimentation and exploration in the Canadian Arctic.
Keywords: colonialism, communication, conceptual art, electromagnetism, military
Charles Stankievech is a conceptual artist whose work has been featured in the Venice Biennale of Architecture, Palais de Toyko, Paris, and Eyebeam. His writings have been included in academic journals from MIT and Princeton Architectural Press, as well as critical anthologies and artist catalogues. A co-founder of the KIAC School of Visual Arts in Dawson City, Yukon, Stankievech spends his time between the Arctic and Montreal. www.stankievech.net
+++++++++++++++
Commissioned by Studio XX and produced in collaboration with the SAT (Society for Art and Technology), as part of the activities for the Nuit blanche, alt_N.O.R.D. is an outdoor event centred on the themes of resistance and northernness. Nordicité (nordicity) is a term coined in the 1960s by Québec geographer and linguist Louis-Edmond Hamelin with the goal of establishing a vocabulary that linked "northern cultures" together beyond traditional boundaries.
alt_N.O.R.D uses this intention as its starting point: nordicity will be the focus of an aesthetic archaeological exploration to uncover (and thwart) the codes and norms used to define winterly space. It will consider nordicity as a system of practices and power relations, and winter from the artist and the hacker's point of view. The discussion/workshop presents itself as an encounter between "winter interventionists" of diverse backgrounds where nordicity becomes an object of research, critical analysis and context for creativity.
The current proliferation of images of the North does not arise in a vacuum. While climate change – which is predominantly caused by the industrialized part of the world – is particularly affecting the northern region, there is nothing new about the North representing a source of wealth and control for those in power. Militarization of the North started after WWII, when federal authorities perceived the region to be 'strategic' while also being an immense resource pool. "Northern Vision" was the name of one of Diefenbaker's speeches during his election campaign at the end of the 1950s and claimed that northern development would improve the living conditions of the populations of the North. Militarization and education (as a technology of integration and/or assimilation) go hand in hand. Thus, after federal schools were instituted, the provincial government of Québec (during the "révolution tranquille") established its own school system in the northern region, as it became interested in developing hydro-electricity and mineral resources in Northern Québec (or "Nouveau Québec")1. During this same period, the term nordicity was developed.
Some decades later, the 1999 "Sommet mondial de la nordicité" aimed to bring commercial and scientific research together in order to create new markets for housing, tourism, transport and communications 2. Today, further neo-colonial 'branding' of the North goes under the guise of the Charest government's wide-scale development project "Plan Nord" which, like the James Bay and the Great Whale hydroelectric projects before it, will not go unchallenged by concerned indigenous nations and others. In parallel, recent surveys have shown that Canadians wish the Harper government would do more to secure Canada's sovereignty in the resource-rich Arctic region (i.e. militarize). We do have the leaders we deserve. Last year, the federal government released a new spending and public relations plan called "Northern Strategy: Our North, Our Heritage, Our Future."
Is nordicity a vector for selling (off) the North or does it really have the potential to create true connections? At school we were taught that migration from Siberia to Alaska was enabled through a "land bridge" called the Bering Strait. Similarly, on the Lower North Shore (or "Basse-Côte-Nord") – located along the extreme east coast of Québec – 15 small villages are connected by one road during the winter only: the White Road. Villagers with snowmobiles are therefore able to reconnect and organize events 3. For these individuals, 'development' and the "Plan Nord" may have a different meaning. Nordicity thus seems to reveal a certain tension between the politics of mobility and that of development. Of course, "bringing people together" during the winter is not a new idea. Québec praises itself for its urban winter activities devised to combat the so-called "hostile season". Yet this hostility is not experienced equally, particularly when 'the City' continues to "clean up" its streets by intimidating and issuing tickets to the homeless and the poor.
alt_N.O.R.D. aims to explode current conceptions of the North and winter in the city by bringing together various artistic and community-based projects. Mouna Andraos, Artist in Residence at the SAT, will exhibit her outdoor installation Winter Quilt and host the gathering, providing hot beverages and fur coats. The public will have the opportunity to learn about the projects and join in a discussion/workshop based on the ideas raised by the initiatives. Positioning the latter in relation to each other (rather than in opposition), alt_N.O.R.D. acts as a self-generated and collective experiment to create new networks of meaning, offering an occasion to gain necessary tools for further hacking of nordicity.
Voir ou imprimer l'affiche d'alt_N.O.R.D
Graphic Design: Amy Novak
For more information: programmation at studioxx.org
__________________________________________________________________________________
1 "History of Education in Nunavik," Kativik School Board: http://www.kativik.qc.ca/en/history-of-education-in-nunavik (consulted February 2010).
2 "Sommet mondial de la nordicité": http://www.scom.ulaval.ca/Au.fil.des.evenements/1999/01.21/nordicite.html and http://www.commercemonde.com/archives/janv99/janv99.html (consulted February 2010).
3 "Basse Côte-Nord: Contrer la déroute," Radio-Canada: http://www.radio-canada.ca/regions/cote-nord/dossiers/detail2.asp?Pk_Dossiers_regionaux=220 (consulted February 2010).
---