Corrections Marginales
Participants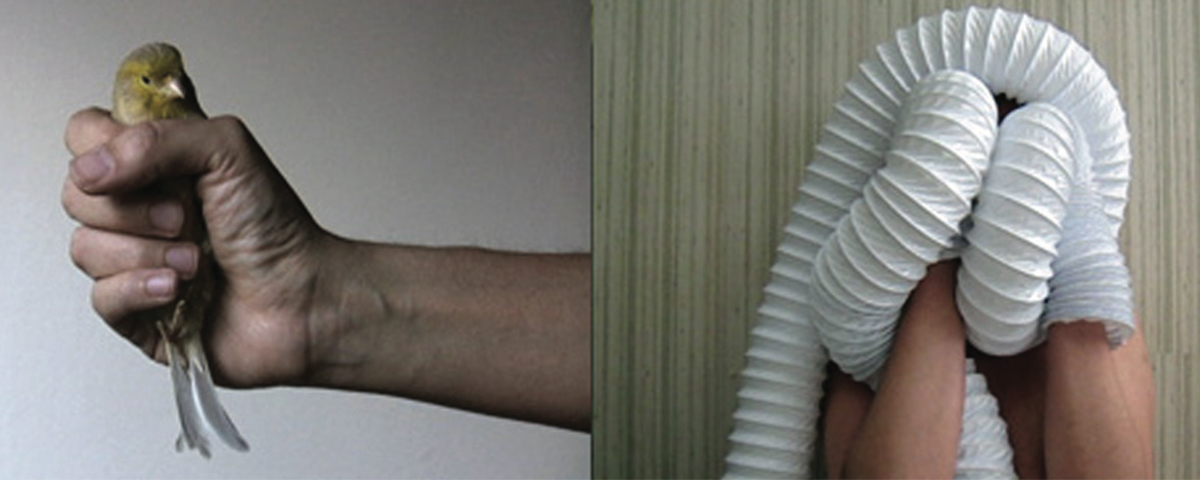 VERNISSAGE Thursday, April 11, 5-7PM
Free admission
PRÉSENTATIONS Thursday, April 11, 7PM
Admission: $5, *FREE* for members.
Refreshments will be served
EXPOSITION April 11 to May 2, 2013
Tuesday to Friday from 10:00AM to 5:00PM, free admission
@ STUDIO XX – 4001, Berri (corner Duluth) space 201
CONFERENCE / ARTISTS TALK
Saturday, April 27th, 3pm to 5pm
Sisterhood and eco-feminism through the artistic practice of Alexa Cuesta / Religion and imposed cultures in the artworks of Maria Isabel Rueda and Helena Martin Franco
(versión en español abajo)
 The suggestion of even the slightest correction evokes a host of conflicting threats and possibilities. It might refer to the minute adjustment of financial instruments capable of collapsing local economies, or to the gentle coercion of bodies over time, pressed to conform to the established rule. In another way still, it might also refer to a peripheral or negligible effort to right a wrong, made to endure for lack of a sustained political resolve, concealing brutal practices in the veneer of good intentions. However different in its potential implications, such a suggestion always carries with it a measure of violence that is equally shared by things done as things left undone.
"Marginal corrections" is an exhibition project that was born out of an exchange between two collectives of women artists: L'Araignee in the North (Montreal, Canada) and La Redhada in the South (Cartagena, Colombia), mediated through a common member, artist Helena Martin Franco. The exhibition was conceived as an encounter between artists from both localities that engage through their work with various figures, gestures and postures associated with violence, whether in its more specific and explicit forms, or imbedded and coercive manifestations.
Often reflecting upon their particular milieu, the works gathered in this exhibition operate on a range of registers, using literal, symbolic, and lyrical devices to materialize concealed or intangible hostilities. Through their work, several Columbian artists critically examine the local context of Cartagena, where generally conservative and puritan social norms tend to conceal widespread violence against women, fuelled by the local sex tourism industry. In a different way, many of the Canadian artists give form to more elusive and abstract pressures and threats through the creation of uncanny scenarios and ominous atmospheres.
By assembling these diverse works in a common exhibition, the project does not aim to smooth over the contextual differences that motivate the individual practices. Rather it aims to suggest, through the juxtaposition of these pieces, a series of legible markers that might rearticulate the idea of violence away from the fear-mongering and numbing tropes of sensational journalism through which it has become increasingly enunciated and neutralized, proposing in its wake an urgent set of real and imagined corrections.
The curator and L'Araignée thank the Canada Council for the Arts, La Redhada, Isabelle Bertrand, Ivgenia Naiman and La Centrale galerie Powerhouse.
CORRECCIONES MARGINALES
Inauguración
Jueves 11 de abril, 5:00 – 7:00 pm
Entrada libre
PRESENTACIONES
Jueves 11 de abril a las 7:00 pm
Entrada: 5 dólares, *GRATUIT0* para los miembros
Se ofrecerán bebidas
EXPOSICION
Del 11 de abril al 2 de mayo del 2013
Abierto de martes a viernes de 10:00 am a 5:00 pm
Entrada libre
@ STUDIO XX – 4001, Berri (esquina Duluth) espacio 201
CONVERSATORIO / CONFERENCIA
Sábado 27 de abril de 3 a 5 pm
Sororidad y ecofeminismo a través de la práctica artística de Alexa Cuesta
Religión y culturas impuestas en las obras de Maria Isabel Rueda y Helena Martin Franco.
+++
Curadora
STÉPHANIE BERTRAND
Artistas
MARTHA AMOROCHO, STÉPHANIE CHABOT, ALEXA CUESTA,
JULIE FAVREAU, AMÉLIE GUÉRIN, KARINA HERAZO, JULIETA MARIA, HELENA MARTIN FRANCO, NOÉMI MCCOMBER, MARIA EUGENIA TRUJILLO, ANNE PARISIEN, MARIA ISABEL RUEDA, LISETTE URQUIJO
La sugerencia de una corrección marginal evoca en si misma una multitud de amenazas y de posibilidades conflictivas. Ésta puede hacer referencia a un sutil ajuste  de instrumentos financieros capaz de suscitar el derrumbamiento de una economía, o también puede hacer alusión a la coerción suave de cuerpos que, con el tiempo y la presión, se ven forzados a doblegarse al orden establecido. Ella podría también ser interpretada como un esfuerzo despreciable de rectificación que, a falta de una voluntad política constante, disimula sin quererlo prácticas brutales que se esconden detrás de una fachada de buenas intenciones. Pero, cualquiera que fuese su última implicación, la alusión a una corrección marginal contiene implícito una parte de violencia, que reside tanto en el acto como en su omisión.
" Correcciones marginales " es un proyecto expositivo que tomó forma en el seno de un intercambio entre dos colectivos de mujeres artistas. Al norte, L'Aragnée (Montreal, Canadá) y al sur, La Redhada (Cartagena, Colombia). Mediante la intervención de la artista Helena Martin Franco quien es miembro de ambos colectivos, esta exposición concebida como encuentro entre artistas de ambos lugares vio la luz. Los trabajos de las artistas participantes implican  gestos, posturas, y figuras asociadas con la violencia ya sea en su forma específica y explícita o mas bien de manera disimulada y coercitiva.
Siendo el reflejo de sus respectivos medios, las obras aquí reunidas actúan bajo varios registros, ellas toman prestado enfoques literales, metafóricos o alegóricos para materializar hostilidades hasta entonces escondidas o intangibles. A través de sus trabajos, varias de las artistas Colombianas examinan el contexto local Cartagenero, dónde los valores generalmente puritanos y conservadores tienden a disimular una violencia muy exacerbada contra la mujer, alimentada en parte por la industria turística del sexo. De otra parte, las artistas canadienses dan forma a presiones y amenazas más abstractas e inasequibles mediante la creación de guiones y de atmósferas inquietantes y fatídicas.
Con el hecho de reunir estas obras en una misma exposición, no se pretende ni igualar ni aminorar las diferencias que se encuentran vinculadas a ambos contextos locales, que han sido el motor generador de cada una de las prácticas. La intención es más bien de sugerir, a través de  la yuxtaposición de esta variedad de obras, una serie de indicios que ofrezcan herramientas para reformular la idea de violencia, y ello, evitando la polémica del miedo y las tácticas insensibles del periodismo sensacionalista las cuales conllevan a una actitud inmune frente a la violencia. Se trata aquí  más bien de proponer una serie de correcciones urgentes, efectivas o imaginadas.
La curadora y L'Aragnée agradecen al Consejo de las artes de Canadá, la Redhada, Ivgenia Naiman, Isabelle Bertrand y La Central galería Powerhouse.
---