Exhibition | Lorraine Oades
Participants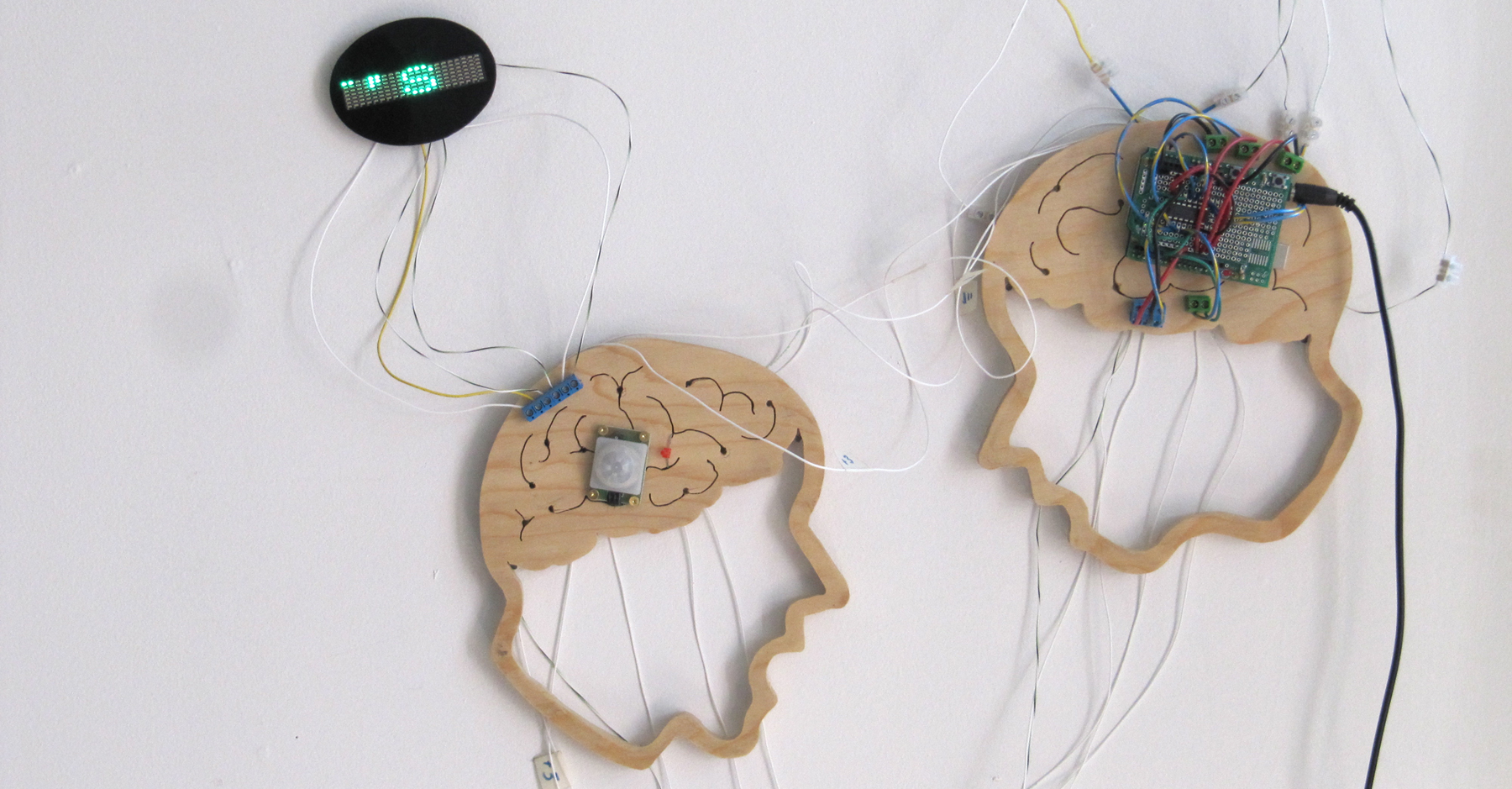 To inaugurate the Studio's new exhibition/gallery space, we are pleased to host the work of Lorraine Oades from October 22 to November 25, 2011. Lorraine Oades's sculpture/installation works incorporate time-based media such as sound, video and film in order to invite viewers to engage physically with the work and explore their own creative potential.
e-xchange, 2011
e-xchange uses PIR sensors and Arduino microcontrollers to simulate a form of artificial intelligence. A series of messages are sent between pairs of wooden heads literally connected to one another by electrical wiring. The short conversations that occur are rudimentary in nature, limited to four lines per LED display, the number of messages the units can store. This artwork examines, in part, the limitations of communication. Unlike the human brain, which can process a significant amount of information in a split second, microcontrollers can only reply on a preprogrammed dialogue. But like microcontrollers, our thought processes and feelings can be limited to scenarios that replay themselves across time. Emotions that are, in their own way, preprogrammed through repetition.
Technical assistance: Martin Peach
Push/Pull, 2008
A series of simple video actions are played out across two television screens. Push/Pull was originally designed as a site-specific installation for La Vitrine, a small gallery run by Montreal artists Stephen Schofield and Michel Daigneault. The storefront is located in a transitioning neighbourhood on east Rachel Street. Like many Montreal storefronts from this period it has two large window spaces that are separated by a walkway leading to the store entrance. For this work I set up a two-camera video shoot in accordance to the dimensions of site. The interactions that take place across the television screens are consistent with the space between the two storefront windows.
Technical assistance: Martin Peach
Invisible sculpture #1, 2005-2010
Invisible sculpture #1 is the first in a series of sculptures that reflect upon questions of embodiment and the transitory nature of being. In this artwork the viewer's body controls the speed and direction of a short video sequence inspired by H.G. Wells' science fiction classic "The Invisible Man."
Technical assistance : Martin Peach, Jean-Ambroise Vesac
Fabrication of table and LED display case: Robert Prenovault
Lorraine Oades gratefully acknowledges the support of CUPFA, the Concordia University Part-time Faculty Association.
This event is part of the Studio XX 15th anniversary programming.
---