Media Arts for Families, Sound Hacking and Djing
Participants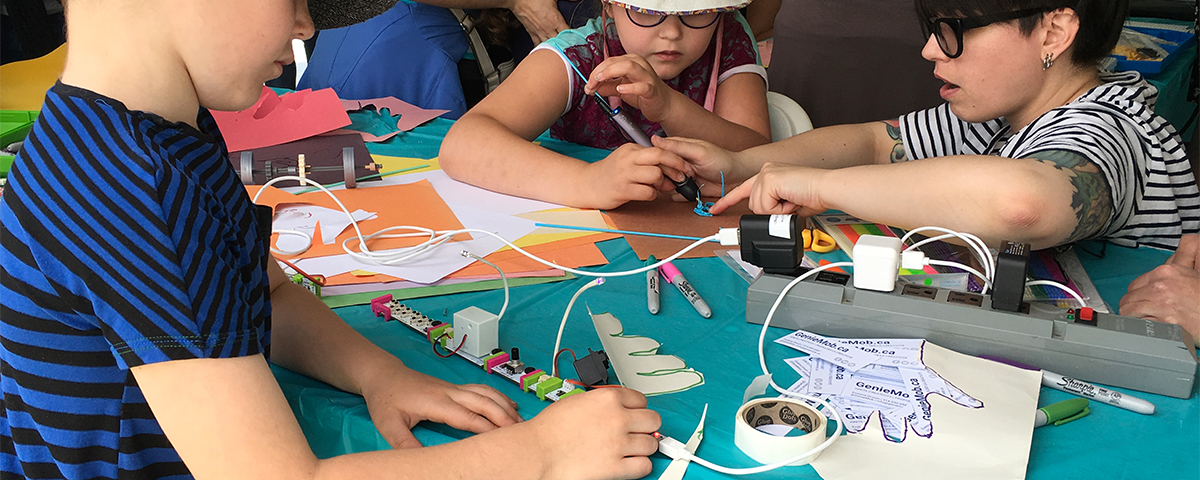 with Évelyne Drouin (Dj Mini)
Sunday December 10th, 2017
from 1pm to 4pm
From recycled materials, motors, sensors and diverse microphones, Dj Mini makes you discover the sound art created with toys, effects pedals, old recorders and CD players, as well as a number of robotic components. In this workshop, participants will create a small robotic sound installation while learning the electronics, and will be able to revisit a "musical" instrument imagined by the artist which allows to "play" textures. Thanks to the Field Kit and various types of microphones, participants will be able to explore the various acoustic properties of materials and modulate them in real time to make a real sound machine!
Limited spots available! To register: send the name and age of the participants to mediation@studioxx.org
Media arts for families
Inspired by the "Coding goûters," the Medias Arts for families project brings together children and their parents to have fun to program and design artworks in electronic arts with artists. The activity is free (you have to register), in exchange for a contribution to a shared snack! All projects will be presented at Studio XX in June 2017.
This project receives financial support from the Ministry of Culture and Communications and the City of Montreal as part of the Agreement on the cultural development of Montreal.

---