Notopian Film Nights | « Pas de futur, pas de problème »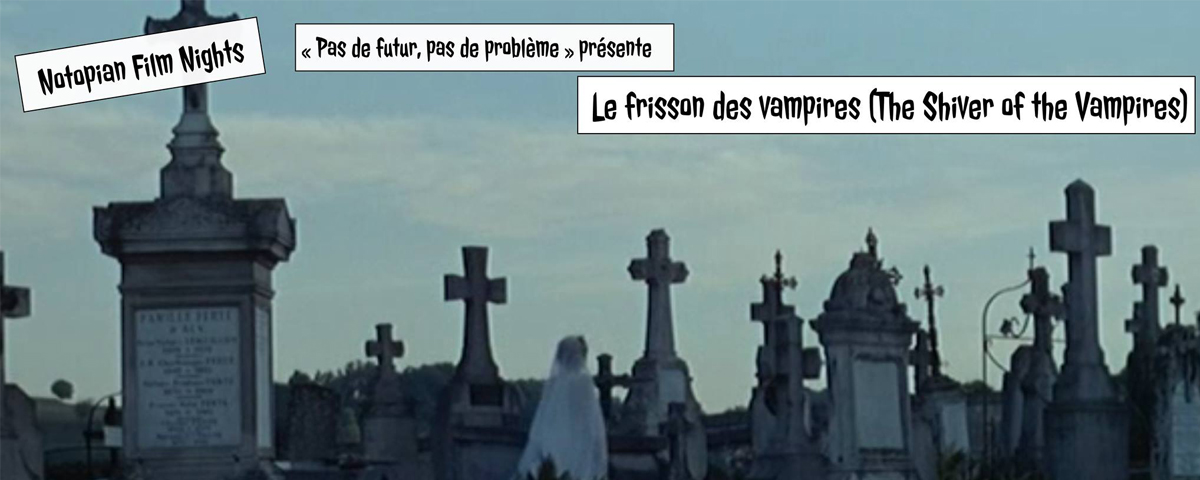 Fundraiser for the 2014 edition of The HTMlles: ZERO FUTURE.
Lesbian Vampire Post-Halloween Movie Party
Tuesday, November 19th, 2013, at 7pm (movie at 7:30)
@ Studio XX (4001 Berri, suite 201)
FREE ENTRANCE
Jean Rollin's Le frisson des vampires (The Shiver of the Vampires)
1971, 1h35, French with English subtitles
When a honeymooning couple visit the crumbling estate of the bride's ancestors, they discover her closet is filled with more than skeletons: a sinister lesbian vampire, a pair of nubile handmaidens, and two vampire hunters who have been recruited into the ranks of the undead.
Join us for The Shiver of the Vampires, a surreal erotic horror film by Eurocult director Jean Rollin. Newly wed couple Antoine and Isle arrive at a gothic chateau full of vampires looking for Isle's cousins, who she's told died the day before. But have they really? And who is the mysterious, sexy woman who keeps emerging from a grandfather clock to bite her neck? Why does Antoine stumble upon a cabal of vampires performing human sacrifices? Why are 1970's vampires so fabulously stylish? And will the new bride be seduced away from her husband by the lure of lesbionic vampirism?
PLENTY OF SPOOKY REFRESHMENTS
Popcorn + drinks
& for the vampires in the house BLOOD PUNCH served with peeled eyeballs!
Feel free to dress up as your favourite vampire or ghoul.
Come to Studio XX to slake your thirst for our special lesbian-vampire Halloween edition of Notopian Film Nights, « Pas de futur, pas de problème ». htmlles11.tumblr.com
Warm thanks to Les Films ABC and Serge & Simone Rollin for giving us permission to screen the movie and for their support. hlesfilmsabc.free.fr/JeanRollin.Cineaste-Ecrivain/index.html#.Unvxk6V1NZi
—
Notopian Film Nights, « Pas de futur, pas de problème », is a fundraiser for the 2014 edition of The HTMlles: ZERO FUTURE. The HTMlles is an international biennial festival that brings together artists, scholars and activists who are passionate about critical engagement with new technologies from a feminist perspective. With the support of partners, The HTMlles is produced by Studio XX, a bilingual feminist artist-run centre for technological exploration, creation and critique. htmlles.net
---