Call for workshop proposals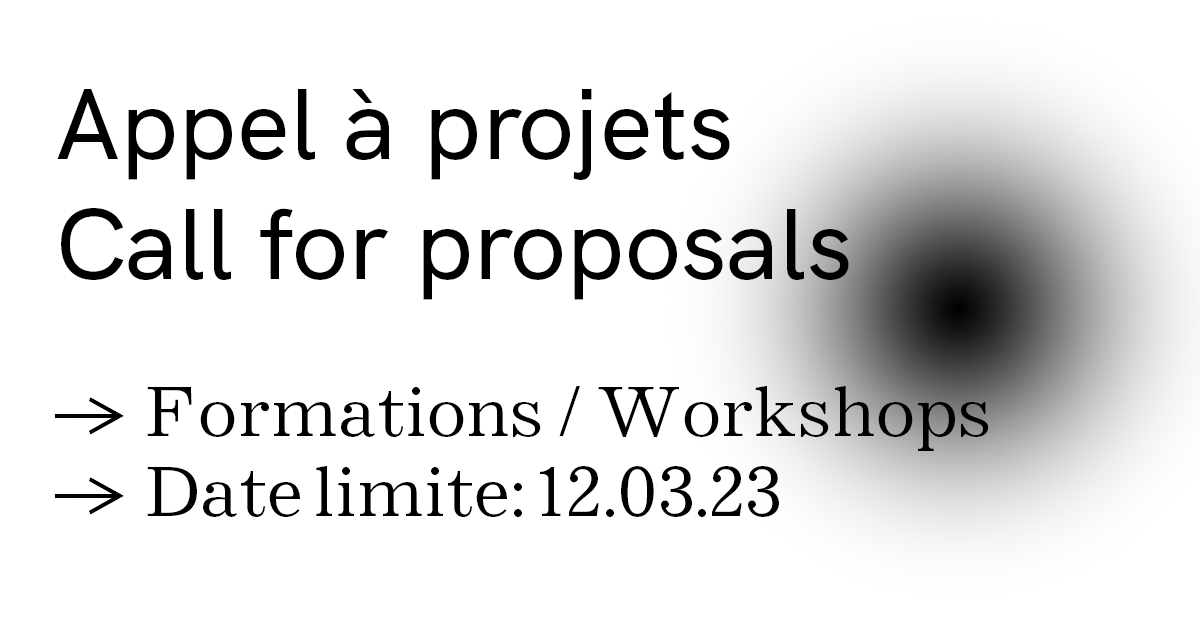 Do you have expertise in a specialized media arts software or technique? Would you like to put your teaching and knowledge transmission skills to good use? In collaboration with Services Québec, Ada X is looking for professional workshops projects to offer to artists, self-employed workers, or employees of cultural organizations between September 2023 and March 2024.
Deadline: Sunday, March 12th, 2023, 23h59 (Montreal, ET)
Ada X is a bilingual feminist artist-run center for media arts and digital culture. The center supports independent women, trans, non-binary, and queer artists in the production and dissemination of their work. Since 1996, Ada X has been a reference centre for engaged and critical media arts practices.
We are looking, broadly, for workshop proposals in media arts; more specifically, for introductions to software or platforms, initiations to practices (virtual reality, 360 video, artificial intelligence, video mapping, electronic art, sound art, software art and code, 3D modeling, etc.), hands-on experimentation workshops or different approaches to technologies already covered in our previous workshops.
ELIGIBILITY
Be a resident of the Greater Montreal area who can access Ada X's offices.
Have a practice in media arts or any other field relevant to the teaching of the workshop. This includes video art, kinetic art, computer art, digital art, electronic art, interactive art, multimedia art, cyber art, network art, biotechnology art, robotic art, and sound art.
Be autonomous in the use of the equipment and technologies necessary for the workshop.
Propose a project that is feasible with the material resources made available by Ada X. Please consult the list of all our equipment and software

here

.
Bilingualism (French and English) required.
Please note: Ada X's offices are unfortunately not wheelchair accessible. See a description of our facilities here.
SELECTION CRITERIA
Consistency with Ada X's mandate.
Relevance of the workshop in the context of media arts.
The workshop must consist of a total duration of fifteen (15) hours with a minimum of eight (8) participants and a maximum of twelve (12).
The end of the workshop must lead to a concrete and practical achievement by the participants.
To get a better idea of the type of workshop Ada X has already offered, please refer to past workshops: https://www.ada-x.org/en/xx-trainings/workshops/
OFFERED BY ADA X
A space to work and deliver the workshop.

Access to specialized equipement.

A fee of $ 1 000 for the preparation of the workshop.
A fee of $ 1 200 for the delivery of the workshop.
Technical assistance for the workshop.
Purchase of specific workshop materials.
Production of educational materials, if needed.
APPLICATION FILE
Applications may be submitted in French or English.
Applications can be individual or collective, but please consider that the fee is allocated per workshop.
A description of the workshop between 350 and 500 words.
A summary lesson plan for the workshop.

A resume.

NON-CONFORMING FILES WILL NOT BE CONSIDERED. Only selected candidates will be contacted.
Please send your application in ONE PDF FILE (5 MB maximum) to appel@ada-x.org.
Email subject: Application for workshops 2023-2024
Deadline: Sunday, March 12th, 2023, 23h59 (Montreal, ET)
Have questions? Contact ateliers@ada-x.org
---