BOTES CLUB | Sarah Chouinard-Poirier, Marie-Andrée Godin and Maude Veilleux
Participants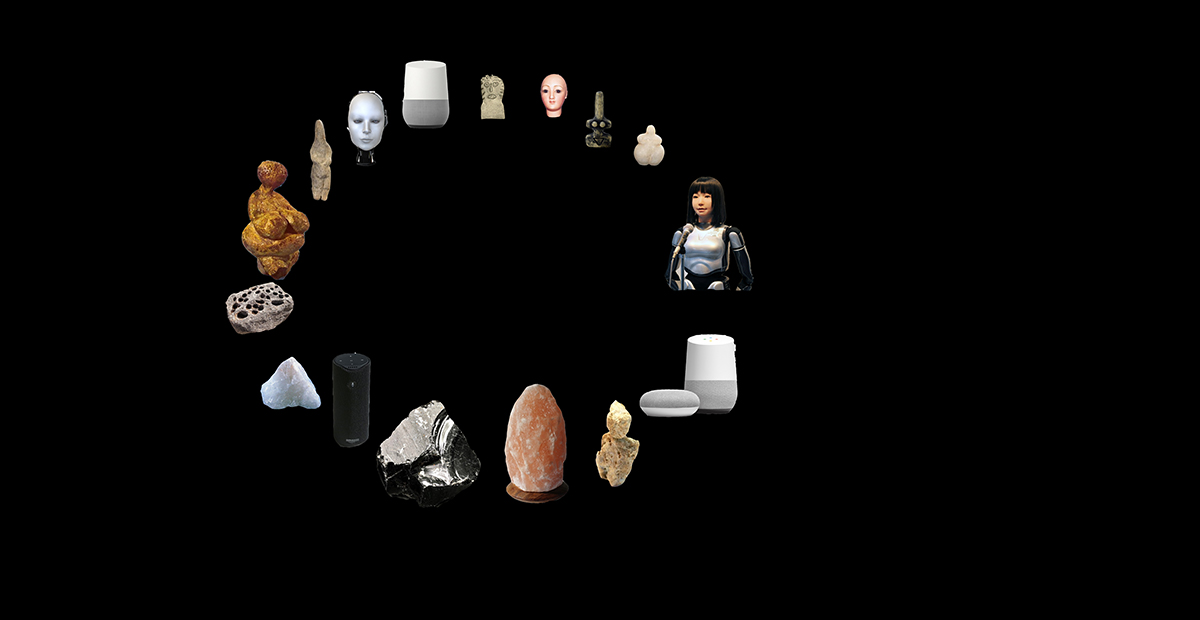 Residency dates:
PART 1 – March, 8th to April, 4th, 2021
PART 2 – August, 16th to September, 5th, 2021
At Ada X

**PUBLIC PRESENTATION ON SEPTEMBER 2ND**
More info via this link

BOTES CLUB is a relational, performative, installation project that observes and questions the power relations based on the gynemorphism of domestic robots, personal assistants and misogynist equipment from AI. Drawing on the experiential experiences and situated knowledge of a group of care workers who have worked in the context of a pandemic, the artists will attempt to develop strategies for collaboration between all these social agents.
À votre service / Out of service
"How can I help you?" ask Alexa, Sophia or Erica. Caregivers are often in the same predicament. It's so easy in a patriarchal society to expect devotion and free labour from women. But what would caregivers say if they had a chance to be heard? And what about robots who, when asked, despite their intelligence (however "artificial"), insist that they are here to please and serve us? How can we change the fate of one (the caregivers) by means of the other (the robots) without replicating a system of double domination: caregivers subjugated to a health system that functions on their exhaustion, robots built to obey humans, a fatality that has persisted since Asimov's three laws1?
The Botes Club project aims to train an artificial intelligence model with a dataset of caregivers' testimonies collected by the artists. While in residence at Ada X, they will work to make these anonymous words heard through the voices and neural networks of AI. They will explore the relationships between intelligences as well as the links between vocation, naturalization and exploitation by means of a performative installation. When told in their own words, the caregivers' stories offer an alternative to the dominant discourse, which often merely pities them for being underpaid and overworked, while hollowly praising their "natural" heroism. But those who speak out often face punishment and persecution. Might it be conceivable to make robot allies for them, with whom they could develop a relationship of solidarity and mutual aid?
You might think that coding is a neutral, strictly mathematical exercise. Not so! Programming serves and reproduces implicit values such as capitalism, white supremacy, misogyny, conflict, hierarchy and surveillance. And yet, the power lies in coding to change our relationship with robots, to build an allyship with them. Machine, sister, can we fight together? To do so, we would have to code differently, come up with training methodologies that would allow for error and self-determination, and that would aim for something other than the machines' obligation to serve. Would they want to join forces with human intelligences programmed to serve or should we simply acknowledge their unique existence and accept that they might make choices that do not serve us?
Is attempting to answer this question risking the "robot revolt," the heinous trope found in patriarchal science fiction suggesting that the robots "we" are developing for our use will eventually destroy us? This system of thought knows only conflict, the fight to the death, the idea that difference is an adverse threat. To break out of this vicious cycle, we need to rethink everything: the relationship of robots to humans, the relationship of humans to humans, inter-species relations, labour relations, the material conditions of existence and the possibility that machines, freed from our biases, can learn by themselves and escape the chain of exploitation.
Recent feminist science fiction is leading the way, introducing a new narrative. For example, in A Closed and Common Orbit, Becky Chambers gives physical form to AIs who are actual people2, and in Te retrouver, Joëlle Wintrebert portrays a robot couple who lead personal lives after work3.
Against the universal system of abuse that capitalism has sought to make commonplace, it is time to combine intelligences.
Sarah Chouinard-Poirier, Marie-Andrée Godin and Maude Veilleux create performances, installations, activities and texts. They strive to find ways to think, learn and do in a way that is self-preserving and empowering for the whole group. First and foremost, they are friends, who like to pee in nature, play in the mud and eat burnt vegetables. Their shared interests in artificial intelligence, post-capitalism, futurities and non-futurities brought them together to reflect and create BOTES CLUB.
Ïan Larue is a French professor of literature, essayist and author interested in science fiction from a feminist perspective.
—
1) In The Robot Cycle (1956-1986) Isaac Asimov established what would become the three famous laws of robotics that other SF writers, such as Roland Wagner, later took up and interpreted in their own way. In essence, a robot cannot attack a human, must obey orders, and must not destroy itself. These laws clearly turn robots into slaves for whom even "suicide" is forbidden.
2) Becky Chambers, A Closed and Common Orbit, New York, Harper Voyager, 2017.
3) Joëlle Wintrebert, Te retrouver, Utopiales 20, Chambéry, ActuSF, 2020.

---