DIY Electronics for Artists
Participants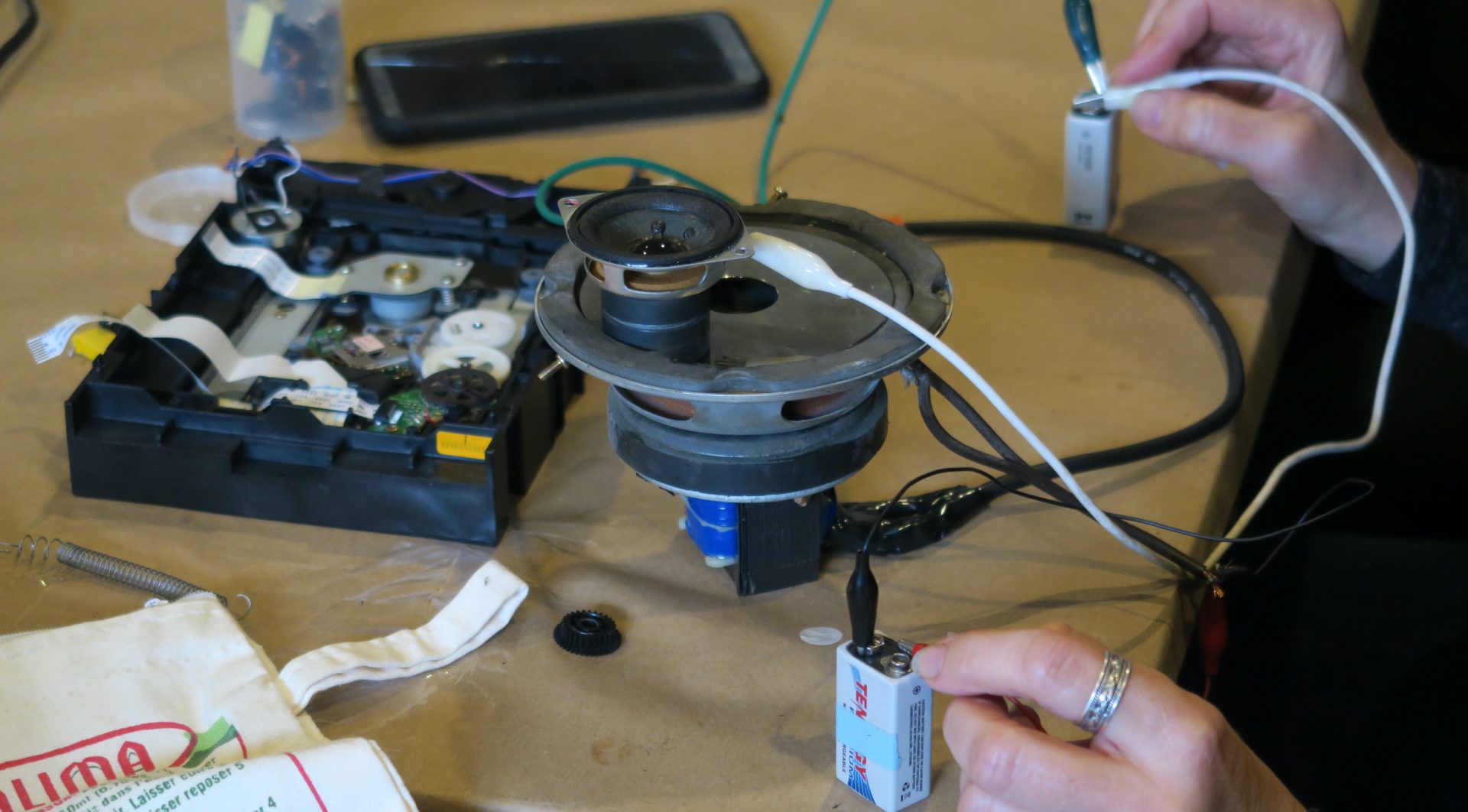 With Anne-F Jacques
Saturday November 19th and Sunday November 20th, 2022
9am-5pm (15h total)
135$ (tax included) *see conditions below
Workshop given by a bilingual instructor
At Ada X
To register, contact ateliers@ada-x.org before November 15th 2022. Your registration will be confirmed once payment is made.
*** This workshop could be adapted to an online format to address changing health measures ***
This workshop proposes an introduction to the fundamental principles of electronics for use in artistic contexts. Participants will learn an empirical approach which involves manipulating and experimenting with basic components in order to develop a familiarity with electronic processes. We will be employing reused components, as well as components which have been reoriented from and "mis-used" according to their original functions. This approach, inspired by notions of technological disobedience, is employed in order to develop our capacities to design and conceive original circuits. The workshop will conclude with a collective project that uses the new artistic avenues made possible by the technical explorations undergone during the course.
Objectives :
Gain theoretical and practical knowledge of the fundamental principles of electricity and electronics
Develop an understanding of basic electronic components through building rudimentary versions using everyday objects
Create simple circuits that generate and control light, sound, and motion
Read and draft technical diagrams
Learn to use the basic functions of a multimeter
Acquire basic knowledge of diagnostics and repair for electronics
Collectively reflect on how these techniques might be employed in an installation or performance context by developing a project at the end of the training
Prerequisites
Be a professional artist, creator or cultural worker  **(see conditions)
Commit to being present for all classes
Reservation / Payment
Reservations can be done by email at ateliers@ada-x.org. Full payment must be made for the registration to be valid. Payment Options : Zeffy, check or cash. Registrations are not transferable.
Cancellation / Refunding
Ada X does not refund registration fees except in the case of illness or of absolute necessity. In such cases, registration fees are transferable to another workshop or service offered by the centre.
Workshop Cancellation
Ada X reserves the right to cancel workshops at any time and without advance notice. In this case, registration fees are fully refunded.
* Certain conditions apply
For any questions or clarifications, please contact us: ateliers@ada-x.org
---