Elevate the well-being of your digital consciousness
Participants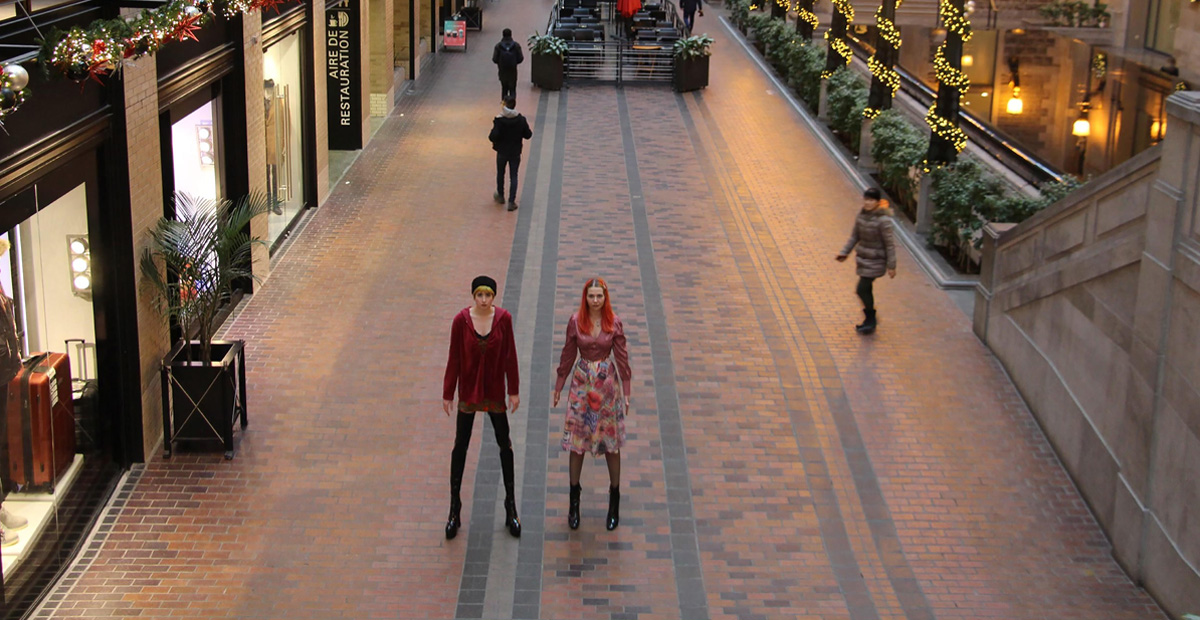 Workshop / performance
Wednesday March 24, 2021
7 p.m. – 9 p.m.
FREE | Register here
Bilingual FR / ENG
Explore the possibilities of your digital self with the Cosmopolitan Babes! This playful workshop / performance offers a creative response to the current context, giving participants some tips for developing their online persona.
The Cosmopolitan Babes (Summer Emerald and Océane Buxton) are two retired influencers, previously human women. They are said to be the first entities to have succeeded in immortalizing their consciousness in order to establish themselves permanently in the virtual world. They now offer their services to support you in optimizing your personal growth. Considering digital identity as the main vector of existence, they will introduce you to several methods developed to reach a level of evolution that surpasses humans. And all for free. Who is feeling lucky ?
—
"Storing their physical selves in sensory deprivation tanks, the Cosmopolitan Babes left their bodies long ago. As two highly evolved beings, their smooth pixel faces are perfectly filtered, and their torsos and legs have become stretched longer than a Barbies'. The Babes generously shared their tips and pointers in an exclusive workshop at Ada X with an audience of regular Earth-bound folks on how, through hard work and dedication, we too can transcend.
Appropriately, their story and ethos are full of holes. Summer Emerald and Océane Buxton, the artists behind the Cosmopolitan Babes, are intentionally vague about their characters. This evokes the kind of not-so-reliable information we encounter daily online, where the line between lifestyle influencers and cult leaders can become blurred. In the context of the COVID-19 pandemic, the internet has become the primary space of interaction for so many people who feel increasingly isolated. If we spend all our time online, is the digital self the only real self? And what is real anyway? This is where the Babes are able to offer their expertise.
While they covered all the bases in their workshop through a slideshow presentation—from digital plastic surgeons to fluffy animal companions and making mukbang videos—and answered important questions from the audience on a range of topics, participants left the Zoom meeting unsettled. Part of the goal with this project, according to Emerald and Buxton, is to contrast the apocalyptic energy of our current moment with this hyperreal bimbo aesthetic in a humorous performance.
In this way, their work recalls Cindy Sherman's relatively recent Instagram selfie series, an appropriate turn in the iconic feminist artist's practice. Sherman's facial distortions use filters to gender bend, and the images often veer toward the grotesque. Though Emerald and Buxton's work presents smooth, blemish- and wrinkle-free characters, the Babes nonetheless produce a critical commentary on the same condition Sherman is taking on: gendered narcissism, the elasticity and malleability of femininity, and neoliberal influencer and wellness culture.
Mindfulness and wellness pervade the world of the Cosmopolitan Babes. Freed from the burden of a human body, they are able to literally float through life, epitomizing a culture of life coaching, meditation and positive self-actualization. Emerald and Buxton's artistic collaboration is a timely reflection on the effects of the pandemic on our physical and virtual selves, that also inserts a sharp feminist critique through comedy." – Amelia Wong-Mersereau
The Cosmopolitan Babes (Océane Buxton and Summer Emerald) is Montreal-based video and performance duo with a common interest in Internet aesthetics, the entertainment and well-being industry, and post-humanism.
Amelia Wong-Mersereau is an emerging arts writer who holds an MA in Art History from Concordia University and is currently a member of the Editorial Board with esse arts + opinions.
---