Introduction to 360 video + WebXR for artists
Participants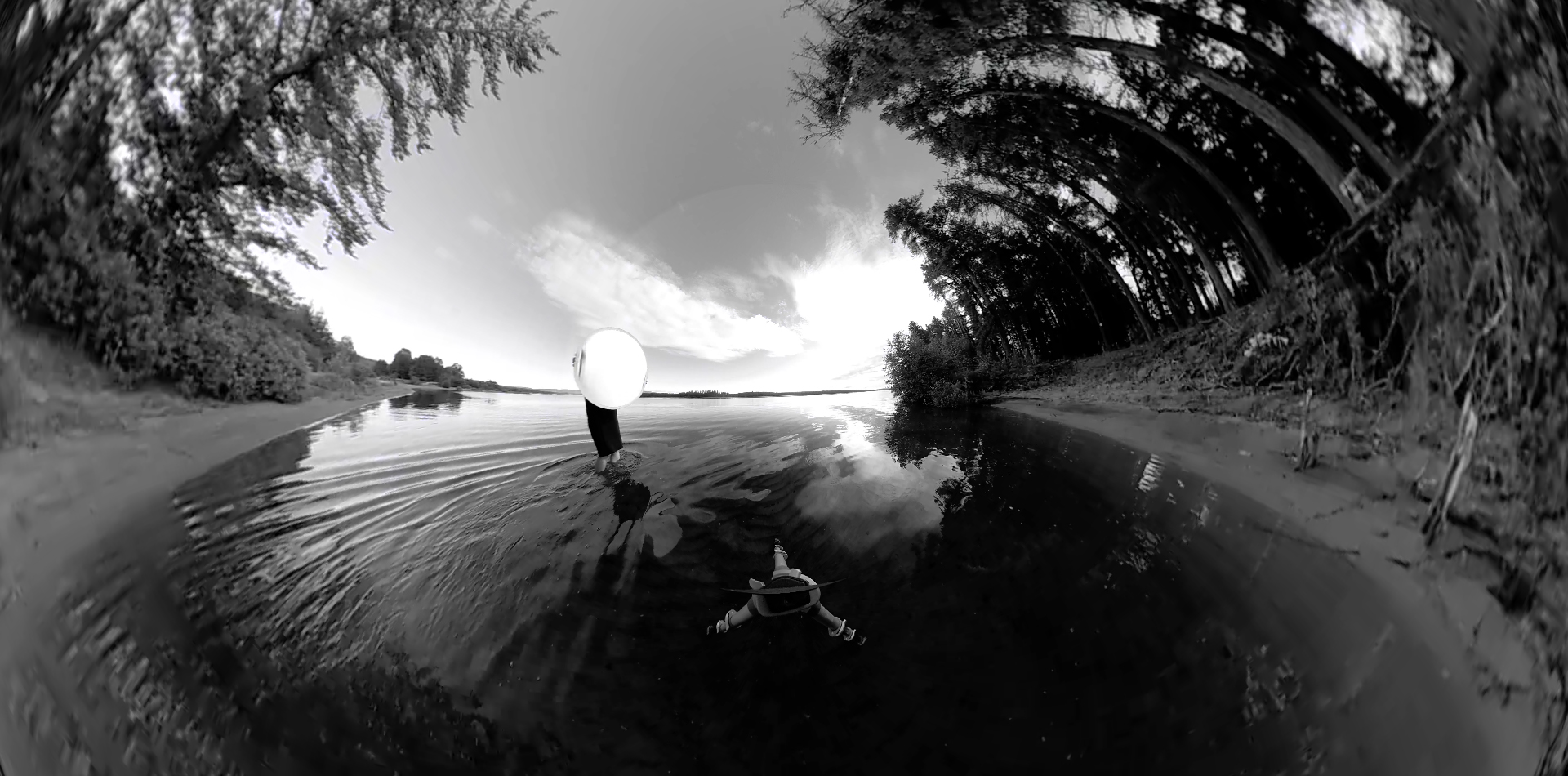 Saturday, March 6th + Sunday, March 7th (9:00-17:30)
135$ (+ tax) *see conditions below
Workshop given by bilingual instructors
Online via Zoom
To register, contact ateliers@ada-x.org before February 24th
This online workshop aims to introduce the participants to a creative and critical process in 3 steps:
Content creation: 360 video capture and simple video editing techniques; creation and remixing of simple 3d models using Blender (with Anna Eye).
WebVR integration: bring 360 video and 3d models into a web based shared virtual space using the open source platform Mozilla Hubs
Collaborative practice during Covid-19: join the class Discord server to create one virtual room together in Mozilla Hubs (alternatively, we can also have one "lobby" room which connects all participant's rooms in one virtual space)
* Although the platforms used are accessible via a virtual reality headset, the training is designed without this device. The only equipment required is a computer and a stable internet connection, the technical specifications of which you will have to validate with the center when you register.
In the context of the pandemic, this workshop will highlight how artists can create immersive spaces which are compatible both for computer screen viewing and for VR headsets when available. Mozilla Hubs uses WebVR (also called WebXR and social VR) and is designed for users and makers to easily share and meet with others in a space of their own making, as a direct spatial experience.
Participants will:
Discover a variety of artistic practices in video, 3d and VR, WebVR and multimedia presentations that are self-critical about their own use of technologies
Explore the use of 360 video and 3d for VR and WebVR in order to create a hybrid and experimental presentation;
Develop a new project or adapt elements of an existing project integrating these new techniques;
Collaborate remotely with the group (with the option of inviting friends / artists at the end of the workshop)
WORKSHOP PLAN
SESSION 1: CO-CREATING REMOTELY IN MOZILLA HUBS, DISCORD + ZOOM (3 HOURS)
Presentation of the practical and theoretical stages of the training, intro to WebVR with Mozilla Hubs, using Spoke (description below)
Joining the workshop Discord server, learning how we will use Discord as a group
Create an individual Mozilla Hubs account and login https://hubs.mozilla.com/
Visiting existing Hubs rooms to become familiar with keyboard navigation options and sound spatialisation (which distinguishes Hubs from Zoom as you need to be virtually "close" to others if you want to speak with them)
If possible, visit a room with another participant: interact in the room together!
SESSION 2: 360 VIDEO / CREATING A SCENE IN SPOKE FOR MOZILLA HUBS
Part 1: 360 VIDEO + EDITING, UPLOADING TO VIMEO / YOUTUBE 360 (1.5 HOURS)
Presentation of existing artistic projects using 360 video for VR and WebVR
Experimentation and tests in 360 video, finding existing 360 content online with CC licenses
Importing 360 video to Adobe Premiere, simple 360 video editing techniques
Exporting and uploading to Vimeo and YouTube 360
Part 2: CREATE A SCENE IN SPOKE, PUBLISH TO HUBS (1.5 HOURS)
Spoke is the browser based editor for publishing 3D scenes that can then be loaded into Hubs rooms.The editor allows you to upload your own 3D models, images as well as link to other online assets such as 360 videos hosted on Vimeo.
Using the same login email used for your new Hubs account, login to Spoke https://hubs.mozilla.com/spoke/ (this requires access to your email as it sends a magic link).
Create a scene in Spoke in order to create a public virtual room in Hubs

 Login to Spoke
Create a new project: empty
Publish to Hubs
View your scene
Create a room with this scene
Share the room URL with the other participants via Discord
SESSION 3: 3D MODELING  & 3D FORMATS WITH ANNA EYE (3 HOURS)
Introduction to Blender for 3D modelling: types of modelling, creating a simple model and remixing existing models, exporting low poly models for Hubs
Understanding the workflow for using the .glTF format needed for Mozilla Hubs
which will prove to become an asset now it is becoming a standard for XR workflows both online and offline
SESSION 4: HUBS INTEGRATION
Part 1: UPLOAD 360 VIDEO + 3D TO HUBS  (1.5 HOURS)
Finish the 360 video editing in Premiere Pro, export and upload final versions to Vimeo
Finish the 3D models in Blender, export and check they work in Spoke (size, format)
Work on your Spoke scene: import your updated 3D models and 360 video links to your  existing Spoke project scene, then publish to Hubs and see if it all works
Publish any updates to your scene, your existing Hubs room will update to the latest published scene changes, share your updated room links on Discord
Troubleshooting: participants can share their screen in order for us to assist with optimising their rooms and scenes in Discord or Zoom in breakout rooms of 2 or 3 people
Part 2: CREATING A SHARED HUBS ROOM (1.5 HOURS)
Create a collective Hubs room (the workshop leader will create this in Spoke)
Sharing your 360 video and / or 3D work in the collective room
Learn how to link other Hubs rooms created by all the participants to the shared room
SESSION 5 : MOZILLA HUBS PRESENTATION AND FEEDBACK (3 HOURS)
Publish the final version of the collaborative Hubs room, share the link with guests
Participate in a virtual walkthrough of the collaborative Hubs room with the group & guests
Each participant can also present their individual rooms
Interact with each other and with guests, take screenshots and screen recordings of the event.
Prerequisites
Have notions in filming, editing and basic 3d creation
Be a professional artist, creator or cultural worker  **(see conditions)
Commit to being present for all classes
Reservation / Payment
Reservations can be done by email at ateliers@ada-x.org. Full payment must be made for the registration to be valid. Payment Options : PayPal, check or cash. Registration to a workshop is not transferable.
Cancellation / Refunding
Ada X does not refund inscription fees except in case of illness or of absolute necessity. In such cases, inscription fees are transferable to another workshop or service offered by the center
Workshop Cancellation
Ada X reserves the right to cancel workshops at any time and without advance notice. In this case, inscription fees are totally refunded.
****Are you employed by a company with a payroll of $ 2 million? In addition, this training will be paid by your employer because you will follow in the course of your job?
According to Emploi-Québec regulations, people who answer yes to these two questions have access to training, but can not benefit from Emploi-Québec's subsidized rates. The fare will therefore represent 10% of the total value of the training. In the event of more registrations than the number of places available, priority will be given to artists and cultural workers who meet the profile promoted by Emploi-Québec.
For any question or clarification, please contact us.
---