JOB OFFER | Communications and Social Media Coordinator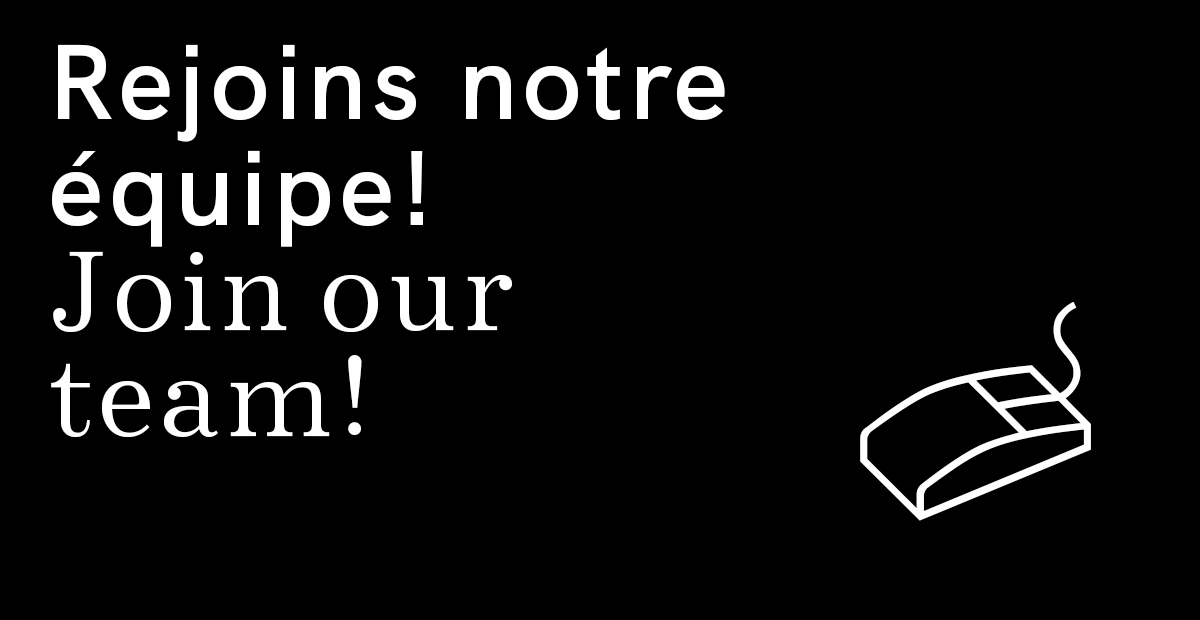 Ada X is looking for a Communications and Social Media Coordinator to join our permanent team!
Do you want to get involved in a horizontal and feminist structure? Are you interested in social media and alternative communication tools? Do you enjoy collaborating with artists to develop visual and textual content for various platforms?
Deadline to apply: Monday, March 28 at midnight
Start date: as soon as possible
About Ada X: Founded in 1996, Ada X is a bilingual, feminist artist-run center for media arts and digital culture. The center supports the work of independent artists through residencies, workshops, exhibitions, presentations and discussions. It also offers educational activities for different types of audiences in and around Montreal. Your role is to support our mandate by sharing about our events and projects online, and activating our online presence in creative and engaging ways. Alongside more traditional social media and website management, we're interested in experiments with alternative platforms, decentralized virtual spaces, and best practices for accessibility.
Ada X exists in its current form largely due to the work and contributions of racialized, disabled, queer, trans and/or non-binary artists, staff, members and collaborators. Recognizing the knowledge that comes from the lived experience of these individuals, candidates who identify in these ways will be given priority.
WHAT YOU'LL BE DOING
– Develop and implement communication strategies to promote the center and its artists;
– Write and/or translate a variety of communications content (social networks, newsletters, website, press releases);
– Manage the centre'ssocial media (Facebook, Twitter, Instagram, etc.);
– Prepare and/or coordinate the graphic design of communications content;
– Prepare visual content for social media;
– Update the website with text and media content;
– Prepare the monthly newsletter and press releases;
– Manage the center's various mailing lists;
– Maintain the center's profile on other web platforms (partners, sponsors, community networks, etc.);
– Prepare press kits and visual documentation for grant applications;
– Communicate with media outlets and magazines.
EXPERIENCE WE'RE LOOKING FOR
– Knowledge of the media arts community or the arts and culture community more generally;
– Time management skills, organizational skills and ability to meet deadlines;
– Good writing skills in French and English;
– Knowledge of and interest in visual communication tools;
– Proficiency in the Adobe suite (Photoshop, InDesign) an asset;
– Experience in managing online communities;
– Sense of responsibility, initiative and autonomy;
– Ability to work in a collaborative team environment;
– Excellent interpersonal skills;
– Interest in online accessibility practices.
Ada X is a horizontal structure that operates on a shared leadership per project basis – based on the scope, strengths and interests of each team member. It cultivates an environment of care, openness, and collaboration, rooted in intersectional feminist and anti-racist approaches. The center is committed to the use of alternative and open source collaborative platforms and work methods whenever possible.
CONDITIONS
– 20h/week
– 20/hour. This hourly rate will be revised shortly. The team is currently reviewing its salary policy to improve the salaries of the permanent team.
– Flexible work environment at Ada X and remotely.
– One-year renewable contract. Four weeks paid vacation per year.
Occasional evening and weekend availability may be required in order to assist programming activities, represent Ada X at events, and attend Board and committee meetings.
HOW TO APPLY
Send your resume, a 1-page letter telling us what interests you in this role and what experience you bring to it, and two references (including name, email, and phone number) to: call[at]ada-x.org by Monday, March 28 at midnight.
Thank you in advance to everyone who applies. However, only those candidates selected for an interview will be contacted.
Do you have questions? Contact us at info@ada-x.org
---