Job Offer | Programming Coordinator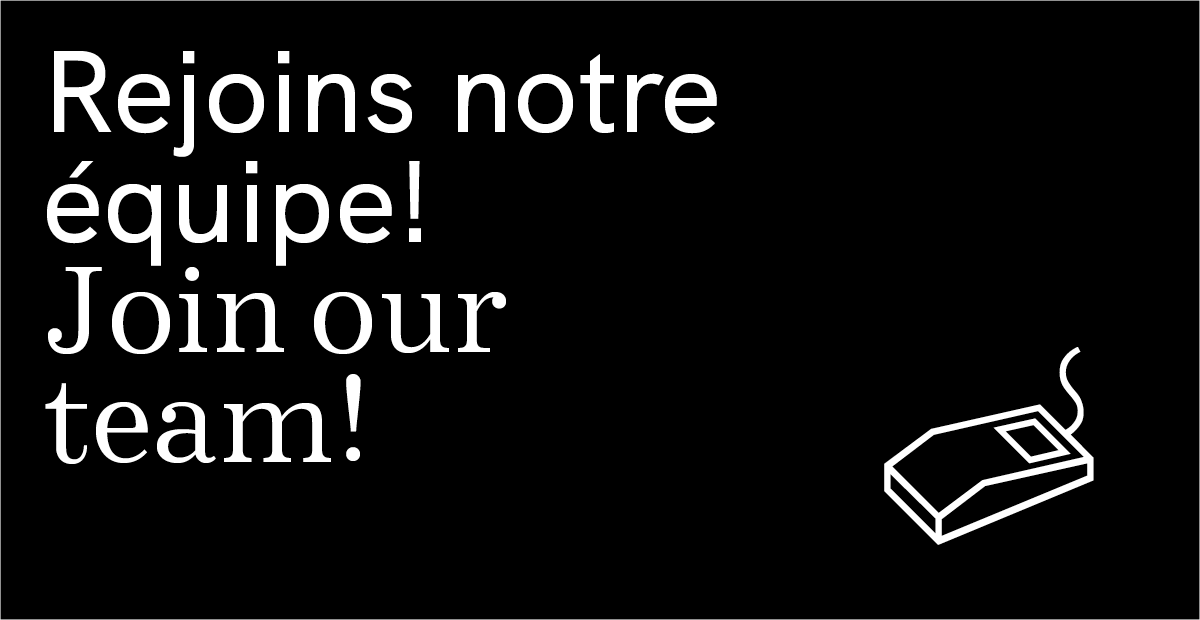 Ada X is looking for a Programming Coordinator to join its permanent team!
Do you want to get involved in a horizontal and feminist structure? Do you have experience in artistic programming and event coordination? Are you interested in supporting the work of under-represented artists in the media arts community? Ada X is a bilingual, feminist artist-run centre for media arts and digital culture. The centre supports the work of independent artists through residencies, workshops, presentations and discussions. It cultivates an environment of care, openness and collaboration by prioritizing the use of alternative and open source collaborative platforms. Ada X exists in its current form largely due to the work and contributions of racialized, disabled, queer, trans and/or non-binary artists, staff, members and collaborators. We recognize the knowledge that comes from the lived experience of these individuals, and will prioritize candidates who identify in these ways.
Deadline to apply: Monday, July 4th at 4:00pm
Interviews will take place the week of July 11th. Please confirm your availability on these dates, or propose an alternative if necessary.
Start date : Flexible
RESPONSIBILITIES
– Promote the centre and its mandate through the implementation of a coherent artistic orientation in collaboration with the team;
– Ensure the drafting of calls for projects and residencies;
– Ensure the implementation of the annual artistic program, including production activities (artist residencies and workshops) and dissemination activities, if applicable;
– Assist and support artists in residence;
– Coordinate programming activities and events by following up with artists, partners, members and staff;
– Prepare and develop a public relations and audience development strategy;
– Ensure an administrative follow-up with the programming's artists and the allocated budget;
– Take part in the writing of grant applications and reports.
QUALIFICATIONS NEEDED
– Very good knowledge of the media arts community;
– Experience in assisting artists;
– Experience in organizing and coordinating events;
– Excellent writing skills;
– Bilingualism French / English;
– Excellent interpersonal skills;
– Ability to work collaboratively as a team in an open space office;
– Ability to multi-task and meet deadlines.
CONDITIONS
– 25h / week;
– 23 $ / hour with an expected increase annually;
– 6 weeks paid vacation per year;
– Flexible work environment at Ada X's office and remotely.
– Occasional evening and weekend availability may be required in order to assist programming activities, represent Ada X at events, and attend Board and committee meetings.
HOW TO APPLY
– Send us the following documents to appel@ada-x.org :
– Your resume;
– A cover letter explaining your interest in the position and your relevant experience;
– Two references (name, pronoun(s), email, phone and relationship to the person).
We thank all applicants for their interest in this position, but only those candidates selected for an interview will be contacted.
Do you have questions? Contact us at info@ada-x.org
---