Tournée des labs : Paper speaker-making workshop
Participants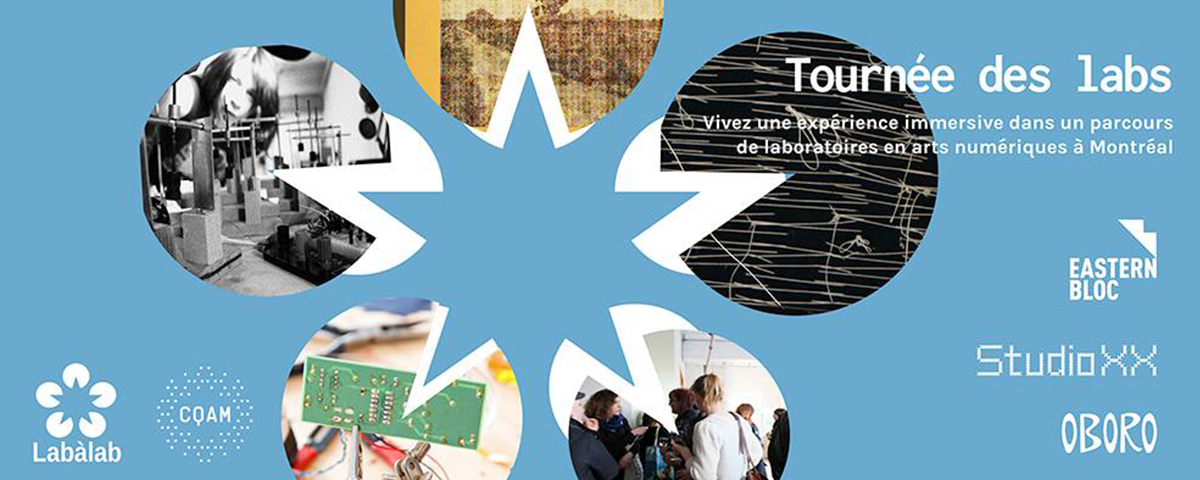 Experience an immersive tour of Montreal's digital arts labs!
In the context of LabàLab, CQAM has organized a tour of Montreal area digital arts labs on Friday, December 12, 2014. During this foray into the world of digital arts, the passionate and the curious can participate in research and creation activities lasting about one hour in each of the three labs: Eastern Bloc, Studio XX and OBORO. The afternoon will conclude with a visit to Orison exhibit by Nadia Myre in the OBORO gallery.
The tour aims to provide an opportunity discover and experience the possibilities of digital art laboratories.
The tour will be led by Anne Goldenberg and Alexandre Quessy .
Free for members of CQAM
$10 for non-members
Schedule
12 h 00 : Arrival of participants and welcome by the animators.
12 h 15 : Reverse engineering of an electronic circuit at Eastern Bloc
13 h 15 : Travel by metro
13 h 45 : Pause
14 h 00 : How to make paper speakers at Studio XX
15 h 00 : Pause
15 h 15 : A stereoscopy workshop at OBORO
16 h 15 : Visit the exposition of Nadia Myre at OBORO
Paper speaker-making workshop at Studio XX
In the tradition of DIY practices, Studio XX presents an Electronic Arts directed research-creation workshop. The project is called "Nonstrument", essentially the creation of a non-instrument: a hands-on workshop and online tutorial will offer participants the chance to build a wave oscillator and paper speakers. The workshop rethinks the concept of electronics using unusual materials like cardboard and copper tape. Participants will tinker with their own paper speaker in order to an ensemble, a musical quilt! The workshop will be led by artist Stephanie Castonguay.
---