Montreal 2014 Qouleur Screening
Participants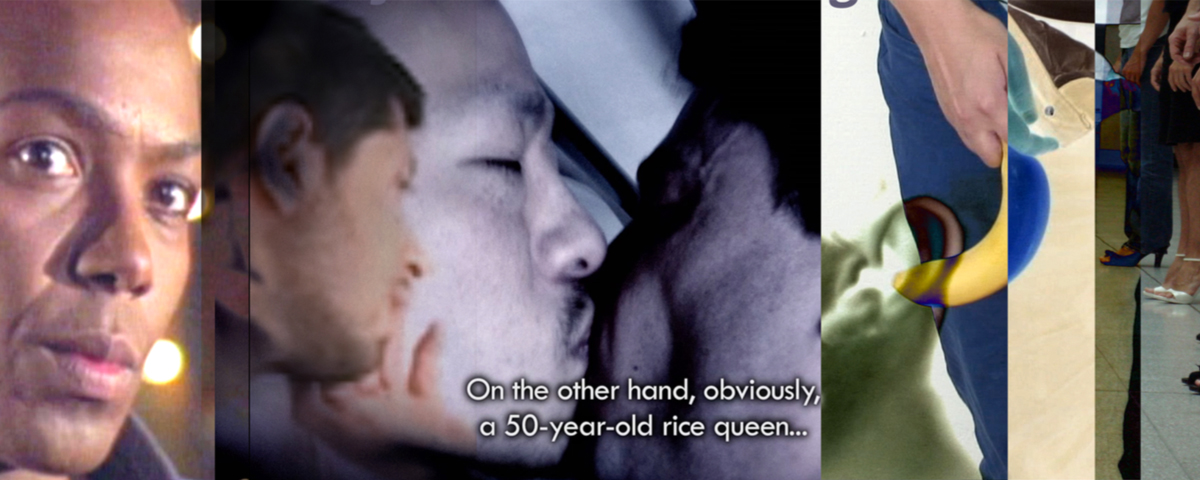 From Zero to Future (and all in-between)
Wednesday, August 6, 2014, 7pm
At Studio XX (4001 Berri, suite 201)
Curator: kimura byol
Presented by Qouleur in collaboration with The HTMlles 11 festival's Notopian Film Nights / « Pas de futur, pas de problème » and G.I.V. (Groupe Intervention Video)
Combining the Qouleur 2014 theme of "Legacy" and The HTMlles 11 theme of "Zero Future", this program (re)introduces videos by 2QTPOC artists, made or distributed in Canada, that reveal reality and dreams from a 2QTPOC perspective for over a decade (from 1999 to 2012).
The program includes videos of different styles — performance, fiction, documentary and experimental works — questioning the intersection of identity, gender and culture. This screening, followed by a discussion, is a meeting point to bring together a varied public (friends, community, new acquaintances) to celebrate diversity, identity and especially art & creativity!
PROGRAM
(with English Subtitles)
Welcome to Africville – Dana Inkster / 1999 / 15:00 / couleur / Canada / distribution GIV
The exhibition – Jenny Lin / 2000 / 2:10 / n&bl / Canada / distribution GIV
ANHöREN – Ali El Darsa / 2008 / 7:05 / couleur / Canada / arabe (sous-titres anglais)
Lakme takes flight – Melina Young + Sheila James / 2001 / 10:00 / couleur / Canada / distribution GIV
NEED A RIDE? – Ana Huang / 2007 / 08:26 / couleur / distribution GIV
The Comfort Window – Wayne Yung / 2010 / 6:34 / couleur / Allemagne /
Boi Oh Boi – Thirza Cuthand / 2012 / 9:32 / couleur / Canada / anglais (sous-titres français)
High he / High heels – 2Fik / 2011 / 4:44 / couleur / Canada
The Empty Room (La chamber vide) – C. Cobb/ 2014 / 3:54/ colour / Canada
Qouleur is an annual, volunteer-run 2QTPOC festival in Montreal celebrating racialized queer identities and experiences through the arts. We are a collective of artists, activists, and thinkers who identify as 2QTPOC and who want to make a difference for other 2QTPOCs in Montreal. The third annual Qouleur Festival runs from August 1st – 10th 2014, and includes a visual art exhibition, music, performance, screenings, workshops, discussions, parties and more!
Notopian Film Nights / "Pas de futur, pas de problème" are a series of screenings and discussions leading up to the 11th edition of The HTMlles Festival taking place 7-15 November 2014. The events explore various facets of the upcoming festival's theme: ZER0 FUTURE. htmlles11.tumblr.com
The HTMlles is an international biennial festival that brings together artists, scholars and activists who are passionate about critical engagement with new technologies from a feminist perspective. With the support of partners, The HTMlles is produced by Studio XX, a bilingual feminist artist-run centre for technological exploration, creation and critique. htmlles.net
Qouleur and The HTMlles would like to thank GIV (Groupe intervention vidéo) for its support.
---