A Choir of Demands and Desires on Repeat | Annie Wong & al.
Participants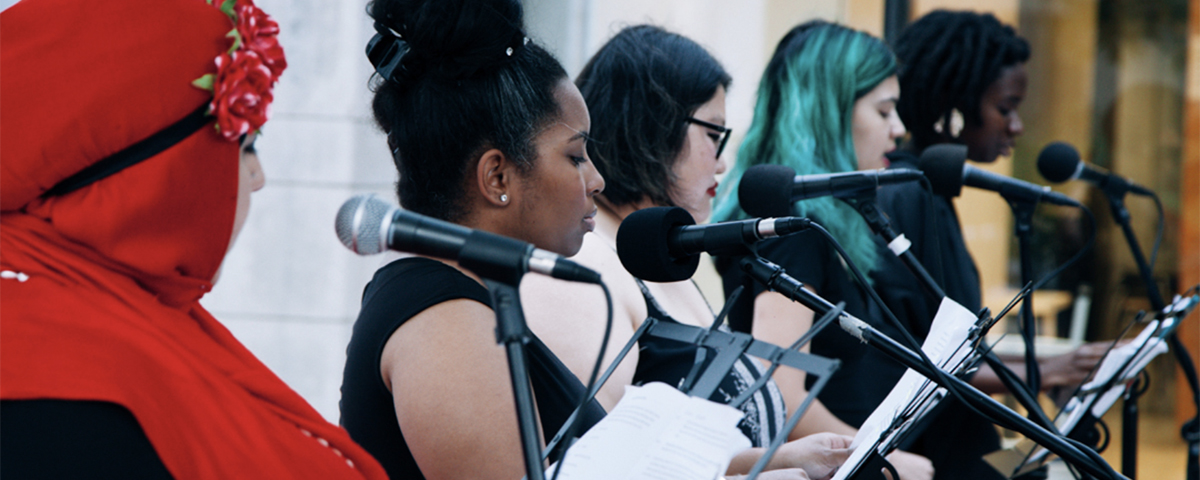 PERFORMANCE
A project initiated by Annie Wong in collaboration with Rebecca Sweets and Suzanne Fernando
With the participation of Ahreum Lee, Feliz Tupe, Laëtitia Techer, Nadia Hammouda and Soukayna
Friday, March, 15th, 2019
Door opens at 5:30pm
Performance at 6pm, followed by a discussion with the artists
@ OBORO (Media Lab, 2nd floor)
A Choir of Demands and Desires On Repeat is a one-night performance where an ad hoc choir remembers and repeats the claims of feminist movements.
PROJECT
Initiated in Toronto in 2017, this project engages locals to participate in an ad hoc choir and to contribute to a 'speaking score' that is collectively read aloud. With the aim of creating an extensive and living record of demands by BIPOC women, nonbinary and/or 2-Spirited on a global scale, over a period of ten years, the artists invite locals to take part in this Montreal iteration, in the language they prefer, to expand the Choir's score.
A Choir of Repetition, Demands, and Desires is situated at the intersection of sound poetry and endurance performance. Through repetition, noise, aurality, and spontaneity, the choir imagines a political poetics that functions like feminist speeches in several acts. As an endurance performance, the readings make visible the emotional labour of bearing the burden of repeating the history of feminist demands, a labour that is physically and mentally exhausting.

Annie Wong acknowledges the support of the Canada Council for the Arts.
Photo: A Choir of Demands and Desires on Repeat performance by artist Annie Wong in collaboration with Faith Arkorful, Fiona Raye Clarke, Hanan Hazime, Angela Sun, Rebecca Sweets (2018). Part of Panic in the Labyrinth at Gardiner Museum. Photo: Yuula Benivolski. © Gardiner Museum.
---