Become a Board Member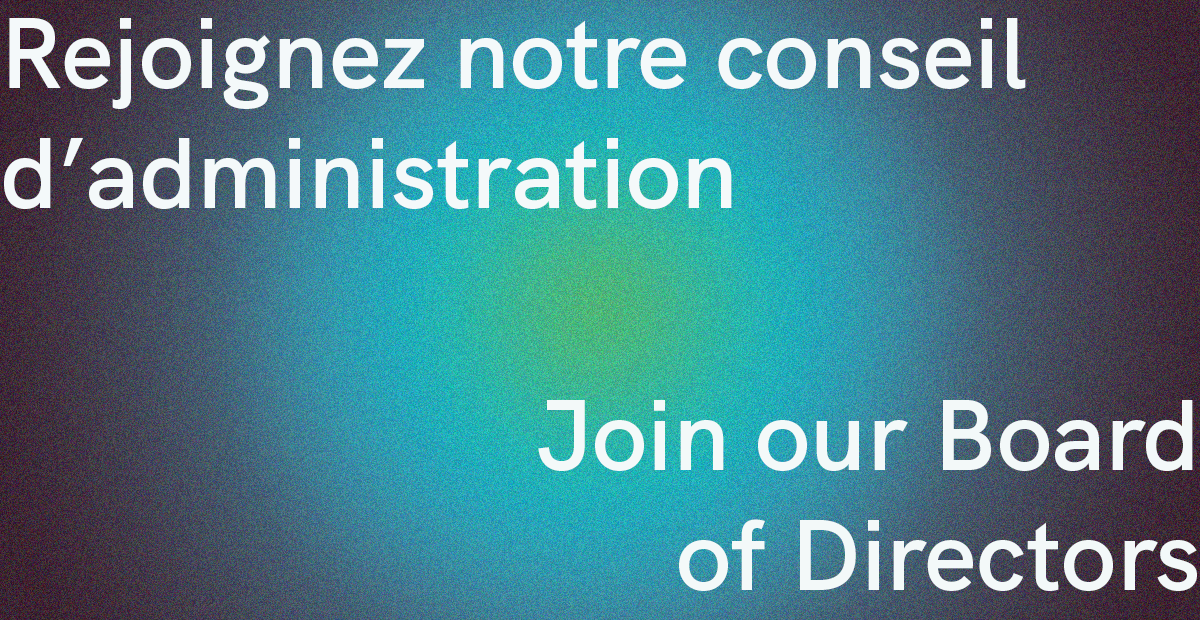 Ada X is looking for three candidates to join its Board of Directors: we are looking for board members with expertise in finance, cultural organization management, and/or human resources. The candidates must have a familiarity with Montreal's cultural scene and share the centre's feminist and non-hierarchical values. Board members will be called upon to participate actively in the organization's strategic planning and to maintain a sound governance. Previous experience on a board of directors is an asset. Candidates must be a member of Ada X to apply. 
The Board is currently composed of 6 people from the cultural sector (artists and cultural workers) and the legal sector. 
We hold an average of 1 meeting per six weeks, as well as the general assembly, which is held in the fall. The meetings take place at the end of the day (around 6 to 8 p.m.) by videoconference, in person or in hybrid mode according to the availability of the administrators.
The next elections will take place during our next general assembly, which will be held on November 10th on Zoom.  We invite you to attend and introduce yourself if you are available! The elected candidates will serve on the Board for a period of two years, for a maximum of three renewals (6 years total). Ada X has liability insurance for directors. Our active committees for the coming year are programming, human resources, membership, and the centre's capital asset project.
MANDATE
Ada X is a bilingual feminist artist-run centre that supports technological experimentation, creation, and critical reflection in media arts. Ada X assists in the independent production and diffusion of art created by women, trans, non-binary and/or queer artists in the field of contemporary technological practices. Ada X offers art residencies, workshops, discussions, exhibitions, performances, and educational activities. 
If you are interested, please send us your resume and a 300–500-word text explaining why you would like to join the board of directors.
CONTACT
Marianne Desrochers,
General and administrative coordinator
appel@ada-x.org
---