Call for proposals 2023-2024 | Local residencies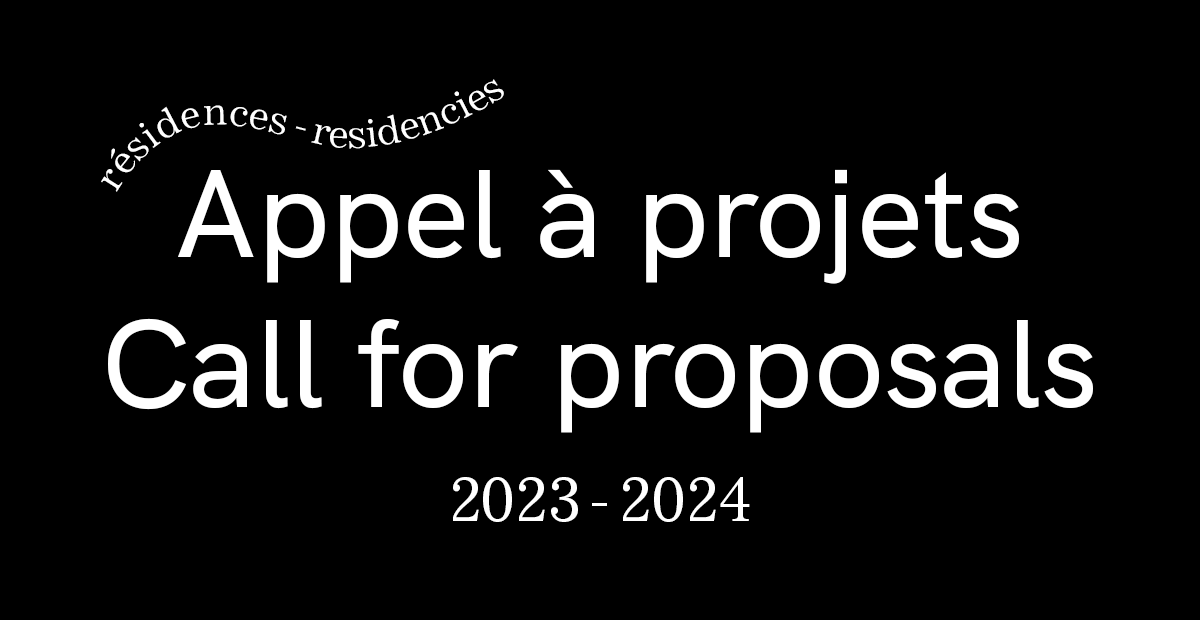 Do you require resources to develop a media arts project? Submit a project proposal for Ada X's residency program! You could be selected to participate in a 6-8 week production residency at Ada X between September 2023 and June 2024. This call is only open to artists who live in the Greater Montreal area.
Deadline: Sunday, February 5th 2023, 11:59pm (Montreal, ET)
Ada X is a bilingual feminist artist-run center for media arts and digital culture. The center supports independent women, trans, non-binary, and queer artists in the production and dissemination of their work. Since 1996, Ada X has been a place of reference for engaged and critical media arts practices.
We are looking for proposals that are feminist in nature, addressing the intersections between gender, ancestry, accessibility, and technology. We prioritize projects that consider environmental issues, reflect on mediated interactions, or consider alternative temporalities. We are interested in proposals that promote digital literacy and democratization (open source software, ethical practices, accessibility of tools).
Four artists' proposals will be selected. The Ada X team will meet with each artist whose project is selected to determine the timeline for completion and production.
ELEGIBILITY 
Be a woman, queer, trans, or non-binary artist living in the Greater Montreal area
Have a practice in media arts. Media art refers to artistic practices that use technology to function. This includes video art, kinetic art, computer art, digital art, electronic art, interactive art, multimedia art, cyber art, network art, biotechnological art, robotic art, sound art.
Be autonomous in the use of the equipment and technologies necessary for the project.
Propose a project that is feasible with the material resources made available by Ada X (work plan, budget [including confirmed funding sources, if applicable], resources provided by the artist, and equipment required).
Please note: The space is NOT suitable for sound and/or multidisciplinary creative projects that would require a quiet environment.
SELECTION CRITERIA 
Consistency with Ada X's mandate
Quality of the artistic approach
Relevance of the project in the context of media art
Importance of the residency in the development of the artist's practice
OFFERED BY ADA X
A workspace for a period of 6 to 8 weeks
Access to equipment
A residency fee of $2460
A production budget of $600 to cover professional fees for technical assistance and/or materials directly related to the residency project
The opportunity to attend free training workshops
The opportunity to design and present a mediation workshop (with a fee)
A public presentation of the residency project (with a fee)
A text and a video on the artist's approach and the work produced during the residency
To get a better idea of the types of projects that Ada X supports, take a look at past residencies: http://www.ada-x.org/residences/
Follow this link to see the gallery floor plan (PDF)
↓ DOWNLOAD THE APPLICATION FORM VIA THIS LINK
CONSTITUTION OF THE APPLICATION FILE
Applications may be submitted in French or English.
Applications can be individual or collective, but please consider that the fee is allocated per project.
Do you express yourself better orally than in writing? We give you the option of answering several sections in the form of a short video.
Please send all applications materials as a SINGLE PDF file (5 MB maximum).
NON-CONFORMING FILES WILL NOT BE CONSIDERED.
Email subject: Application for local residency 2023-2024
Deadline: Sunday, February 5th 2023, 11:59pm (Montreal, ET)
Have questions? Contact info@ada-x.org
---