Appel à projets | HTMLLES 2024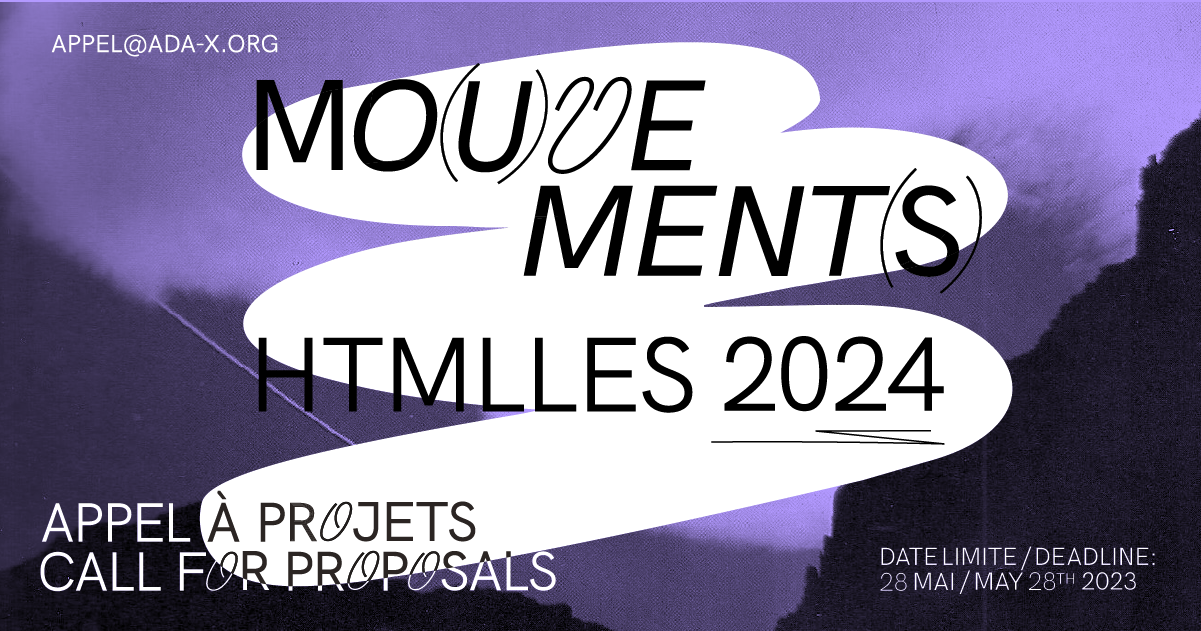 HTMlles 2024 | Call for proposals
15th Edition, May-June 2024, Montreal
Deadline: Sunday, May 28th 2023, 23:59 Montreal time (EST) 
Before submitting a proposal, candidates are strongly encouraged to consult Ada X's mandate and past festival programming.
For more than twenty years Ada X has been producing HTMlles, a feminist festival of media arts and digital culture. Every two years, HTMlles mobilizes local, national and international artists, theorists, and activists working at the intersection of art and technology, and unfolds in artist-run centres, cultural spaces, and university research laboratories throughout Montreal. 
HTMlles 2024 | THEME: MO(U)VEMENT(S)
The next edition of HTMlles will take place in spring 2024. We are inviting (us) to reflect on movement. We welcome various interpretations of the word, both singular and plural, complex and simple.
Movement is transformation. It can be a physical action — motion through space, travel from one place to another — but it may also refer to collective transformations: revolt and political mobilization. Ada X is looking for ideas that explore material and metaphorical forms of movement in playful, critical, and speculative ways. 
We want you to consider what movement is, what movements are, how they emerge or metamorphose and what it/they can be in a broader context. How do you move through the world? Does one ever really arrive anywhere? Is there an actual destination? What does it mean to move together, collectively? How is movement affected by our environment? By disability? How is it restricted? Stories of movement and immigration are rarely ever straightforward; they include histories of displacement, compromise, violence, grief, and hope. How do movements, past and potential, speak to our relationship to our surroundings, as well as to our origins? 
We are also surrounded by invisible, discursive movement, which snakes between us, sharing information, spreading news, and overturning perspectives. A viral thread, a funny meme, workplace gossip. What are people talking about? What are the things we can't see? Tell us a story — make them visible. 
Topics might include:
Social and political movements

Performance

Speculative & critical media

Disability & accessibility

Storytelling

Community and collectivism  

Immigration & displacement 

Social media 

Shared narratives 

& more! 
We seek critical creative propositions inspired by (but not limited to) feminism, cyberfeminism, queer studies, afrofuturism, critical race studies, and disability studies. Let's look at how feminist, queer, anti-oppressive and anti-racist perspectives can be transformational. Let's go where we are not expected. Let's imagine constructive alternatives and propose new social organizations, let our thoughts and actions flow with urgency. 
WHAT WE ARE LOOKING FOR
The HTMlles 2024 welcomes project proposals from women, queer, trans and gender non-conforming artists, curators, activists, as well as from collectives and organizations that promote inclusive and intersectional feminist values. 
We are looking for DIY, techno-critical, and innovative proposals. We hope that the projects proposed within the framework of this call will express, rethink, and explore topics related to movement through a critical use of media arts and digital tools. 
Examples of media/formats: net art, audio and electronic art, interactive pieces, radio art, video art, installation, locative media, 3D animation, game art, augmented reality, digital storytelling, short film, bio art, public interventions, open source and community-based practices, performance and interdisciplinary practices, workshops, roundtable discussions, or something so cutting-edge we haven't even heard of it yet…
SELECTION CRITERIA
Quality of the candidate's work 

Relevance of the project in the context of media arts 

Coherence of the project with the feminist mandate of Ada X and the HTMlles festival

Connection to the proposed theme 
WHAT WE OFFER
The HTMlles is a non-profit festival that relies on the support of a vibrant community of artists, cultural workers, friends and volunteers and its aim is to remain accessible (with no or low entrance fees). We cannot financially contribute to production costs of artworks but can offer in-kind support, access to some equipment, and letters for participants who apply for funding. 
The HTMlles offer artist fees based on CARFAC/RAAV and IMAA recommendations.
The HTMlles is a great opportunity to meet like-minded people through a unique series of events and a diverse set of co-presentations. Partners of The HTMlles currently include: Céline Bureau, Eastern Bloc, Groupe intervention vidéo (GIV), La Centrale galerie Powerhouse, OBORO, Milieux Institute (Concordia), Moving Image Research Laboratory (McGill), Trinity Square Video. More to come! 
APPLICATION FILE
PLEASE FILL THIS FORM REGARDING YOUR PERSONAL DETAILS.
*NON-COMPLIANT FILES WILL NOT BE CONSIDERED*
In ONE PDF FILE (5MB), provide the following information:
Files can be written in French or English. 
1- Project
Title 

Type of media (e.g. virtual reality, 3D printing, video, etc.)

Project format (e.g. one-time event, workshop, individual work, etc.).

Current phase of the proposed project (design, production, dissemination)

Number of artists and/or partners involved

Proposal (500 words maximum)

Consistency with the proposed theme (100 words maximum)

Connection to the feminist mandate of Ada X and the HTMlles festival (100 words maximum)

Technical requirements (equipment and space requirements) 

Equipment provided and resources deployed by the artist
2- Support material
CV (2 pages maximum)

Artistic approach (250 words maximum)
3- Visual/audio documentation 
Images: 10 maximum

URL links to audio and/ or video files: up to 5 excerpts of a maximum duration of 3 minutes. Please provide passwords if applicable.

Descriptive list of visual/audio documentation: name, title, media, context of distribution, year.
PLEASE SEND YOUR APPLICATION IN ONE PDF (5MB MAXIMUM) TO APPEL@ADA-X.ORG
Subject of the email: Proposal | HTMlles 2024
Deadline: Sunday, May 28th 2023, 23:59 Montreal time (EST)
Only selected candidates will be contacted. 
---