DIY Electronics and Artificial Intelligence
Participants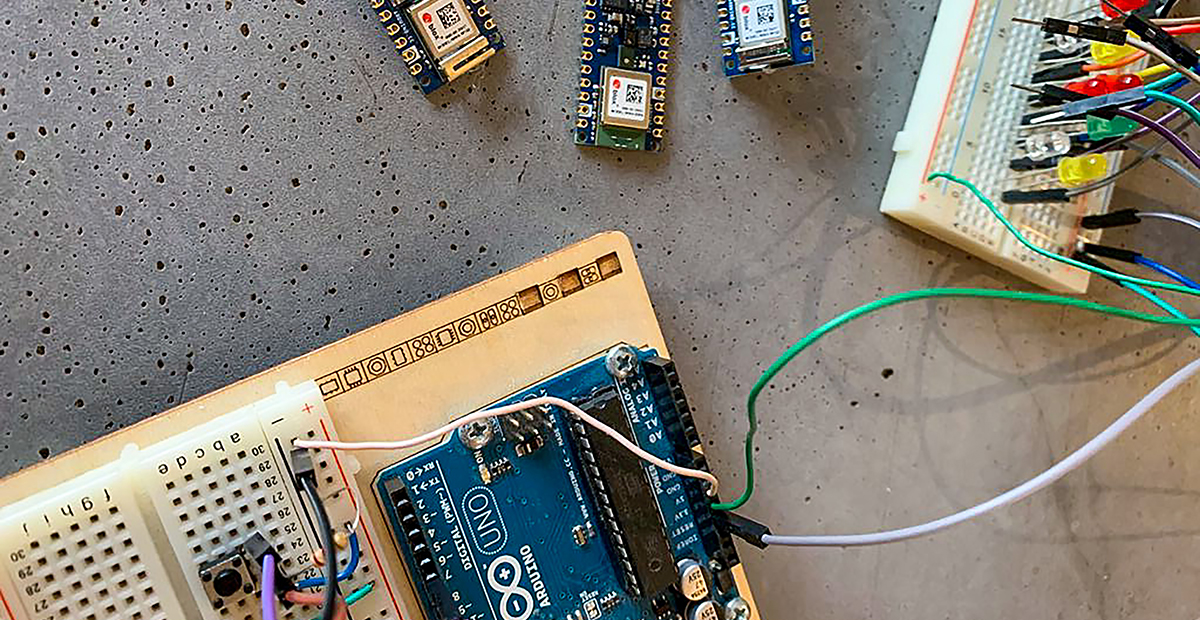 With Jean-François Primeau
Sundays November 14, 21 and 28, 2021
12pm-5pm (15hrs total)
$135 (taxes included) *please check your eligibility for the subsidized rate at the bottom of this page.
Workshop given in French by a bilingual facilitator
At Ada X
Contact ateliers@ada-x.org to register. Your registration will be confirmed once payment is made.
*** This workshop may be adapted for an online format to accommodate changing health measures ***
This workshop offers an introduction to the basic principles of artificial intelligence from an artistic perspective. Through three 5-hour sessions, you will explore the fundamentals of AI, how it works, and potential uses of this technology for artistic ends, particularly in performance and installation. The course will present an overview of the different creative approaches that involve AI, allowing you to better understand the contemporary artistic landscape that is emerging. You will then be introduced to existing tools that allow you to integrate AI into an artistic practice, either online or using an Arduino microcontroller. The workshop will be an ideal place to exchange ideas on new creative technologies for artists of all disciplines.
Objectives:
– Acquire theoretical and practical knowledge about the fundamental principles of artificial intelligence;
– Acquire theoretical and practical knowledge of the fundamentals of electronics;
– Develop electronic prototyping skills;
– Understand artificial intelligence system design through a series of hands-on projects;
– Read technical schematics;
– Build prototype integrated circuits to connect basic components, light components, motors and microcontrollers;
– Carry out a few small projects, such as programming an artificial intelligence in an installation or performance context;
– Learn about online artificial intelligence assisted creation platforms;
– Learn about programming;
– Develop a project integrating all the acquired knowledge
Take a look at the detailed course outline via this link.
Prerequisites
– Commitment to be present at all stages of the course
– Be a professional artist, creator or cultural worker
The necessary materials are included and will be provided to participants. Each participant will receive an Arduino Nano 33 BLE Sense, a prototyping board, and electronic components that will allow for the prototyping of various ideas.
Reservation / Payment
Reservations can be done by email at ateliers@ada-x.org. Full payment must be made for registration to be valid. You can pay by credit card (Visa or MasterCard), cheque or in cash. Registration for a workshop is not transferable.
Cancellation / Refunding
Ada X does not refund registration fees except in case of illness or absolute necessity. In such cases, registration fees are transferable to another workshop or alternative services.
Workshop Cancellation
Ada X reserves the right to cancel workshops at any time and without advance notice. In this case, registration fees are totally refunded.
**Are you employed by a company with a payroll of $2 million? In addition, will this training be paid for by your employer because you will participate as a part of your job?
According to Services Quebec regulations, people who answer yes to these two questions have access to training, but cannot benefit from Services Quebec 's subsidized rates. The fee will therefore represent 10% of the total value of the training. In the event of more registrations than the number of places available, priority will be given to artists and cultural workers who meet the profile described by Services Quebec .
---