**POSTPONED** | Green Gazing | Ashley Bowa & Lesley Marshall
Participants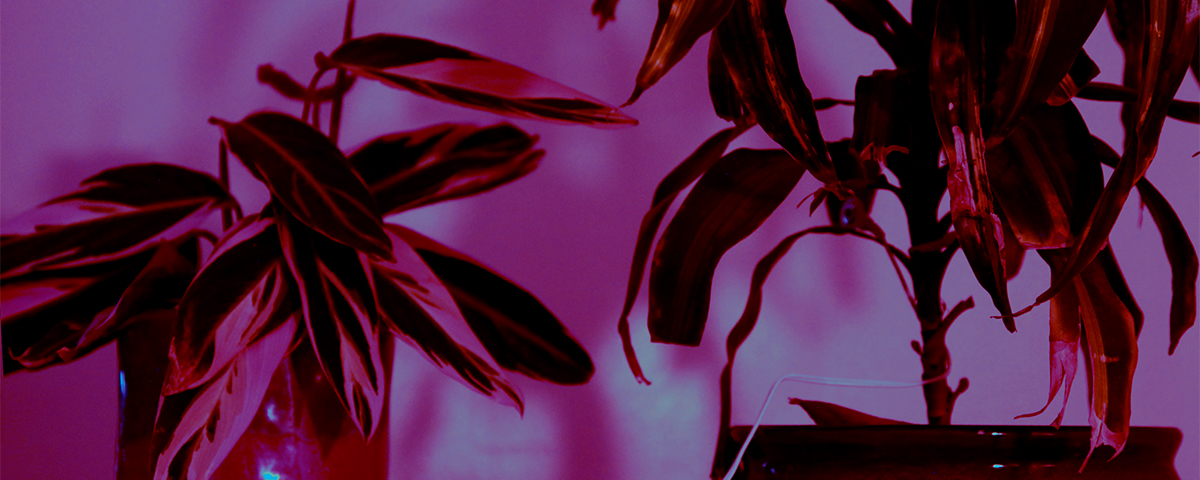 INSTALLATION + WORKSHOP + DISCUSSION | Green Gazing
Artists: Ashley Bowa + Lesley Marshall
**POSTPONED** (date TBD)
Combining an immersive and interactive installation, a meditative movement session, and a discussion, Green Gazing proposes a community reflection on our relationship to living things and the systemic roots of environmental degradation. In a room filled with plants, Ashley and Lesley use data generated by the vegetation and the gestures of the participants to create a live audio and video work. The artists will then invite us to discuss the following questions: How can we revisit our relationship with the non-human world? What are the systemic biases reproduced by environmental movements? How can we move beyond the notion of individual well-being to imagine communities of resistance? 
Bring your yoga mat! To register for the workshop, contact ateliers@studioxx.org
_____
We have seen the world burn. This isn't the only time it's burned, or been metaphorically and physically razed in the name of colonial and capitalist expansion. But, from wildfires in the Amazon to California to Australia, the media has increasingly zoned in to apocalyptic images as part of our understanding of anthropological climate change. The later years of the last decade marked a tidal shift in the narrative, which now openly asks how much time humans have left to stop seemingly imminent large-scale catastrophe.
But, slow down.
If there ever was a rehearsal for better understanding our relation to the environment and to each other, it's not over. Everything is practice and practice is meaningful; it is the action, the affect.
Collaborators Lesley Marshall and Ashley Bowa understand this well, as they give possibilities for a new relational order between humans and nature in Green Gazing. Uninterested in speaking for plants, which would reproduce harmful hierarchies, they use immersive installation and experimental movement workshops to act as semi-translators for the non-human life already present around us—the difference between using and being with nature. Approaching from feminist lenses and a combined background in performance, video projection, irreverent media art, movement-based healing work, and the politics of wellness, Marshall and Bowa offer realistic tactics to strengthen our ability to bond with plant life.
Green Gazing unfolds in multiple acts, asking: what does it mean to embody a liberation movement? By translating biofeedback (the measured electrical signals of plant processes) into data, then image, graph, music, or movement, the artists cast learning back through the sensing body. Technology becomes a translation tool—though harrowed by its own contributions to environmental degradation and resource depletion, it also forms a common bridge to allow humans to visualize their co-creation with plant life. Studio XX's thematic Slow Tech recognizes these contradictions, and the alternatives available to us to reimagine and reclaim narratives of the end times.
To create experimental movements that turn into guided exercises for participants, Bowa and Marshall look to plants—how they grow and respond to their environment. Time slows when it is sieved through the body; movement seeds the possibility of a relation-in-becoming.
Joy Xiang
_____
Ashley Bowa is an emerging filmmaker, media artist and arts educator based in Toronto. She is also trained as a yoga and pilates instructor and in outdoor education.
Lesley Marshall / LES666 is an award-winning filmmaker and intermedia artist. Projection art by Lesley has been performed at the National Art Centre, Montreal Jazz Fest, and CentrePHI.  
Joy Xiang is a writer, poet and arts worker who engages themes of migration, material flows, and media nostalgia and futurity. She is an editor at Canadian Art.
The artists would like to acknowledge funding support from the Ontario Arts Council, an agency of the Government of Ontario.

---