I Dream Eye | Raylene Campbell
Participants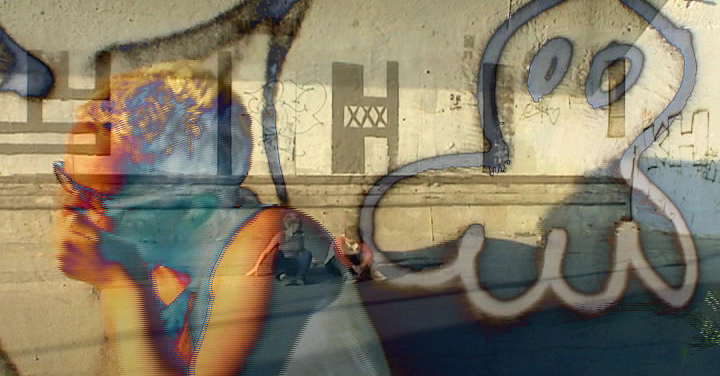 Open Residency
Dates: mid-July to beginning of October, 2004
Length: 8 weeks
Format: multimedia performance with accordion and interactive video
The work of musician Raylene Campbell focuses on electroacoustic composition/performance and the exploration and creation of audio art. Raylene aims to explore all the possible techniques that one can use to manipulate the acoustic sound of the accordion, an instrument already rich in resonance and colours. Having explored the manipulation of sound with a changing acoustic environment and the use of analog and digital effects processors; the use of MIDI controllers and computer interactive technology; and the development of improvised performance, Raylene had tried everything until she started working with EIS (Expanded Instrument System) during her residency at Studio XX.
Developed by Pauline Oliveros and programmed by Stephan Moore, the EIS is an interface which gives the acoustic/electronic musician the capacity to process live improvisation using a system built on audio processing devices, spatialization devices, and algorithms using the Max/MSP programming application and a system of foot pedals, switches and sensors.
Thanks to the various types of technical assistance that she has benefited from during her residency at the Studio, Raylene has been able to make modifications to the EIS for her musical and video performance, including adding an audio file trigger, looping controls, pitch bend control, as well as increasing the input channel potential. The interface technology that she currently uses includes Max/MSP, Powerbook, RME Multiface, iCube Digitizer, MIDI Sport, and a system of foot pedals, switches, and sensors. She is also exploring the possible implementation of two g-force sensors that can be attached to the moving bass section of her accordion and compass sensors. Finally, during her stay at Studio XX, Raylene has started to include video sculpture in her work with the intention of providing a direct connection between the video projection and the sound during her performances.
Raylene Campbell has had the opportunity to complete her eight weeks of residency at Studio XX over a longer period. Her stay was marked by a residency at Steim in Amsterdam, in September, where she completed the soundtracks for her project. Moreover, she will be Studio XX's special correspondent at the Send + Receive sound art festival in Winnipeg at the end of October, where she will publicly present part of the work that she has completed during her residency. She will take advantage of this event to witness cutting edge sound and media art as well as to meet and converse with like-minded artists from around the world. I Dream Eye, work commissioned by New Adventures in Sound Art, will be presented as a world premiere during SOUNDplay in Toronto, in November 2004. Raylene will share her work with the Montreal community during the October 22nd 2004 edition of the Femmes br@nchées salon series.
---