Méta Femmes Br@nchées #2 :: +POSITIVE+
Participants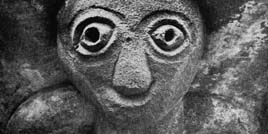 with Mystress Cybernoski
Wednesday May 20th, 1998
THE MERCIFULLY SHORT PROGRAM
7pm – 9pm
An fabulous evening of media art, Darlings Sheila Urbanoski will screen and discuss a selection of her video shorts, including excerpts from her installation work, She will present her most recent web site, +POSITIVE+, a piece incorporating the work of Montreal writer Ian Stephens. She will also introduce the Mystress Cybernoski, who will discuss webster projects they have instigated. Short videos to be screened include Vita Brevis / Ars longa, a video diptych: Drag Queen Trapped In A Woman's Body, Beauty Works and other performative video works: Lies, Lies, Lies, Once, Me Myself I, and many other surprises. See you there, soyez beau.
Saturday May 23rd, 1998
TECH TALK: Web Art Workshop
4pm – 7pm
Release the inner geek in you, and therefore upon the world! A workshop directed at artists working on the web, who are interested in pursuing creative and dynamic approaches to web authoring, and Internet-based artist's projects.
In this straight-talking tech talk, Sheila Urbanoski will lead a seminar discussing tips and tricks for effective web authoring and tactics for creating a presence (and sensation!) on the web. Topics covered will include search engine tips, software, hardware and wetware tactics, and real world graphic, bandwidth and coding solutions. There will also be discussion of the theoretical, critical and aesthetic concerns facing web spinners of today.
Very limited number of participants.
Please contact Studio XX
May 25th, 1998
digitAtelier
Sheila will be all ours and only ours for this session of our weekly-women-artists-working with technology meeting.
Wednesday May 27th, 1998
SOME DO – SOME DON'T
More than Point and Click – A romp through the nook and crannies of cyberart and politics on the Internet. This talk will be of interest to everyone interested in the web, from the casual surfer to the advanced web author.
Sheila Urbanoski will present and discuss an overview of Internet-based artists' projects and social activism, including reviewing political interventions and subversive projects undertaken over the last few years. Discussion will also revolve around the effective (or in some cases, very ineffective) usage of narrative, writing content and web design with oodles of examples and discussion.
---