S'éclipser | Phases of Resilience
Participants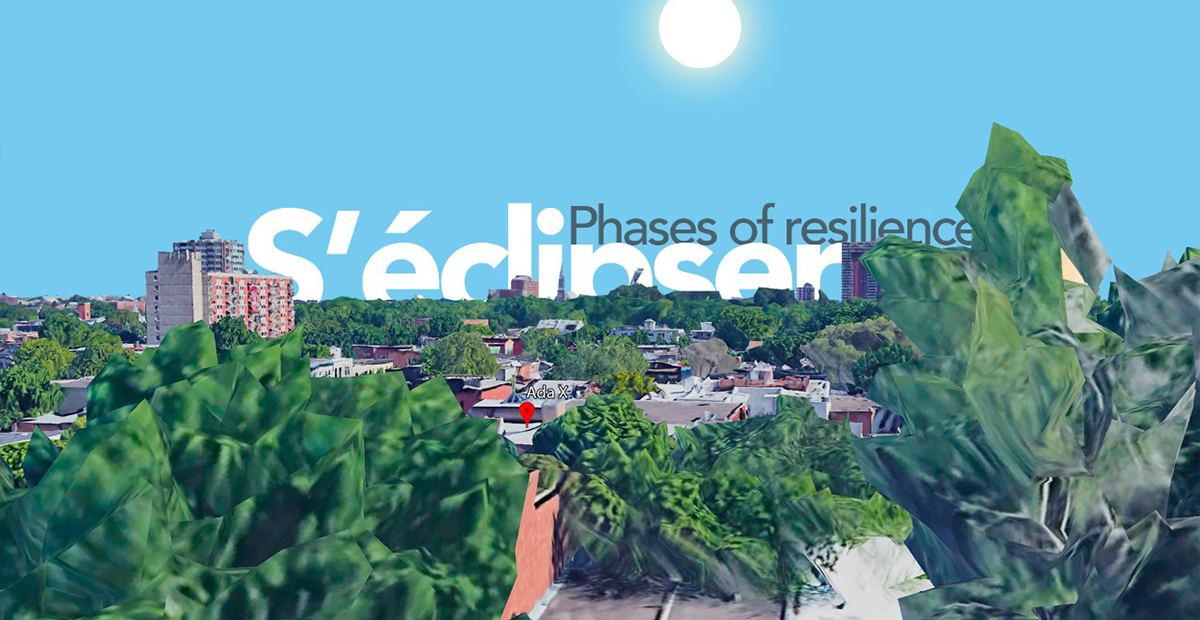 Presented by Laboratoire NT2 
S'éclipser | Phases of Resilience
Exhibition
With Elisa Gleize, Joselyn McDonald & Sarah Friend
November 6, 2020 – February 6, 2020
http://seclipser.org/
Launched on November 6, 2020, at 11:37 a.m. when the sun is at its zenith.
S'éclipser | Phases of Resilience, presented as part of the HTMlles Festival, calls on the motif of metamorphosis through a techno critical and ecofeminist perspective. The three artworks bring to light hybrid creatures, propose transformations or deformations, and invite us to imagine new material and symbolic configurations of our precarious present.
These metamorphoses act as screens for our protection and active reflection, based on the principle of a disappearance necessary to the (re)poetization of the world, a calculated step back that leaves room for other resilient agencies.
In Mex and the animals by Elisa Gleize, Mother_Protect_Me by Joselyn McDonald and Becoming Illegible by Sarah Friend, simulation, distortion, and abstraction question and challenge the universal human subject, its image, as well as the androcentric and anthropocentric systems on which it depends. The artworks create spaces of life, hope and opposition, reflecting the world's fragility and structures like a distorting mirror in order to inspire subtle disobedience.
S'éclipser | Phases of Resilience is synchronized with Montreal's sunlight hours. The exhibition web site is hosted on a Raspberry Pi with a capacity of 8 GB. The visibility of the artworks and the access to the exhibition are thus tied to local weather conditions and to technological restrictions in an effort to significantly reduce the exhibition's carbon footprint.
Joselyn McDonald, Mother_Protect_Me, 2020
Mother_Protect_Me consists of a series of videos in which the artist covers her face with flowers in order to evade facial recognition systems. Joselyn McDonald creates arrangements of irises, chrysanthemums or baby's breath in a style reminiscent of the traditionally "feminine" practice of make-up tutorials from which she draws her inspiration. Both alluring and peculiar, these masks serve to elude detection algorithms and regain control of one's image. The work uses Mother Nature's camouflaging powers to resist mass surveillance and invites us to do the same.

Elisa Gleize, Mex and the animals, 2020
The video work Mex and the animals takes place in a post-apocalyptic future staged in Second Life. Born in a world without animals, the avatar Mex narrates his melancholic quest for an extinct fauna while contemplating reductive and marketable simulations. As he wanders this metaverse, the character interacts with fantastic creatures embodied by other users. Mex and the animals, far from being a children's tale as the title would lead us to believe, tells of a future turned towards the past, where imagination mitigates the shortcomings of real life. An elegiac artwork, Mex and his contemporaries' dystopia echoes the psychological impact of environmental deterioration overwhelming our present.
Sarah Friend, Becoming Illegible, 2020 
Becoming Illegible reflects on the conditions of legibility and visibility of the face, the subject and society. The videos produced by Sarah Friend using filters—which apply effects to images in order to modify them—give rise to abstract representations in which nature and humans merge until they become indistinguishable and uncanny. This warping process is slowed and highlighted throughout the videos. The work functions as a metaphor for technological mediation, as the artist also invites users to interact with the work by clicking on the camera icon, thus reversing their point of view from the position of the observer to the target of the lens. Becoming Illegible materializes the tensions and distortions of our relationship with nature in addition to embodying a strategy of resistance to being seen and surveilled.
This project launches with many thanks to Max Bittker for his work on shaderbooth, an open source editing environment for writing and sharing face filter artworks (https://shaderbooth.com/).
Exhibition realized by Lab NT2 in collaboration with the research group Archiver le present and supported by the Canada Research Chair in Digital Art and Literature. With the participation of Cédric Anderson, Gina Cortopassi, Ludovic Doutre-Guay, Joanne Lalonde, Alexandra Martin and Lisa Tronca.

Image: NT2 Laboratory, S'éclipser: Phases of Resilience, exhibition home page, Montréal 2020.
---