Studio XX's website sports a brand new look!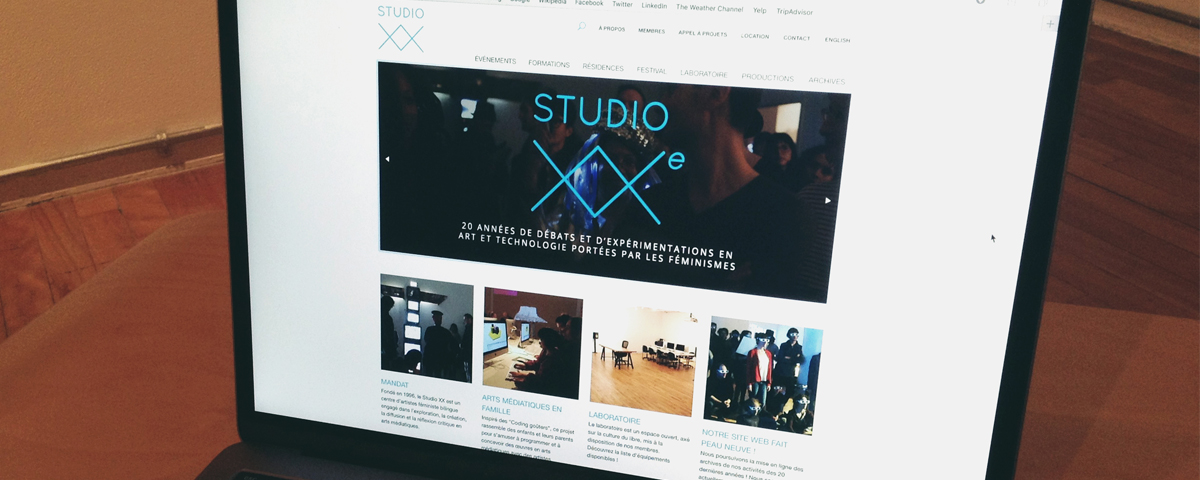 As the finale to Studio XX's 20th anniversary year, we are thrilled to present our new website.
The last time we redesigned our site was in 2008 when we launched the Matricules Archives.
To celebrate our 20th anniversary, we built a more accessible interface–one that highlights all the creators who have contributed to the Studio's story, as well as developing a dynamic way to browse 20 years of exhibitions, conferences, artist residencies and workshops.
Produced by the Studio XX team, this new platform would nonetheless not have been possible without the involvement of two extraordinary people: John Boyle Singfield and Conan Lai, whose integration into the Studio during these past two years was made possible thanks to the Youth Internship Program, coordinated by Communautique. We thank John and Conan from the bottom of our hearts!
While the entire team (as well as the Board and the Web Committee ) were involved in this year-long project, Martine Frossard and Stéphanie Lagueux, in particular, did an enormous amount of work that included editing, graphic design, interface management, migration of the archives, and a ton of other jobs that we can't keep track of!  Gwenaëlle Denis, Deborah VanSlet and Erandy Vergara contributed in a number of ways including writing, proofreading and translation.
Yet it's not totally done: we still have lots of work ahead as we continue to update our archives: participants, descriptions, photos and videos of activities from our past 20 years! Visit our site often to check on the evolution!
Enjoy your visit!
studioxx.org
---