velakExport #20
Participants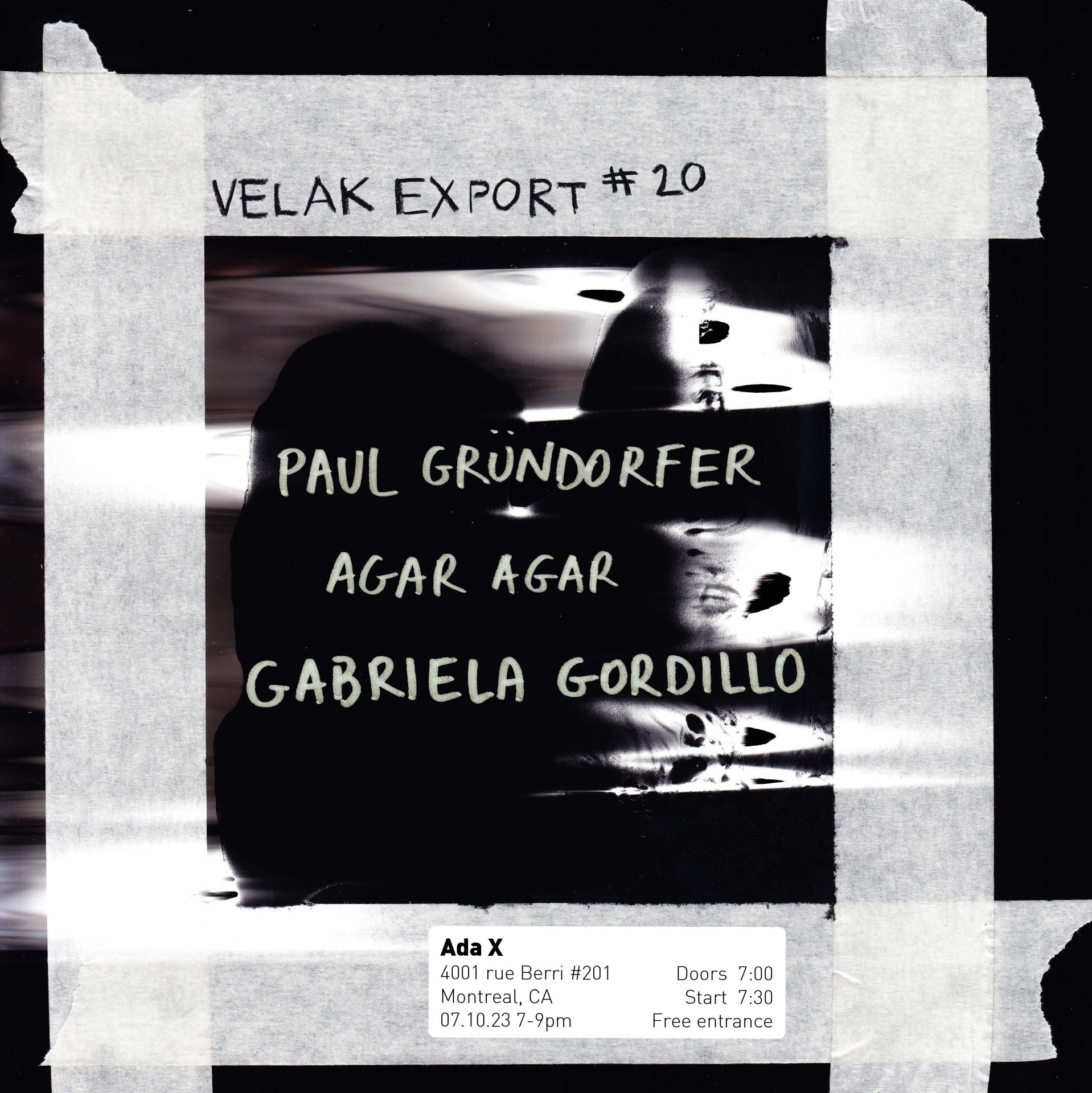 Performances
Saturday October 7th
7 to 9 PM  — Doors closed at 7:25! Performances start at 7:30!
At Ada X, 4001 Berri, # 201
Free
Accessibility
> The event is free and open to all, but may affect photosensitive participants.
> Performances contain flashing lights and loud sounds
𝘼𝘽𝙊𝙐𝙏
Lean back and be transported! All the way from Vienna, Austria, velakExport #20 presents a selection of artists within their large collective. Expect immersive audio visual performances created using analogue and digital tools.
velak is a series organising concerts and performances with the focus on electronic, experimental and improvised music, consistently and regularly for almost 20 years. The concert series hosting local and international acts has a nomadic form of organisation playing in different settings and spaces around Vienna, but also has collaborated with other organisers from abroad to play velakExport events in Tokyo, Berlin, Paris and Brussels and was engaged to run a radio stream around the world over the last years.
𝙒𝙃𝘼𝙏'𝙎 𝙊𝙉
𝗮𝗴𝗮𝗿 𝗮𝗴𝗮𝗿 (𝗠𝗮𝗿𝘁𝗶𝗻𝗮 𝗠𝗼𝗿𝗼 + 𝗙𝗮𝗯𝗶𝗮𝗻 𝗟𝗮𝗻𝘇𝗺𝗮𝗶𝗲𝗿)
agar agar is an audiovisual performance by Martina Moro and Fabian Lanzmaier. Combining analogue and digital tools they create an immersive space of abstract sound and visuals. Setting up an instrument in which the visual and auditory parts influence each other, they generate a system with its own dynamics and dependencies, resulting in a synesthetic experience. agar agar is a performative instrument, a miniature stage, that under many spotlights, reveals an ecstatic choreography of patterns interacting with each other.
In our multidisciplinary research we work in the fields of visual arts and sound. Our practices of fluid narratives, sensory exploration, aspects of texture and structure in sound synthesis and audio visual stimulation, aim to bring technological elements, of both analog and digital nature, to an immersive experience.
𝗜𝗟𝗔, 𝗶𝗺𝗺𝗲𝗿𝘀𝗶𝘃𝗲 𝗹𝗶𝗴𝗵𝘁 𝗮𝗰𝘁𝗶𝗼𝗻𝘀 (𝗣𝗮𝘂𝗹 𝗚𝗿𝘂𝗻𝗱𝗼𝗿𝗳𝗲𝗿)
audio modulated LED -white, rgb PD-0.50-2
Researching phantom presence in space Paul Gründorfer uses discursive animal sounds and high intensity audio modulated light frequencies to create immersive audio-visual scapes.
OW – 𝟵𝗮𝗯𝗿𝗶𝗲𝗹𝗮 (𝗚𝗮𝗯𝗿𝗶𝗲𝗹𝗮 𝗚𝗼𝗿𝗱𝗶𝗹𝗹𝗼)
9abriela is an exploration of sound, memory and media. Using electronic devices and field recordings to create multi layered narratives that turn into essays, portraits and compositional experiments. Using analogue and digital loops for rhythmic and ethereal soundscapes, the story unfolds as a distant dream of clashing temporalities. The voice defines a pace and inner clock, in contrast to the hum of earworms and broken tunes. In an interlude between body and machine, this set reflects on the affordances of the instrument towards a musical outcome and creation of new memories.
---