Video Mapping
Participants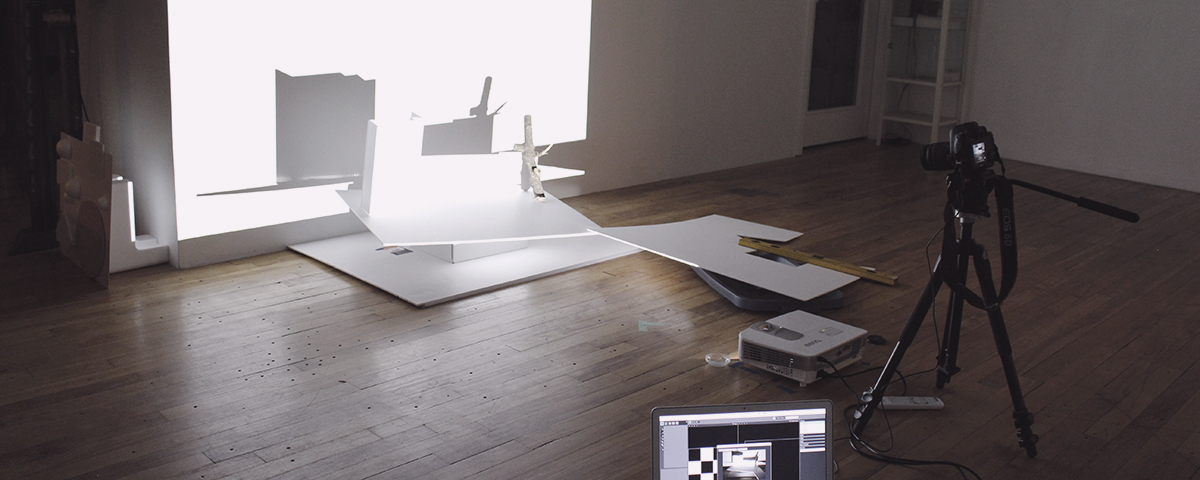 Instructor: Nelly-Eve Rajotte
Duration: 14h
Dates : May 4, 5 and 11 (1pm – 4pm) and May 12 (1pm – 5pm) 
$105 (tax included) **see conditions (price includes equipment)
Workshop in French by a bilingual teachter
Number of participants: 8
At Studio XX
FULL | The next video mapping workshop will take place next year.
This hands-on workshop introduces participants to video mapping techniques using the open-source projection mapping software Map Map as well as the software Madmapper. These tools are often used in media arts and in the theatre for projecting video footage onto a variety of forms and surfaces. By adapting projections to specific spaces, participants will be able to combine recorded and live footage in real time. First, they will develop a project based on examples of video creation and schematization of the process. Secondly, they will create a projection model based on prior examples and influences. Lastly, participants will use the tools they have learned to research and develop their own project which will be presented on the last day of the workshop.
Objectives

– Explore VPT, Map Map and MadMapper softwares;
– Discover the work of artists doing video mapping;
– Become familiar with project management methods used in video mapping (technical constraints, necessary equipment, gallery or building projection);
– Create a video as part of a video mapping project;
– Explore diffferent textures/ materials and their interaction with light, using projectors;
– Make a model as part of a video mapping research project that will be presented to the group at the last class.

Content
Phase 1 (theory and practice on computer)

Course 1 (3h)
– Overall presentation of the training;
– Presentation of work examples in video mapping;
– Starting the conceptualization of an individual project

Course 2 (3h)
– Continuation of the individual project;
– Initiation to MadMapper software;
– Use of necessary codecs
– Modeling and schematization of the projection site;
– Filming needs assessment;
– Shooting and photo direction according to the projects

Phase 2 (tests and presentation of the project)

Course 3 (3 hrs)
– Continuing to learn MadMapper software;
– Editing material filmed on Final Cut 7, Premiere or After Effect;
– Transposition and arrangement of the elements filmed in a virtual way on the projection space;
– Realization of a model

Course 4 (5h)
– Mock projection tests
– Final presentation of individual projects

PREREQUISITES
– Editing experience in digital video (editing and video shooting)
– Basic knowledge of After Effects software
– Be an artist, creator, cultural worker or professional
– Be present for throughout the whole duration of the formation
Reservation / Payment
Reservations can be done by email at ateliers@studioxx.org. Full payment must be made for inscription to be valid. You can pay by credit card (Visa or MasterCard), cheque or in cash. Inscription to a workshop is not transferable.
Cancellation / Refunding
Le Studio XX does not refund inscription fees except in case of illness (with a medical note) or of absolute necessity. In such cases, inscription fees are transferable to another workshop or service offered by the New Media Lab.=
Workshop Cancellation
Le Studio XX reserves the right to cancel workshops at any time and without advance notice. In this case, inscription fees are totally refunded.

**Are you employed by a company with a payroll of $ 2 million? In addition, this training will be paid by your employer because you will follow in the course of your job?
According to Emploi-Québec regulations, people who answer yes to these two questions have access to training, but can not benefit from Emploi-Québec's subsidized rates. The fare will therefore represent 10% of the total value of the training. In the event of more registrations than the number of places available, priority will be given to artists and cultural workers who meet the profile promoted by Emploi-Québec.
For any question or clarification, please contact us at ateliers@studioxx.org.
---