I wait for the time | Rojin Shafiei
Participants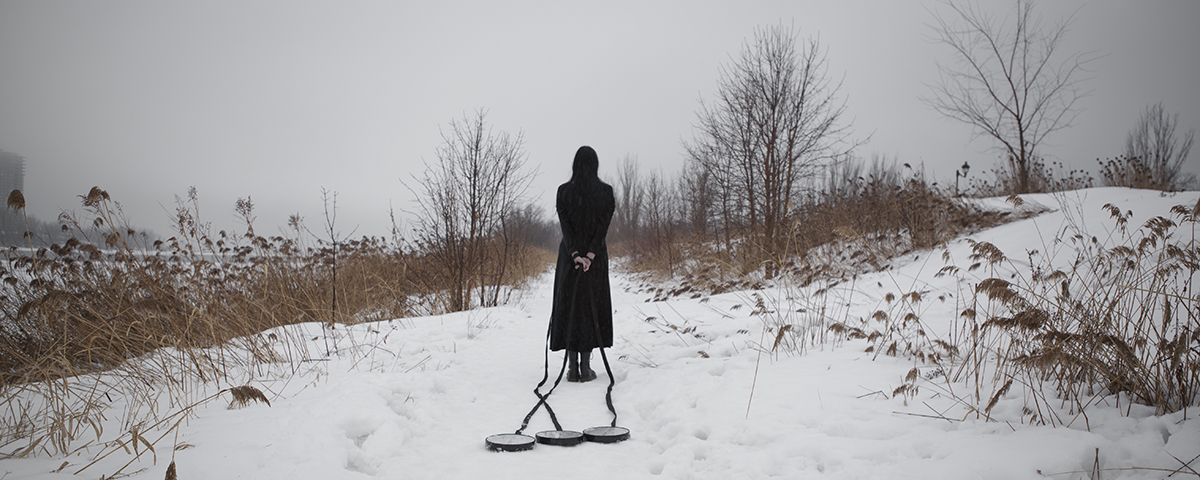 Residency: January 16 to June 23, 2018
Exhibition at Studio XX: Tuesday, May 15 to Saturday, May 19, 2018
Opening at Studio XX: Tuesday, May 15 at 5:30 p.m.
Gallery walkthrough with the artist: Saturday, May 19 at 2 p.m.
I wait for the time is a video installation that deals with the notions of inertia and the stoppage of time as experienced by an anonymous protagonist. In the video, time in its various states is represented by three clocks affixed to a black-clad figure. Fixed in the present moment, the performer moves through an inert and repulsive frozen landscape. This video explores the relative nature of time's passage and troubles its conception as uniform and straightforward. The image of a place appears frozen in one's memory whereas time's forward motion continues outside the viewer's personal sphere.
Performer: Holly Timpener
Photo credit: Rojin Shafiei
Rojin Shafiei's residency at Studio XX, ORORO and GIV is supported by the Conseil des arts de Montréal's DémART-Mtl program.

---