Black Quantum Futurism (Camae Ayewa + Rasheedah Phillips)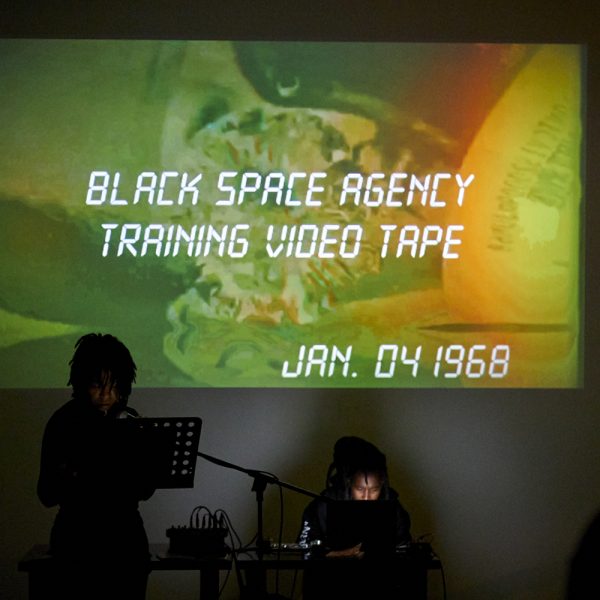 Black Quantum Futurism is an interdisciplinary creative practice between Camae Ayewa and Rasheedah Phillips that weaves quantum physics, afrofuturism, and Afrodiasporic concepts of time, ritual, text, and sound to present innovative works and tools offering practical ways to escape negative temporal loops, oppression vortexes, and the digital matrix. BQF has created a number of community-based projects, performances, experimental music projects, installations, workshops, books, short films, zines, including the award-winning Community Futures Lab and Community Futurisms project. BQF Collective is a 2018 Velocity Fund Grantee, 2018 Solitude x ZKM Web Resident, 2017 Center for Emerging Visual Artists Fellow, 2017 Pew Fellow, 2016 A Blade of Grass Fellow, and a 2015 artist-in-residence at West Philadelphia Neighborhood Time Exchange. BQF has presented, exhibited and performed at Red Bull Arts, Serpentine Gallery Philadelphia Museum of Art, Open Engagement, MOMA PS1, Bergen Kunsthall, Le Gaite Lyrique, Squeaky Wheel Buffalo, among others. 
Rasheedah Phillips is a Philadelphia-based Civil Rights attorney, artist, mother, and cultural producer whose speculative fiction writing and essays on time, housing, and law have appeared in Keywords for Radicals, Villanova Law Review, The Funambulist Magazine, Recess Arts, and is the self-published author and editor of several anthologies of experimental essays. 
Camae Ayewa (Moor Mother) is a musician, poet, visual artist and workshop facilitator, and has performed at numerous festivals, colleges, galleries and museums around the world, sharing the stage with King Britt, Roscoe Mitchell, Claudia Rankine, bell hooks and more. In late 2016, she released her debut album Fetish Bones on Don Giovanni Records with Fetish Bones poetry, followed by her highly-anticipated sophomore album Analog FLuids of Sonic Black Holes and accompanying Analog Fluids poetry book.