Wired Women S@lon 96 : Double life
Participants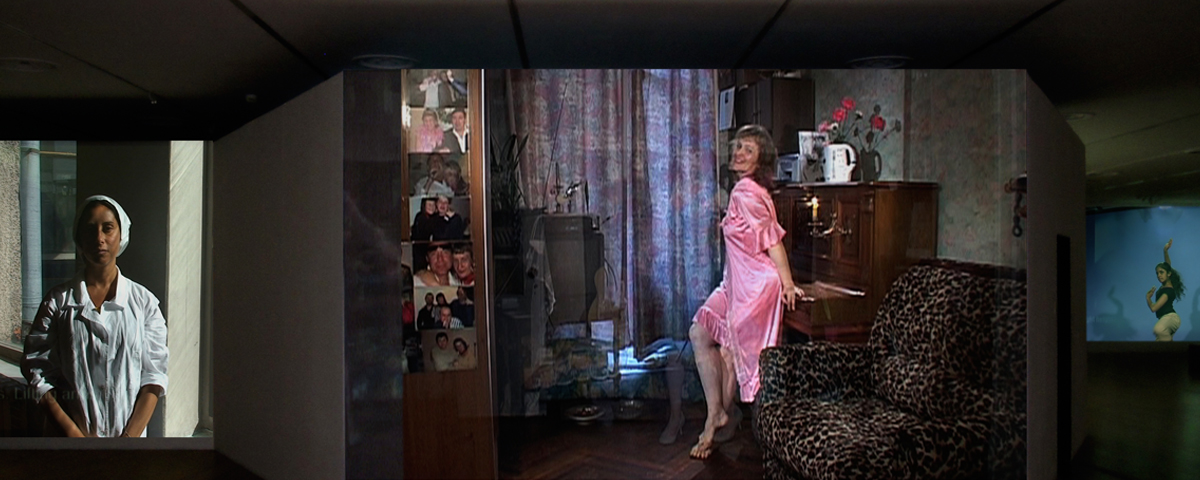 Olga Kisseleva
ARTIST PRESENTATION + CURATORS + PANEL DISCUSSION
Friday, May 10, 7PM
Admission: $5, *FREE* for members. 
Refreshments will be served
@ STUDIO XX – 4001, Berri (corner Duluth) space 201
++ Call for artists : applications by May 9, 2013
Workshop with Olga Kisseleva on Saturday May 11 at 10:30AM.
OPENING
Thursday, May 9, 6–8PM, free admission
EXHIBITION
May 9 to June 13, 2013
Tuesday to Friday from 10AM to 5PM, free admission
Curators
Natacha Clitandre and Mariève K. Desjardins
Curators Natacha Clitandre and Mariève K. Desjardins are pleased to present, in collaboration with Studio XX, the North American premiere of Double Life, a video installation by Olga Kisseleva, from May 9 to June 13, 2013. A series of activities will complement the exhibition as a means  to explore some of the issues raised by the work, and several Montreal artists will also have the opportunity to contribute to the project by producing new content.
Double Life is a video installation made up of several diptypchs focusing on the various ways in which artists have to reconcile (or not) working a necessary "day job" alongside their art practice.  By portraying artists in various spheres of their lives, sometimes very different and rarely viewed at the same time, Kisseleva raises questions about the contribution of the artist, and the recognition of their work in a society that values efficiency, production and profit. The artist's stories reflect the often alienating situation that occurs when living a double life.
Opening May 9, 2013, 6-8PM, in the presence of the artist.
Double Life panel discussion

As a way to address the issues highlighted by the artwork, Studio XX will host a round table discussion on Friday May 10, 2013 at 7PM as part of a Wired Women Salon. This evening will also serve as an introduction to the workshop the following day. Hosted by Sandra Rodriguez, this discussion will bring Kisseleva together with a group of panelists involved in the contemporary art culture in Québec. The discussion includes participation with the attending audience.
With : François Babineau, Anne Bertrand, Suzanne Bilodeau, Sandra Rodriguez and Sara Savignac Rousseau
Call for artists and workshop

Initiated in 2007, Double Life has been developed as a collaborative project involving artists from every city in which it has been shown. Artists from Paris, Rennes, Moscow, Bucharest and Madrid, to name a few, have created video content to complement Kisseleva's artwork and, so far, fifteen diptychs have been produced. The project is now open to Montreal's artists.
A workshop, to be held on Saturday May 11 at 10:30AM at Studio XX, will give Montreal media artists the opportunity to reveal their own double life and to submit their contribution for this constantly evolving work. Three artists will then be invited to create their own diptych over the
following month, which will be integrated into Kisseleva's video installation. Equipment and technical support will be offered by the Studio. These Montreal diptychs will be unveiled at the Wired Women S@lon held on June 13 at 7PM and will then become part of the traveling installation.
Montreal artists wishing to submit their application as Kisseleva's artist-collaborator should contact Mariève
K. Desjardins by  May 9, at the following email address: mariekaz at yahoo.com. It is strongly recommended that applicants attend the round table on May 10 to initiate a reflection on the topic.
The curators and the artist are grateful to Conseil des arts et des lettres du Quebec and Consulat general de France à  Quebec for their support. They also want to thank Studio XX.
---