Call for local residencies 2021-2022 | Ada X + Algora Lab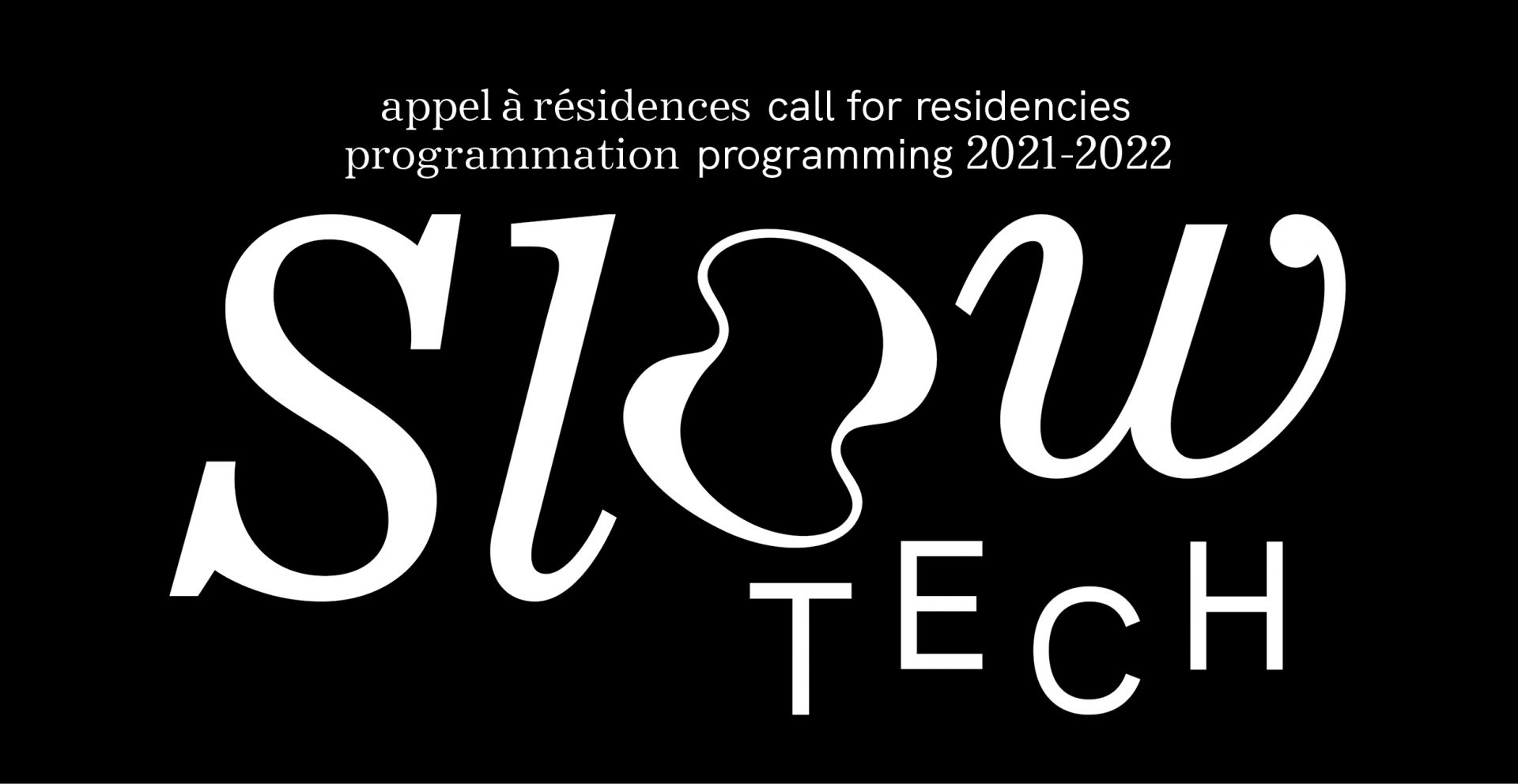 Residency dates: Interested artists must be in Montreal and available for a period of 8 weeks between August 2021 and March 2022.
Residency fee of $1,350 CAD offered by Ada X, plus a $1,000 CAD honorarium from Algora Lab, and a production budget.
Deadline: Monday March 22nd, 11:59 p.m. Montreal time (EST)
As part of our programming beyond exhibitions and events, Ada X offers production residencies. This call is for the selection of two local residency projects in 2021-2022.
This year Ada X is partnering with Algora Lab, an interdisciplinary laboratory developing discourse around the ethics of artificial intelligence. To take advantage of this partnership, as well as Ada X's place in the local cultural ecosystem, we are looking for Greater Montreal-based projects which approach AI from a Slow Tech perspective.
Montreal has established itself in recent years as a significant location for the field of artificial intelligence. The impacts of Montréal's AI research hub and the industry activated around it are felt not only in the local economy, but also in the knowledge sector, in real estate, and in urban planning, in addition to having influence on a global scale.
We invite artists to draw inspiration from the ethical concerns, theories, and technologies emerging in artificial intelligence. We propose this residency as an opportunity to question the uses and deployments of AI, addressing the diverse issues raised by its advances, through innovative, generous, and critical artistic exploration. More information on AI, consult this guide developed by Algora Lab.
SLOW TECH
Ada X is a feminist artist-run centre dedicated to exploration, creation and production in media arts, as well as critical reflection on the many societal changes brought about by digital culture*. But however well-considered or intentioned this position may be, the technological equipment involved in the disciplines of media arts implicates Ada X in a consumerist dilemma that is at odds with the current environmental crisis. In light of this, Ada X draws inspiration from ecofeminist ideas, observations, and values, and invites artists and members of its community to take a techno-critical stance.
Until 2022, Ada X will be Slow Tech. More than just a theme, this position involves three aspects:
— Environment
Ecological footprint; ecosystem destruction, conservation or restoration; relationships to consumption, sustainable development; degrowth; digital sobriety; benefits and pitfalls of science; urban sprawl; mobility, etc.
— Temporalities
In this era of acceleration and diminishing distances: alternatives to the race towards progress and the latest upgrades; obsolescence or durability; revisiting histories/Histories; slowness, the lifespan of technological devices; the imposed rhythms of life and work; the right to time, etc.
— Interactions
Ecology; social anchorage in various environments; creating family, intergenerational or intercultural links; networking; mental and emotional loads; care culture, etc.
*By digital culture, we are referring to digital literacy practices that  foster an informed awareness of the languages and possibilities offered by technologies. These practices are deployed in the interests of democratization, empowerment, and independence, in opposition to the relationships of consumption and control that tech giants wield over populations.
ABOUT THE LOCAL RESIDENCY PROGRAM
Ada X's residencies offer artists the opportunity to develop a specific aspect of a project or to create a new work in media arts related to at least one of the Slow Tech aspects. We are looking for proposals exploring feminisms, gender, and race, from an intersectional perspective.
For eight weeks, Ada X provides residents with a professional structure and media arts resources in order to foster the development of their artistic practice. In partnership with Algora Lab, this year's focus is on media arts practices that explore artificial intelligence. The Montreal-based interdisciplinary research laboratory will provide tools in AI and research accompaniment, for the realization of the two selected projects.
Two proposals from artists based in the Greater Montreal area will be selected.
The Ada X team will meet with each selected artist to determine the project's production and realization schedule.
ELIGIBILITY
– Be an artist residing in the greater Montreal area identifying as a woman, queer, trans and/or non-binary.
– Be involved in a media arts practice.
– Demonstrate autonomy in the use of the equipment and tech necessary to carry out their project.
– Propose a project that is feasible with the material resources made available by Ada X and the human and material resources offered by Algora Lab (work plan, budget [including confirmed sources of funding, if applicable], resources provided by the artist and required equipment).
– Please keep in mind that the space made available for this residency – health regulations permitting – is NOT suitable for sound and/or multidisciplinary projects that would require a silent environment.
SELECTION CRITERIA
– Anchoring in the Slow Tech approach.
– Quality of the candidate's artistic work.
– Relevance of the project in the context of media arts and artificial intelligence.
– Impact of the residency in the development of the artist's practice.
– Consistency of the residency project with Ada X's feminist mandate.
WHAT WE OFFER
– If authorized by Public Health for the period in question, a work space for a duration of 8 weeks at Ada X, and the additional possibility of a space offered by Algora Lab on the premises of MILA (duration to be defined).
– A residency fee in accordance with the CQAM's media arts dissemination rates ($1,350 CAD), plus a $1,000 CAD honorarium from Algora Lab.
– A production budget covering professional fees for technical assistance and/or supplies directly related to the residency project (up to $600 CAD offered by Ada X, plus a contribution from Algora Lab to be defined according to the project).
– Access to Ada X's equipment and to certain technological and human resources offered by Algora Lab. According to the selected projects, the resources made available will be identified by the partners.
– The possibility to attend free training workshops offered by Ada X.
– The possibility to design and facilitate an educational workshop for young publics (with fee).
– A public presentation of the residency project (with fee).
– A text and a video on the artist's approach and the work produced in residence.
– The opportunity to participate in the radio show ffiles on CKUT
APPLICATION REQUIREMENTS
Incomplete applications will not be considered. Applications can be individual or collective, however, please consider that the fee is allocated per project.
In ONE SINGLE PDF FILE (5 MB max), please provide the following information, in French or English :
1. Personal contact information
– Full Name
– Pronoun(s)
– Home address
– Phone number
– Email address
– Website
2. Residency project
– Title
– Type of media (e.g. video mapping, virtual reality, 3D printing, video, etc.)
– Stage of the project at the time of submitting this proposal (research phase, production, post-production, redeployment of an existing work)
– Proposal (500 words maximum)
– Connection to Slow Tech (100 words maximum)
– Connection to Ada X's feminist mandate (100 words maximum)
– Technical requirements (equipment needed to complete the work) and assistance required (e.g. support from a technician or programmer)
– Work plan for the 6 weeks of the residency
– Funding (Please indicate if you will have a grant for your residency or if you are considering applying for one. If so, please indicate to which funding body).
3. Support materials
– CV (3 pages maximum)
– Artistic approach (250 words maximum)
4. Visual/audio documentation
– Images: 10 maximum
– URL links to audio and/or video files: up to 5 clips of up to 3 minutes in length. Please provide passwords if applicable.
– Descriptive list of the visual/audio documentation: name, title, media, broadcast context, year.
Please send your application in ONE PDF FILE (5 MB maximum) to: appel@ada-x.org
Email Subject: Application | Local Residency SLOW TECH 2021-2022
Deadline: Monday, March 22nd, 2021, 11:59 p.m. Montreal time (EST)
Incomplete or late applications will not be accepted. Applicants will receive an acknowledgement of receipt. Once the selection process has been completed, only successful applicants will be notified (Spring 2021).
---