Collective translation + design marathon of anti-racist resources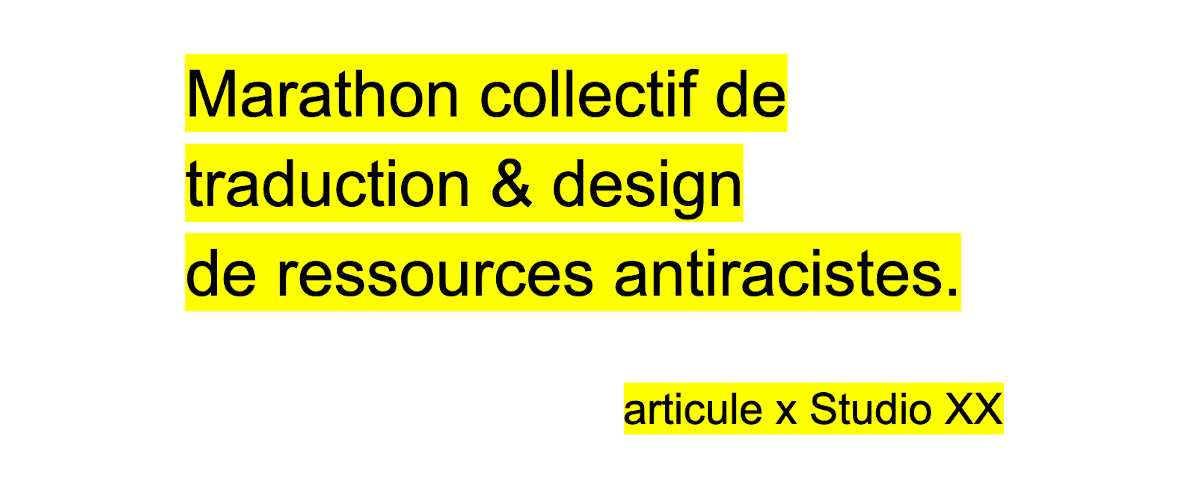 Collective translation + design marathon of anti-racist resources
articule x Studio XX
Saturday, June 13, from 2 to 5 p.m.
Online – A link will be shared with registered participants. 
articule and Studio XX are joining forces to mobilize our members and community in a collective marathon of translation and design of anti-racism resources in French.
In recent weeks, many anti-racism resources and educational materials have been community-generated and shared on social networks, mostly in English. These tools are essential in the ongoing practice of anti-racism and we want to make them more accessible to the Francophone community in Montreal and Quebec.
We are therefore soliciting people who are able to do English to French translation and/or graphic design to join us for an online marathon. We will work together on a shared document via Zoom in order to communicate and work together, in real time.
In a second step, we invite the graphic designers of our community to layout the translated resources, which will then be shared via the social networks of the two centres.
This will be done on a volunteer basis. In exchange, Studio XX is pleased to offer participants a one-year community membership. For articule, the volunteer work in this event can go towards a one-year membership at the centre, in addition to attendance at one General Assembly and payment of the $1 membership fee.
To take part in the event, please contact outreach@articule.org and indicate whether you would like to contribute as a translator or designer.
We have started a list of resources available here: https://bit.ly/2UqGdNp
You can contact us at outreach@articule.org and communications@studioxx.org to add new resources.
---