Floral Sleep | Coral Short
Participants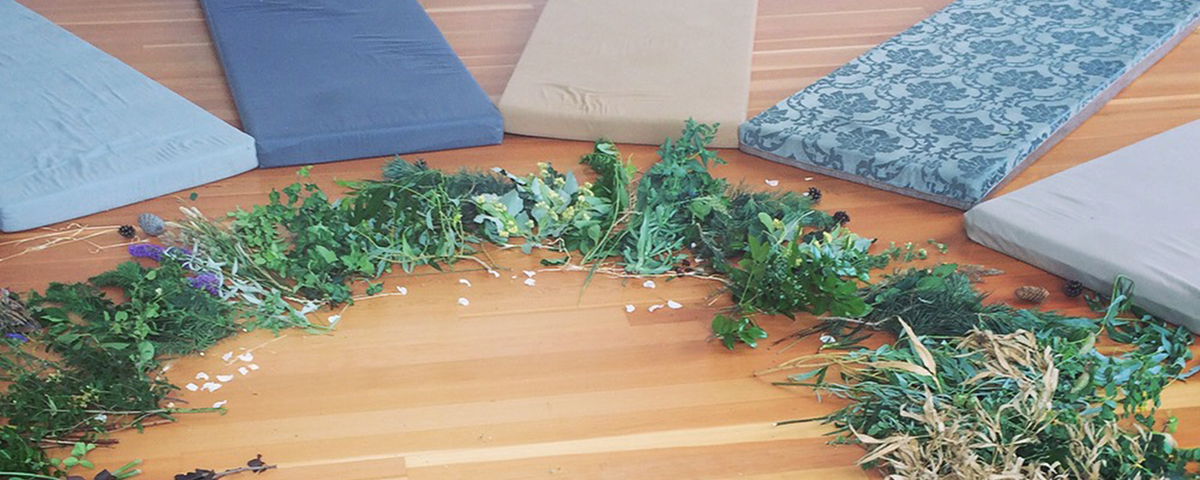 WORKSHOP | Floral Sleep
Artists: Coral Short
Saturday, January 25, 2020
2 pm – 5 pm
At Studio XX
FULL
Floral Sleep is a relaxation session and a subtle exploration of sounds emitted by nature, in the spirit of ASMR*. The artist wishes to offer a contemplative and restorative moment where participants are invited to listen to and interact with plant elements. They will experience a slow, delicate and dreamy eco-sensual moment before sharing their experience with the rest of the group.
To register, contact ateliers@studioxx.org 
* Autonomous Sensory Meridian Response : a set of bodily reactions provoked by different stimuli, most often sound.
_____
WELLNESS is the Watchword
"This word appears everywhere as the reason for us to slow down, most often attached to a product that promises to save you hours of time via speed. Paradoxically, if today's wellness discourse were a slogan, it might be: hurry up and slow down!
Coral Short's new project engages ASMR (Autonomous Sensory Meridian Response), in which exposure to everyday stimuli (usually noises, eg. nails tapping; eating sounds; whispering) induces tingling sensations and euphoria. ASMR seems built for speed, given its extreme popularity on Youtube. But where high-tech folks seek the latest watch to capture their running speed, Short's technology of wellness here is like good BBQ cookery: "low and slow." They move plant boughs around a circle of laying participants, stimulating them gently with plant sounds.
Corporations market WELLNESS as a series of inward-looking products. But Short's work redefines wellness as the connective, outward-looking potential of queer pleasure. The tingling of Short's plant-based ASMR isn't about a romanticized notion of stopping to smell the roses – even if it is about listening to the breeze of leaves. The tingling is literal; ASMR is often described as arousing, and Short describes this project as "eco- sexual."
We buy cutting-edge quick-fixes. Short's project is slower and more direct: it provokes bodies to feel better on the smallest scale. This is wellness redefined as feeling good, undertaken at the level of the goose bump.
Coral Short has long thought about wellness in exciting ways. Where foodie blogs luxuriate in the slow self-care of "stress baking," Short tuned up queer rhythms via an experimental band, Women With Kitchen Appliances. WWKA didn't take up the 'time- saving' kitchen tools of gendered domestic labour as escape, but instead as slow public experiment.
Where fitness media often dangle a fat-phobic wellness carrot – the self-pride that supposedly follows when we can wear the new (smaller) shirt or new (sexier) boots – Short has again flipped the game in advance. They have sculpted and wore "Butter Boots," aptly named. Similarly, at a Vancouver arts show, Short and their team of servers moved through the crowd, offering the show-goers fudge: "How would you like your fudge packed?"
Whether laughing or crying – witness "Crying Machine," in which attendees sit next to Short while they chop onions – connection and wellness happen queerly in Short's work."
Lucas Crawford
_____
Coral Short (Montreal) makes art with landscape, performance, film, costume, and bodies.
Lucas Crawford (Fredericton) is a trans/fat/queer academic and poet.
---