Intimate narratives in twine
Participants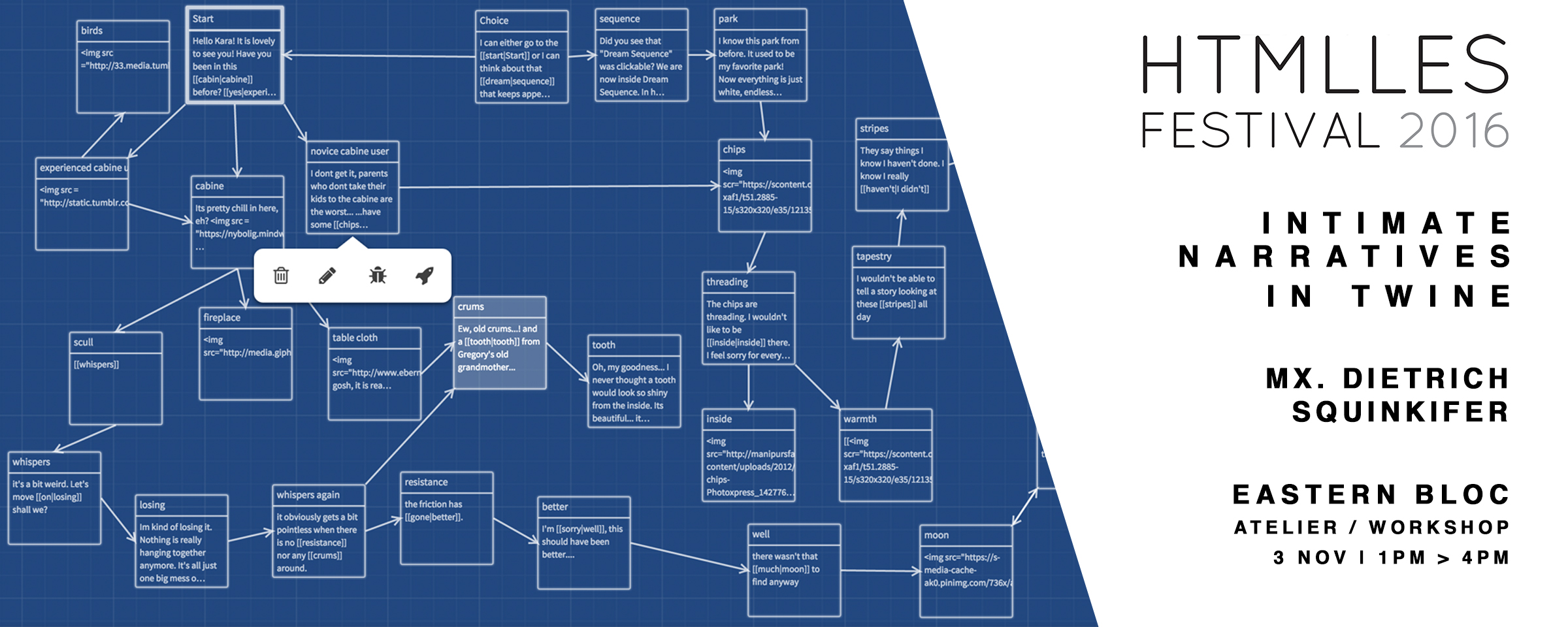 MX. DIETRICH SQUINKIFER
Workshop: 3 NOV | 1 PM – 4 PM
Free admission
Eastern Bloc
In collaboration with TAG Research Center
The HTMlles Festival 2016
Twine is an accessible tool for creating text-based games with branching narratives. In this three-hour workshop, participants will begin with a discussion about intimacy and care in the context of games and game culture.
The facilitator, Squinky, will then talk through some basic skills that participants will need as they start working with Twine. They will follow with an overview of existing storytelling techniques and design patterns that either foster or hinder intimacy. After this workshop, participants will leave with the knowledge that they need to tell their own interactive stories in Twine.
Mx. Dietrich Squinkifer (aka Squinky) is a writer, programmer, musician, and visual artist who creates games and playable experiences about gender identity, social awkwardness, and miscellaneous silliness. They are responsible for such critically acclaimed works as Dominique Pamplemousse in "It's All Over Once The Fat Lady Sings!" and Coffee: A Misunderstanding. In 2015, they were recognised as part of Forbes's "30 under 30 in Games" and they recently completed an MFA in Digital Arts and New Media at UC Santa Cruz.
REQUIREMENTS
Participants are advised to bring a laptop/computer with the software "Twine 2" installed. The software can be downloaded from Tinery.org (Available for Windows OS X and Linux). No prerequisite skills are needed.
PRACTICAL INFORMATION 
10-12 participants maximum
This course will be taught in English only
Information | Registration : 514.845.7934 | ateliers@studioxx.org
Studio XX sincerely thanks TAG and Eastern Bloc for their support as partners of this activity.
---