The HTMlles Festival 12 Unveils Its Program !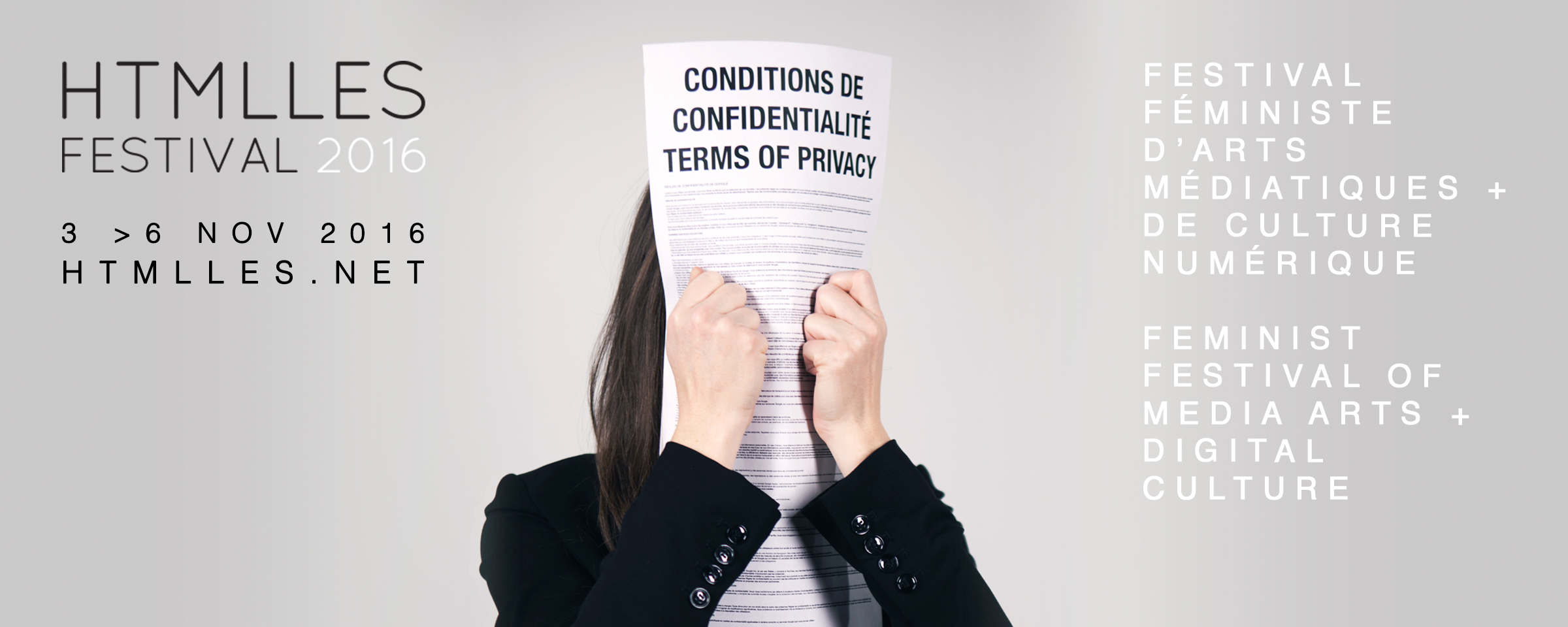 FEMINIST FESTIVAL OF MEDIA ARTS + DIGITAL CULTURE
Studio XX is pleased to present the official program of the 12th edition of The HTMlles Festival, November 3 > 6 in Montreal, with the theme: TERMS OF PRIVACY / CONDITIONS DE CONFIDENTIALITÉ.
The 12th edition, The HTMlles Festival features projects that examine personal and interpersonal dynamics of privacy in this era of overexposure and hypervisibility. Through exhibitions, discussions, performances, and workshops, the festival explores how our collective and personal practices and thoughts can become the means to define the terms of privacy and intimacy. The HTMlles 12: Terms of Privacy brings together more than 40 artists, scholars, and activists passionate about critically engaging new technologies from feminists perspectives. Among the central themes are: forbidden desires; online spectacles of the body and the soul; actions of counter-surveillance; queer and feminist tactics to regain and/or totally lose control; as well as projects exploring risks, rewards, and pleasures of intimacy and exposure.
ARTISTS
Amalia Ulman |  Ambivalently Yours | Anastasia Ferguson | Andrea Liu | Beth Coleman | claRa apaRicio yoldi | Daniela Müller | Diana Laurel Caramat | FemHack | Fernanda Shirakawa + Natasha Felizi | Franco + Eva Mattes | Intimidad Romero | Janina Anderson + Remina Greenfield | Joana Moll | Johanne Wort | Johnny Forever + Gambletron | Julia Barco | Karla Tobar Abarca | Kim Kielhofner | Kristin Li | Lamathilde | Lea Castonguay | Maria Koblyakova | Monica Rekas | Mx. Dietrich Squinkifer | Sabrina Ratté | Sandra Araújo | Sarah Faraday | Cheryl Pagurek | Sophia Borowska | UN | WhiteFeather | Zeezy Powers | Zinnia Naqvi
PROGRAMMING PARTNERS AND VENUES
articule | La Centrale Galerie Powerhouse | Eastern Bloc | FemHack | Feminist Media Studio | GIV (Groupe Intervention Vidéo) | IGSF (The Institute for Gender, Sexuality and Feminist Studies) | OBORO | Studio 303 | TAG Concordia | Studio XX
3 DAYS OF ACTIVITIES
OPENING PARTY
3 NOV | 6PM @ 4001 Berri
In collaboration with Oboro and Groupe Intervention Vidéo (GIV), Studio XX invites everyone to 4001 Berri for the opening party of The HTMlles Festival. You won't want to miss this!  Come to the party and discover the entire program for the 12th edition of The HTMlles.
CONFERENCE
TERMS OF PRIVACY : Intimacies, Exposures and Exceptions
4 NOV | 10.30 AM > 5.30PM + 5 NOV | 9AM > 8PM @ IGSF
Amalia Ulman et Beth Coleman
EXPOSITIONS
CTRL + [SELF] : Intimity, extimacy and control in the age of the overexposure of self
Opening : 3 NOV | 6PM @ STUDIO XX
Exhibition : 3 > 27 NOV 2016
Curator : Laura Baigorri
Amalia Ulman, Daniela Müller, Diana Laurel Caramat, Fernanda Shirakawa + Natasha Felizi, Franco + Eva Mattes, Intimidad Romero, Lea Castonguay, Sarah Faraday et WhiteFeather.
SHADOW STORIES
Video Screening : 3 NOV | 6PM @ GIV
Anastasia Ferguson, Cheryl Pagurek, claRa Aparicio Yoldi, Johanne Wort, Julia Barco, Kim Kielhofner, Kristin Li, Lamathilde, Sabrina Ratté et Sandra Araújo
STUBBORN OBJECTS: Counter-Surveillance in a Post-Human Landscape
Opening / Round table : 4 NOV | 6PM > 8PM @ FEMINIST MEDIA STUDIO
Exhibition : 3 > 6 NOV 2016
Video screening : 3 > 30 NOV 2016
Janina Anderson + Remina Greenfield, Joana Moll, Karla Tobar Abarca, Maria Koblyakova
FUTURE MEMORIES
Opening : 5 NOV | 8PM @ ARTICULE
Exhibition : 4 NOV > 4 DEC 2016
Ambivalently Yours, Sophia Borowska, Zeezy Powers, Zinnia Naqvi
THEORY MONSTER: I POST, THEREFORE I AM
Performances: 2 NOV | 5PM & 5 NOV | 6PM @ LA CENTRALE
Exhibition : 21 OCT > 5 NOV 2016
Andrea Liu
PERFORMANCES
ROOT WORK (work that root)
3 NOV | 7.30PM @ OBORO
Monika Rekas
SPAM: Social Media Funhouse with Radio Transmission
3 NOV | 8.30PM @ OBORO
Johnny Forever + Gambletron
Cyber-selfing the "I"  and the I/Me Cyber-couplet + Visitor One Thru Eight
Performances: 2 NOV | 5PM & 5 NOV | 6PM @ LA CENTRALE
Andrea Liu
<SCANNER-PACK>
3 > 6 NOV @ FEMINIST MEDIA STUDIO
Karla Tobar Abarca
WORKSHOPS
INTIMATE NARRATIVES IN TWINE
3 NOV | 1PM > 4PM @ EASTERN BLOC (In collaboration with TAG Concordia)
Mx. Dietrich Squinkifer
A DECONSTRUCTION OF THE INTERNET
3 NOV | 1PM > 6PM @ FEMINIST MEDIA STUDIO
Joana Moll
ÉVÉNEMENT PERFORMATIF : CRYPTODANCE
4 NOV | 7.30PM > 10PM @ STUDIO 303
FemHack
FEMCRYPT
6 NOV | 10.30AM > 1.30PM @ STUDIO 303
FemHack
INFORMATIONS PRATIQUES
All the Festival activities are free, except the Opening Party, NOV 3 | 6PM @4001 Berri
BUY YOUR TICKETS !
> ENTRY 4001 BERRI : 5 $
> ENTRY COMBO : 10 $
1 access to all the activities in the building + 1 complimentary glass of wine + 1 sticker "My Terms of Privacy" + your photo printed in the "My Terms of Privacy" Photo Booth
CONTACT
Martine Frossard, communications coordinator
T. 514-845-7934 | C. 514-274-3836 | communications@studioxx.org
The HTMlles Festival 12 | CONDITIONS DE CONFIDENTIALITÉ / TERMS OF PRIVACY
3  > 6 NOV 2016
Feminist festival of media arts + digital culture
htmlles.net | twitter.com/LesHTMlles | facebook.com/htmllesfestival | instagram.com/studio_xx
#htmlles #conditionsdeconfidentialite #termsofprivacy
Studio XX, 4001 Berri #201, Montreal (QC) H2L 4H2 | (514) 845-7934 | studioxx.org
---