Future Memories
Participants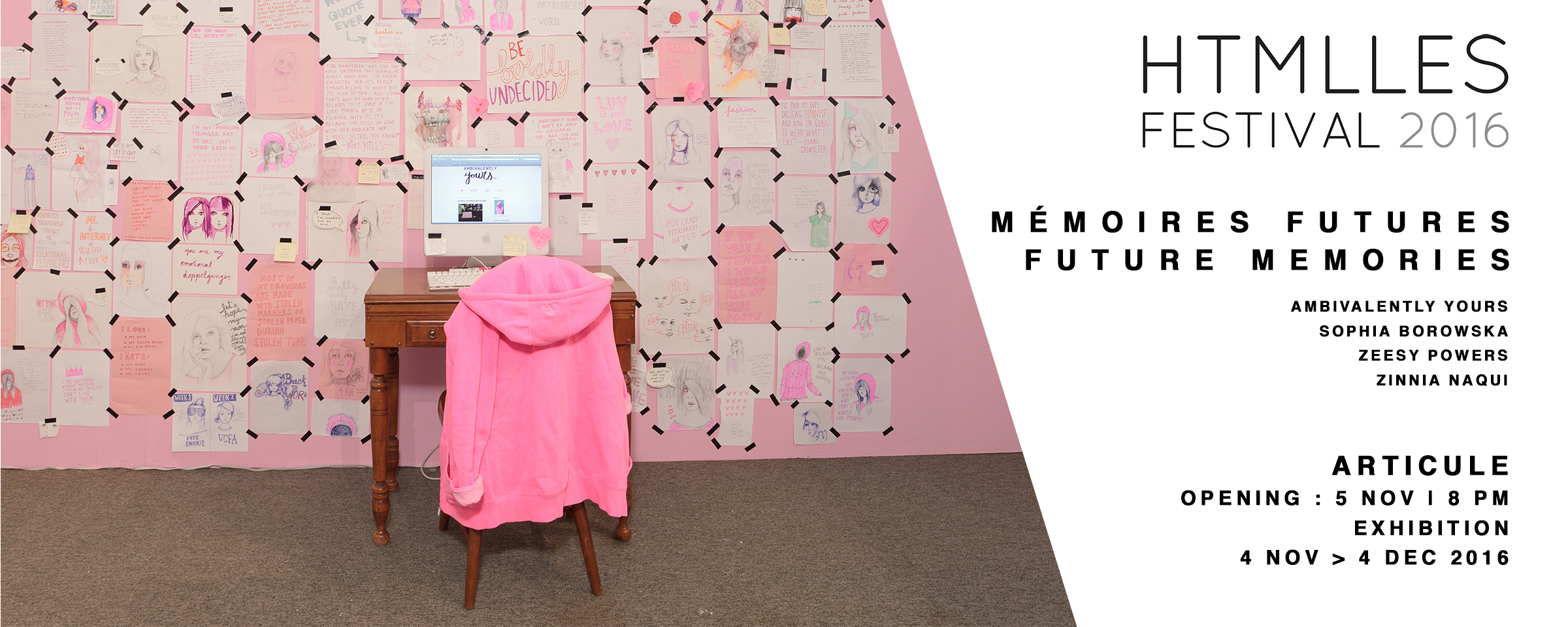 Opening: 5 NOV | 8 PM
Exhibition: 5 NOV > 4 DEC 2016
Free admission | Wheelchair accessible
Articule
The HTMlles Festival 2016
Closing party for the conference "Terms of Privacy: Intimacies, Exposures and Exceptions" : 5 NOV | 8PM
Each in their own way, the four artists presented as part of the exhibition Future Memories reflect on technology as a narrative space that is also a sharing space. By using different media, from video to textile, the artists challenge what separates the private from the public, and where the actual limit of that sharing is. All four present work about memory, or a past image, so that it survives in the future.
Zinnia Naqvi's installation Veena (2016) and video work Seaview (2014) reveal the complications of translating culture across time and seas. Naqvi shares her personal struggles between the ideals of Western and Eastern societies.
Presented for the first time offline, the drawings of Ambivalently Yours explore ambivalence through online sharing of pink illustrations, animations and sound sketches. Behind the anonymous persona, the artist uses her online platform to facilitate the exploration of feminist convictions through a conscious act of indecision. This way, Ambivalently Yours can better cultivate relationships of empathy within an online community.
In this current era of selfies, sharing our life with friends is common. Zeesy Powers turns this on its head in her installation The Averaging Mirror (2016), an "anti-selfie" mirror obscuring the viewer's digital reflection. We can't help but wonder what is happening to us outside of the lens: is our life real without it being captured?
Sophia Borowska's project Data Excess (2016) focusses on what is considered "digital excesses", like low-resolution screenshots or spam e-mails. Using the practice of weaving, Borowska questions the potential for control in virtual spaces.
Artists :
AMBIVALENTLY YOURS
SOPHIA BOROWSKA
ZEESY POWERS
ZINNIA NAQVI
---