Vernissage and exhibition Electronic arts for families
Participants
Partenaire·s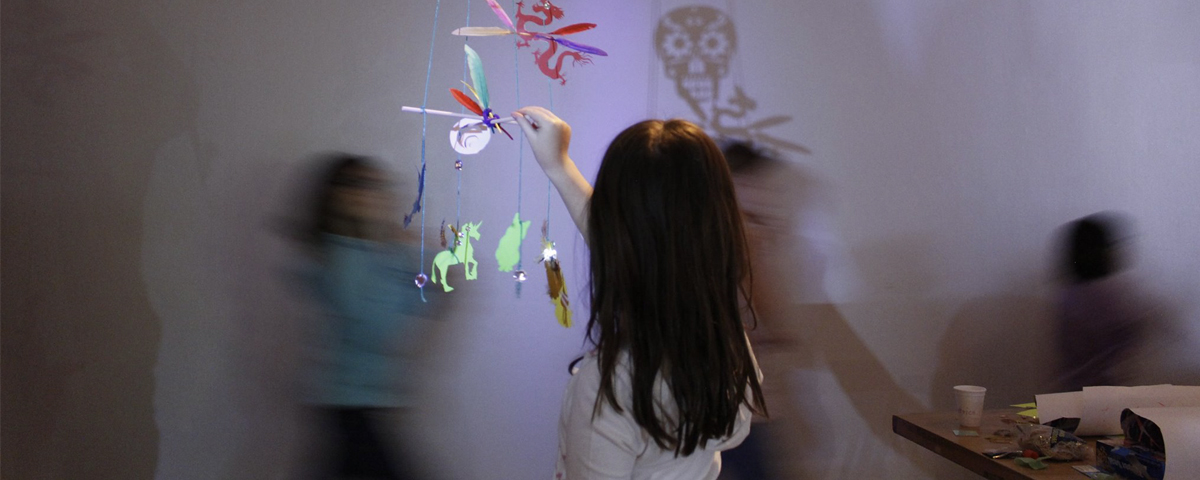 Sunday April 10, 2016 | From 1PM to 4PM
@ STUDIO XX – 4001, Berri (corner of Duluth) space 201
Entrance: 2$ / adultes* 
Bring a snack to share!
Studio XX invites you to discover all the projects produced in the workshops of Electronic art for families, activities that took place from November 2015 to March 2016 !
Guided by Montreal-based artists, the Electronic art for families initiative brings together children and their parents to have fun programming and designing with electronic technologies. Together families create electronic art!
These creative workshops offer children and adults a chance to discover the back end of media art. Together with the invited artist, they learn and share their knowledge based on a principles of equality in participation; everyone has skills and can be creative. These workshops are designed to bring families together in a playful environment where they can at once, learn from some of artists Studio XX supports, and explore their own creative process in the electronic arts milieu.  The activity was free, and participants were encourage to share a snack !
Join us on Sunday April 10th and discover all the artworks produced in each of the workshops :
VIDEO WITH JOSÉE BROUILLARD
Using various objects, participants explored the behavior of light as it diffuses, reflects and refracts. Participants creates an abstract video with light as the main actor.
SOLAR ENERGY WITH ÉMILIE MOUCHOUS
Participants explored the possibilities of electronic creations using small solar panels to make sounds that are activated by different light sources.
BIOART WITH SARAH CHOUKAH
Participants learned how to control the movement of a group of parameciums (single-cell organisms that live in wetlands and aquatic environments) using a microcontroller. The paramecium's "performance" has be transformed by a microscope and projected using a webcam.
3D PRINTING WITH SIMON GREFFARD AND RAPHAËL DEMERS from Fab Lab du PEC
Participants learned how to design the modular elements of a collaborative work using different tools: scans of drawings, modeling with 3D software (SketchUp, Tinkercad) or programming.
THE BERLINER MUSEUM VISIT WITH LORELLA ABENAVOLI
This guided tour teached children and adults how we mastered the propagation of acoustic waves in the early twentieth century, and how such knowledge changed our lives and the outcome of the war.
ELECTRONIC TEXTILES WITH VALÉRIE LAMONTAGNE
Creation of an electronic bracelet!
KINETIC ART WITH ALICE JARRY
Using various motors and materials, participants explores the use of light and sound in small kinetic sculptures.
SOUND WITH STÉPHANIE CASTONGUAY
Using unusual materials, participants has been introduced to electronics and sound by of an activity involving making paper speakers.
This project receives financial support from the Ministry of Culture and Communications and the City of Montreal as part of the Agreement on the cultural development of Montreal .
*Entrance of 2$ per adult , to help us to keep these activities free! 
---