Radio du Studio XX
---
A radio stream about XX Files and Studio XX activities. We will broadcast here on a punctual basis (see calendar below), the rest of the time you can listen to XX Files archives. Tune in above!
---
Past events:

POSSIBLE AWAKENINGS #1
JUNE 27, 2019 – 6 PM TO 10 PM
Performance evenings – FONDERIE DARLING
745 Ottawa Street, Montreal.
PERFORMANCES:
6PM: Miranda Jones – Slow Growth
In collaboration with Bára Hladíková, Anne White, Naomie Doirilus, Maxine Dannatt, and Jazmyn.
▶︎ Live during the event: https://www.ada-x.org/en/radio/
▶︎ Or listened around the Darling Foundry on 91.0 FM
7:30PM: The collective of the auto-workshops
The first part of the performance series 'Possible Awakenings' invites the public to create collectively in a lab of experimentation and radio retransmission. Through a performative shaping of the present moment, the exercises presented by artist Miranda Jones and the collective of the auto-workshops embrace spontaneous creation and improvisation as modes of interaction. The space of Place Publique, the audience, and the objects—randomly found or carefully researched—thus determine what the work becomes in a non-hierarchical manner.
More ➣ https://bit.ly/2ZAc668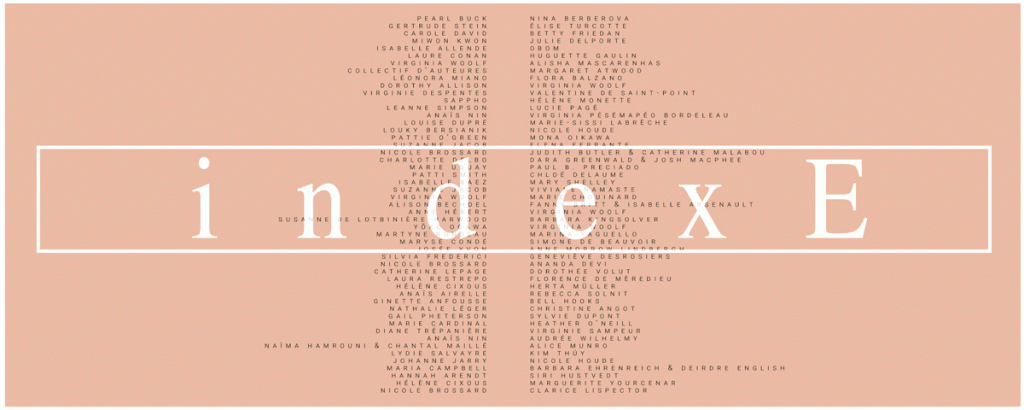 indexE, a project initiated by Sarah Chouinard Poirier
November 27th – December 14th, 2018
indexE  brings together a series of invisible radio performances, a Web piece and three workshops. Drawing from a body of 100 books written by women, trans, non-binary and queer people, indexE raises the issue of women's invisibility in literature by using live voice and the Web as a place to share and transmit. This unseen voice, performed in a closed room, offers a reading of texts in order to "unforget" books selected by 100 people who were invited by the artist. This reading will be broadcasted live in the XX gallery and via Studio XX' radio stream.
Performance times : Tuesday to Friday, 12 pm – 2 pm
---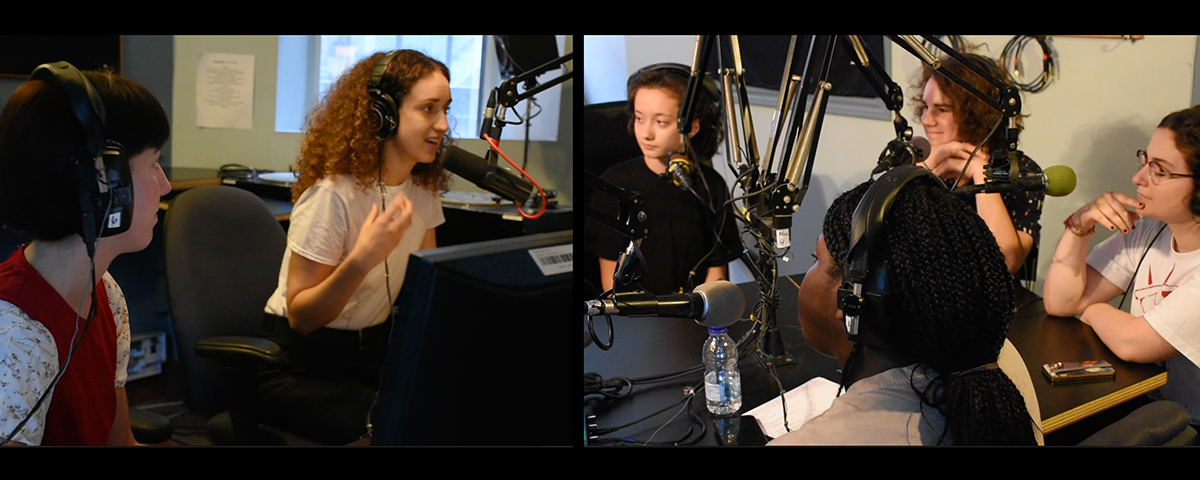 Live Radio Show of XX Files Radio Camp
Friday August 17, 3:30 pm – 4:30 pm at Studio XX
From August 13 to 17, 2018, Studio XX and the XX Files Radio present a one-week radio creation camp for 15- and 16-year-olds. Participants will discuss aspects of sound creation and DIY radio and learn how to create content with the help of the XX Files team as well as the Studio XX mediator. The result will be broadcasted during the XX Files show on CKUT radio as well as live on Studio XX's radio (tune in above). This initiative is the result of a collaboration with Montréal Relève as part of its program Classe Affaire, offered to high school students in their 3rd and 4th year.