indexE | Sarah Chouinard-Poirier & al.
Participants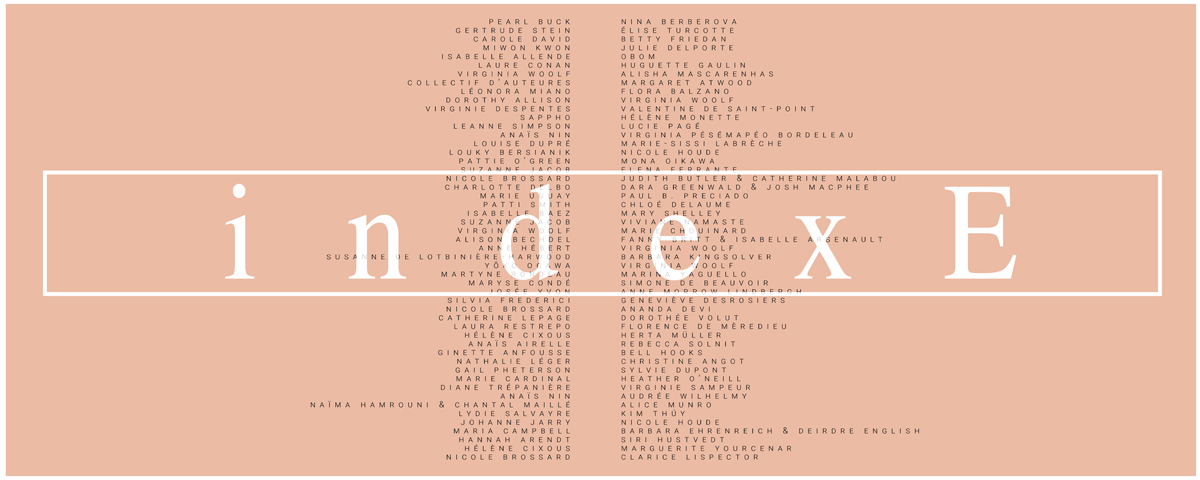 A project initiated by Sarah Chouinard-Poirier in collaboration with a hundred participants.
From November 27th to December 14th, 2018
Performance times : Tuesday to Friday, 12 pm – 2 pm
At Studio XX and online via
Studio XX radio stream
indexE brings together a series of invisible radio performances, a Web piece and two workshops. Drawing from a body of 100 books written by women, trans, non-binary and queer people, indexE raises the issue of women's invisibility in literature by using live voice and the Web as a means to share and transmit. This unseen voice, performed in a closed room, offers a reading of texts in order to "unforget" books selected by 100 people who were invited by the artist. This reading will be broadcasted live in the XX gallery and via Studio XX radio stream.
This invisible series of radio performances will be accompanied by two satellite workshops: an activity to create and publish Wikipedia pages for the authors participating in the indexE project as well as an introductory workshop to feminist DIY radio.
LIST OF COLLABORATORS
Hélène Matte, Lucie B Bernier, Julie Laurin, Eva Quintas, Chantal Savoie, Anaïs Barbeau-Lavalette, Gabrielle Lajoie-Bergeron, Suzanne Bourret, Marie-Ève Blais, Isabelle Montpetit, Karen Elaine Spencer, Emilie Monnet, Emily laliberté, Brigitte Haentjens, France Théoret, Marie Darsigny, Marilou Craft, Sandrine Bourget-Lapointe, Émilie Martz-Kuhn, Anne-Marie Voisard, Edith Brunette, Christine Brault, Sylvie Tourangeau, Alice Van Der Klei, Marie Dauverné, Mylène Bédard, Michelle Lacombe, Julie Lavigne, Catherine Mavrikakis, Karine Rosso, Karine Tanguay, Marie-Andrée Godin, Nicole Brossard, Sara Hébert, Claudia Bernal, Noémi McComber, Mélissa Correia, Anne-Christine Guy Ban-Éthat, Anne Martine Parent, Émilie Laliberté, Marie-Christiane Mathieu, Diane Trépanière, Catherine Chabot, Oriane A.-Van Coppenolle, Louise Branchu, Monique Régimbald-Zeiber, Moe Clark, Arkadi Lavoie Lachapelle, Freda Guttman, Catherine Lalonde Massecar, Diane Obomsawin, Pascale Bérubé, Anne-Marie Saint-Jean Aubre, Daphné B., Thérèse St-Gelais, Carole David, Adriana Disman, Alexa Conradi, Maude Veilleux, Hélène Bouffard, Stéphanie Dufresne, Yolande Perry, Éloïse Audet-Cloutier, Sissi de la Côte, Sylvie Cotton, Laurie Bédard, Sophie Bélair Clément, Ianna Book, Claude G. Olivier, Camille Toffoli, Roxanne Caron, Caroline Trottier-Gascon, Vanessa Bell, Virginie Fournier, Valérie L'Italien, Emma-Kate Guimond, Myriam Jacob-Allard, Sylvie Lachance, Jacqueline van de Geer, Christine Arseneault-Boucher, Catherine Cormier-Larose, Kama La Mackerel, Roxane Desjardins, Caroline Boileau, Marie-Laurence Rancourt, Marie-Andrée Poulin, Kamissa Ma Koita, Martine Delvaux, Nathalie Trépanier, Râna Campbell, Stéphane Martelly, Julie Brunet, Vicky Sabourin, Lucie Lepage, Élisabeth Bergeron, Julie Bruneau, Ève Saint-Louis, Danielle Courville, Sophie Jodoin
---