COMMONS LAB: resources – people – processes | Cornelia Sollfrank
Participants
Partenaire·s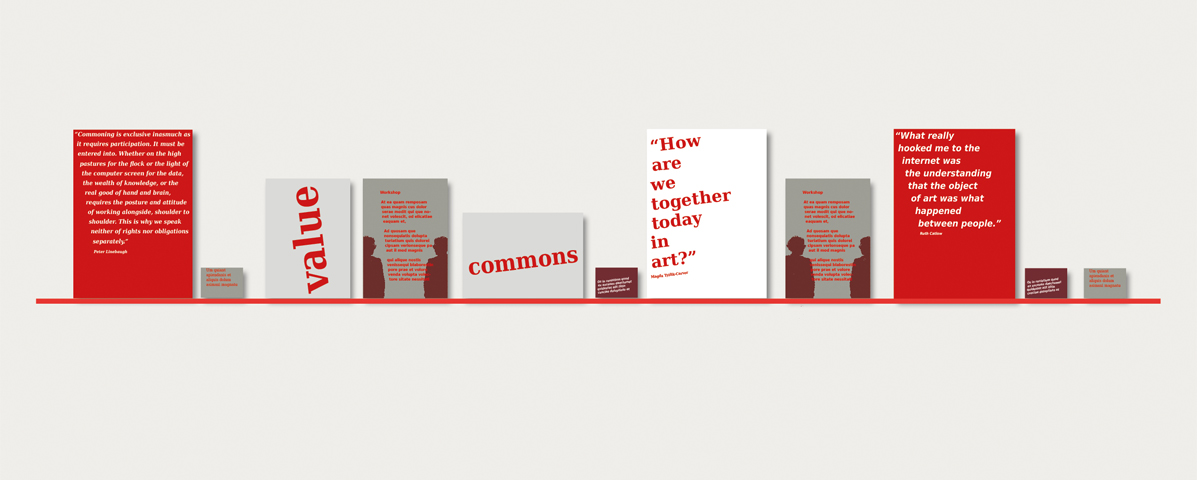 Exhibition from March 30th to April 22nd, 2017
Opening : Thursday March 30th, 2017 from 5PM to 7PM
In this exhibition/intervention, Cornelia Sollfrank (artist, cyberfeminist pioneer and hacker) will meet montreal-based artists from different ages and backgrounds to address issues of Commons/Feminism/Digital Media, a highly underdeveloped field which crisscrossed with questions of gender and technology.
In recent years the idea of the commons has gained increasing popularity. In the context of natural as well as cultural resources it has served as a unifying concept for a variety of new forms of ownership, collective governance and social production.
Basic features such as sharing of resources, horizontal self-organization and participatory rule-making might prefigure the cooperative society as an alternative to current regimes.
Frequently, the success and the innovative quality of digital commons are invoked as the mainspring for the growing interest in this concept. The loosely networked social movements of Free Software and Free Culture both relating to informational resources and thus non-rival goods inspire the discussion at large. While many aspects of these knowledge commons might be seen to go hand in hand with feminist principles, they have remained a largely white and male domain.
The exhibition COMMONS LAB takes a closer look at the overlapping areas of +feminism+digital+art+commons+. The gallery hosts an open usable structure that provides various formats for a collective research process. The framing questions for the exhibition will be, how new forms of organization and collaboration can bring forth a new kind of cultural works and social relations, how feminist principles can contribute to foster the transformative aspects of the commons and help to realize the vision of an inclusive, diverse and democratic form of organization, and what role art and an expanded understanding of aesthetics can play in the advancement of the commons as a political project.
Within the research process, the idea of the commons is used as a speculative entity that creates spaces for discussion and debate. The methods used for producing and sharing knowledge include lectures, dialogues, interviews, screenings and two workshops. Statements by international agents in the field align local and translocal initiatives. All activities aim at involving Montreal-based artists and experts.
The exhibition is part of Sollfrank's research on the production of a 'vocabulary of forms' for transformative, social encounters as a response to political pathologies.
PROGRAM
ART AS SPECULATIVE COMMONS
Lecture by Cornelia Sollfrank
Monday March 27, 2017 5PM
Concordia University, EV 11.705, 1515 Sainte-Catherine St. W.
TRIAL AND ERROR: SPECULATIVE CONCEPTS FOR AN OPEN & COLLABORATIVE SOCIETY 
Artist talk with Cornelia Sollfrank
Wednesday April 5th, 2017, 5PM
McGill University, IGSF seminar room | Location: 2nd floor, 3487 Peel St.
THE SURPLUS OF SHARING BOOKS: BUILDING A FEMINIST LIBRARY ONLINE 
Saturday April 1 2017, from 1PM to  5PM at Studio XX
$10 (Free for Studio XX members
Registration : ateliers[at]studioxx.org
With Cornelia Sollfrank
UNLOCK: GENDERED EXPERIENCES OF TECHNOLOGY
Tuesday, April 4th 2017, from 6PM to 9PM at Studio XX
$10 (free for Studio XX members, members of the Friends of Goethe Institut and the students of Goethe Institut)
Inscription : ateliers[at]studioxx.org
With Cornelia Sollfrank
Cornelia Sollfrank: COMMONS LAB  is supported by Conseil des arts de Montréal and the Goethe-Institut, and presented as part of "Germany@Canada 2017 – Partners from Immigration to Innovation".
---