.dpi 21 Launch + Call for submissions .dpi 22
Participants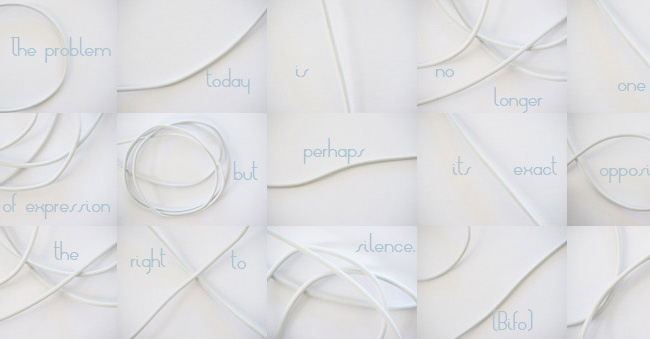 Freedom: In Action | Deanna Radford
.dpi 21 is the second issue in a three-part series focusing on the theme of freedom while exploring the practices of several contemporary media artists and authors as they participate in actions for freedom.
**Call for Submissions .dpi 22
Theme: Free Culture
Deadline for proposals: September 23, 2011
Freedom: In Action
The concept of freedom is multifarious; conversations surrounding it stretch back to the earliest of times as articulated by Ancient Greek and Roman philosophers. Freedom of expression is naturally an important tenet of this conversation, particularly when considering contemporary art and community. With this in mind, political actions reflect the desire for freedom of individuals and groups and serve as chief impetus for which contemporary media artists wish or need to act upon. As a unifying concept considering freedom in action, Indian author and activist Arundhati Roy suggests, "a feminist is a woman who negotiates herself into a position where she has choices." .dpi 21: Freedom: In Action reifies how the contributors, and their subjects, fulfill their own sense of freedom and freedom of expression in the context of a networked, media-saturated Western world.
Articles:
Miss Baltazar's Laboratory: Fostering Freedom Among Female Technologists | By Katharina Galla
Wendy Geller: Uses of Confinement | By Tom Kohut
Le spectateur en quête d'une liberté mentale | Interview with Sarah Roshem by Mariève Desjardins
Le contrôle du temps avec "It's time" : entre démocratie et liberté | Interview with Olga Kisseleva by Mariève Desjardins
Artworks:
Circadian | By i8u
Border / No border | By Olga Kisseleva
dpi.studioxx.org
Call for Submissions .dpi 22 
Theme: Free Culture
Deadline for proposals: September 23, 2011
Deadline for final submissions: October 17, 2011
Date of publication: November 2011
In parallel with campaigns lead by top cultural industry players to fight against pirating, a vast artist movement has been forming on the web in recent years to defend the idea of free culture. These artists replace copyright with copyleft. Their praise for copyleft rests on the idea that copyright has constrained the circulation of cultural works strictly for economic reasons. Free culture advocates defend the belief that culture should instead be distributed by the community and to the community at large. Free culture represents the notion of a sharable culture. How does the idea of free culture get organised, what are its manifestations, its impacts?
We welcome submissions in textual (article, column, review, interview, case study, etc.) and artistic multimedia (podcast, video, audio, locative media, animation, design, etc.) form that expand upon the theme of free culture. We encourage contributions featuring media content; authors/artists are responsible for clearing all copyright attached to this content.
Proposals should include an abstract (300 words) and a biography (100 words). Submissions are welcome in English or French. Compensation: $100 – $175 (depending on number of accepted submissions) and a vast worldwide readership of your work. Please send submissions to: revuedpi at gmail.com
---