Journée de la Culture 2005
Participants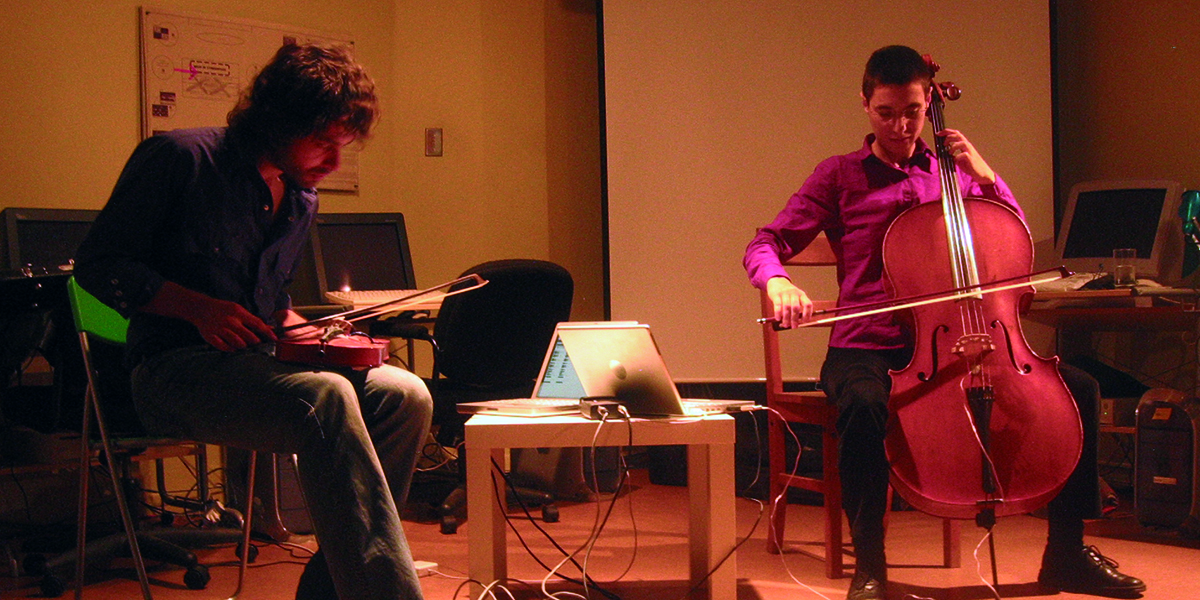 STUDIO XX PRESENT
A DAY OF EXCHANGE, NEW MEDIA AND CULTURE
It's fall in Montréal, take a bite!
Join us for a festive fall day when we will present the latest interactive works produced through the Studio. Experience the multimedia installation of Stéphanie Lagueux. Look and listen to the computer generated and assisted works from musicians I8U, and cellist, Vera Ronkos. The Studio XX team members will be in the house to keep it warm and tell you about this year's programming, production activities, our wide gamut of workshops, our open source lab and our online revue, .dpi.
Schedule
1:00 – portes ouvertes
presentation
Le Corps Social:
multimedia installation
by Stéphanie Lagueux, a Studio XX coproduction
The Social Body is a video and web installation in which surfers on the web, through their responses, affect a body modelled in fat. Demonstrating the powerful effect of ideas on matter by a process of "art-statistics", this sensitizing device evokes the massive influence of the social body on each individual one.
1:45
lancement de la programmation et des ateliers de l'année au STUDIO XX: jake moore et Marie-Hellène Lemay
2:00: Performance des artistes des ateliers Max/MSP
Introduction par l'instructeur Patrice Coulombe
Vera Ronkos: on the cello/max patch
with Patrice Coulombe on violin
Vera will play the cello that will be effected different ways by a patch that resulted from the Studio XX course Max/MSP.
after this,
the first live processed audio-visual performance of I8U
"BURDEN"
Burden is an ongoing project inspired by the metamorphosis of the soul from Nietzsche's Thus Spoke Zarathustra. The concept is that when art becomes subjectively stale, the artist feels burden. Once this Burden becomes too heavy, the paradigm shifts and the artist can create anew. Through MAX/msp and jitter, I8U explores this concept with a live performance using a patch that acts as a new instrument to show this metamorphosis.
and throughout the day we will be streaming live:
Refresh: The first International Conference on Media Art Histories
from the Banff New media Institute
http://www.banffcentre.ca/bnmi/events/refresh/
The presentations will be in both French and English.
All are welcome.
Please pass on this invitation! Hope to see you there!
STUDIO XX
338 Terrasse Saint-Denis, Montréal (Québec) H2X 1E8
Just south of Sherbrooke off St. Denis
Métro Sherbrooke, ou autobus 24 (Sherbrooke) ou 125 (Ontario).
(514) 845-7934 / http://www.studioxx.org
Information: info@studioxx.org
_Stéphanie Lagueux
Stéphanie Lagueux is a new media and video installation artist. In the last few years she has presented her work in 2 solo and 9 group exhibitions, Her work, laboratoire sensible – le corps social invites the public to participate at http://www.cliquezgenereusement.com. Her work has been involved with visual and media arts centers such as the 3e impérial, Axe NÉO-7, DAÏMON as well as Studio XX – where she currently serves as Webmaster. Since 1998, her training in arts, design, and education has brought her to teaching at the college level and in various arts organizations.
_Patrice Coulombe
Patrice Coulombe is a composer who frequently uses technology in his work. He has developed a varied body of works, sound installations and vidéos as well as computer-assisted performances.
_I8U
I8U's audio art can be qualified as "sound-sculpture." It reveals powerful, opaque and complex sound environments where analog and digital meet. Her Web art can be said to follow a parallel path, incorporating both musical and visual elements. Her work continues to evolve as technologies enable her to create in new environments.
_Vera Ronkos
Trained in the classical music world, Vera plays and improvises on the cello. She has recorded contemporary pieces for cello on CDs. But her analytical mind led her to this adventure with Max/MSP…
---