Matières à relations – Related Matters
Participants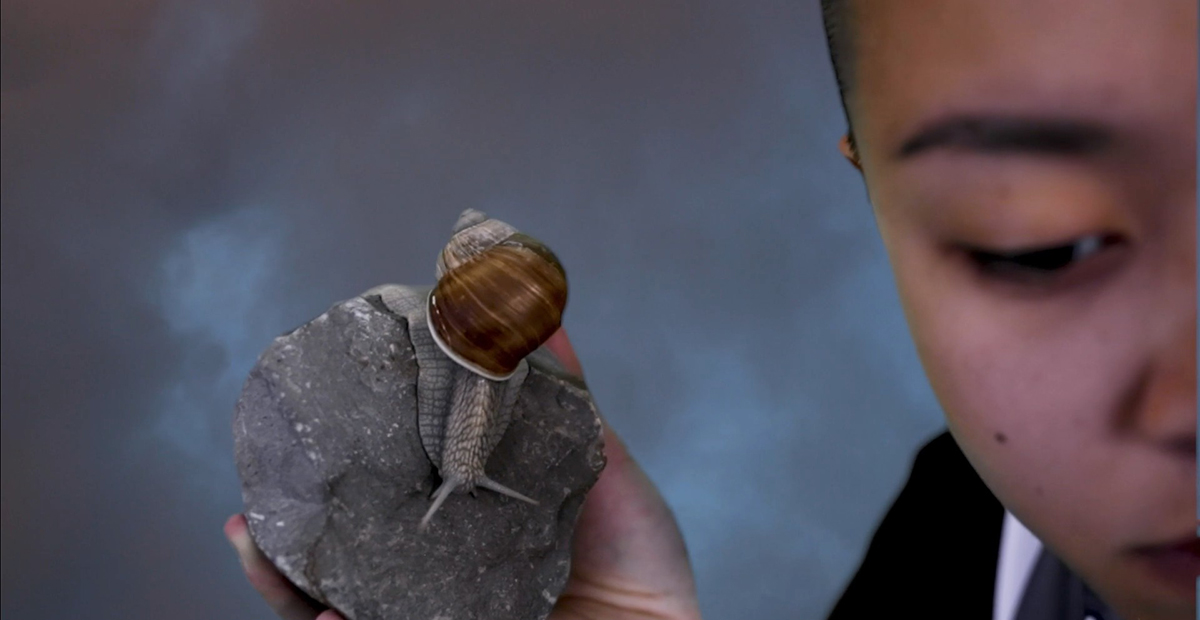 From September 16th to October 16th, 2021
Tuesday to Saturday, 12pm – 5pm, Thursdays until 7pm
At Ada X
Please reserve a spot via this link (one reservation per bubble / group of people). Masks are mandatory. Bring your own headphones.
Presented as part of the Slow Tech edition of the HTMlles Festival, Related Matters proposes to suspend the present moment in order to contemplate the temporalities specific to both the living world and mineral elements— and how they're impacted by human actions. Following the life cycles of raw materials becoming technological devices, the exhibition draws on the transformation of ecosystems at differing scales. In a context of a climate emergency, Related Matters invites us to slow down to rethink the links between nature and technology.
———————————————————————————————————————————————————————————————
5 4 3 2 1, Josée Brouillard
In 1947, at the University of Chicago, a group of Atomic Scientists created the DoomsdayClock, a countdown that illustrated the looming danger that came from the threat of nuclear war. Josée Brouillard revisits this conceptual clock to reflect the prevailing anxieties of today, in the form of an interactive electronic installation. Counting down from 9 to 1, this installation cannot quite make it to zero on its own. With the question "would you dare to trigger the end of the world?" the visitor is compelled to step on a pedal and the countdown finally reaches 0, hesitates, and then begins again. In this short moment of suspension, nothing has happened. What's next? While reminding us that these metaphorical end-of-the-world buttons are pushed every day by industry leaders and corporations, 5 4 3 2 1 invites us to pause and consider our agency in producing alternative visions for today.
Biidaaban: First Light, Lisa Jackson
Rooted in the realm of Indigenous futurism, Biidaaban: First Light is an interactive VR time-jump into a highly realistic—and radically different—Toronto of tomorrow. The city's square is flooded. Its infrastructure has merged with the local fauna; mature trees grow through cracks in the sidewalks and vines cover south-facing walls. People commute via canoe and grow vegetables on skyscraper roofs. Urban life is thriving. Moving through this city, we can hear the languages of the place known as Tkaronto and engage with the written text of the Wendat, Kanien'kehá:ka (Mohawk) and Anishinaabe (Ojibway). As users explore this altered city now reclaimed by nature, they must think about their place in history and ultimately their role in the future.
This work was produced by the National Film Board of Canada.
How to Carry a River, Charlotte Biron + Camille Lamy
Capturing sounds, preserving them, listening to them again and discovering their magic. Both a sound installation and an instruction manual, How to Carry a River is an invitation to linger over the sounds of the natural world. After listening to the 15-minute audio loop, each visitor is able to take with them the manual provided and, in turn, to capture small parts of disappearing nature. In a time of eco-anxiety, How to Carry a River demystifies sound recording technologies in a gentle and sensitive way, reminding us of their potential for comfort and greater agency.
Listen to the sound file via this link
Print the manual via this link | How-to fold a zine
Faraday Wear (5G) + The Waves, Kayla Anderson
Faraday Wear (5G) and The Waves form a video installation focused on Personal Protective Equipment (PPE) made from materials that block electromagnetic frequencies (EMF). Confronting techno-hazard anxieties through dystopian props, Faraday Wear (5G) is a series of counter-technology garments and inhabitable structures. These objects consider how we choose to protect ourselves from invisible dangers. The project makes visible these concerns and the kinds of bodily anxiety that follow. In the corresponding short film, The Waves, the characters don Faraday Wear garments to shield their bodies from EMF. Rather than ward off all sensation, they instead cultivate sensitivity to the world as a practice; especially, sensitivity to those things otherwise difficult to see. As PPE becomes a household phrase, we might ask: what kind of PPE would we actually need to protect ourselves from the many made-to-seem-invisible harms, such as environmental injustice, structural racism, and inequality?
Khipu, Constanza Piña
Khipu functions as an extension of the human body, forging a link between the natural world and digital technology. Antennas strung with alpaca wool and copper connect to an electromagnetic field amplifier, which collects the surrounding frequencies. The project integrates new sensory technology with traditional khipus, an Incan innovation characterized by Piña as a prehispanic, ecological computer that, in simplest terms, consists of a series of knotted threads attached to a central, long thread. Numerically, the system of khipus is reminiscent of code, while for the artist the interpretation of that code is neither essential nor necessarily possible in a Western-dominated society. Khipu demonstrates how the interconnectedness of body and land formed the basis for ancient technology, and how adapting to this conscious approach can foster mindful technological innovation.
The production of this work was supported by Ada X as part of its Residency Program.
Dismantling Your Électroniques, Lou Fozin
Dismantling Your Électroniques is an interactive Augmented Reality (AR) installation that invites the public to explore the minerals contained inside their electronics. The installation exists as both digital space and physical objects in the exhibition. Accessible by scanning printed image AR markers with a smartphone, the digital elements are made up of soundscapes, oral storytelling, images, text, 3D models, and videos. The installation as a whole invites the viewer to engage with the complex geopolitical and social implications of the resource extraction required to sustain our technological lives. A rock and a smartphone may seem worlds apart, but Dismantling Your Électroniques demonstrates the direct material reliance modern technology has on natural resources.
Green Gazing, Ashley Bowa + Lesley Marshall
First presented in the form of a meditative movement session and a discussion as part of the 2020 edition of the HTMlles Festival, Green Gazing continues to encourage community reflection on our relationship to living things and the systemic roots of environmental degradation through an interactive installation. In a room filled with plants, the data generated by the vegetation and the gestures of the visitors create a live audio and video work. The artists invite us to contemplate the following questions: How can we revisit our relationship with the non-human world? What are the systemic biases reproduced by environmental movements? How can we move beyond the notion of individual well-being to imagine communities of resistance? A complementary Field Guide is available on site for anyone to explore concepts in their natural environment whatever and wherever that may be.
Imaginary Explosions, Caitlin Berrigan
Imaginary Explosions forms a speculative worldbuilding cosmology that centers upon geological animacies and intimacies with the in/human. In this video series, contemporary science blurs with art and fiction as transfeminist scientists interpret volcanic activities across place and time, cooperating with the desires of the mineral earth to simultaneously erupt all volcanoes. The work was developed through a practice of collaboration and improvisational performance with scientists, artists, and scholars whose real-life work pushes the limits of science and culture, to depict fictionalized versions of themselves in episodic videos. Grounded in scientific research and visits to active volcanoes, the fiction explores possible presents and futures to think beyond the framework of the human. Imaginary Explosions focuses on the soldarities, and sensory modalities for communication with geological subjects. In doing so, it invites us to consider how deep time and interspecies communication might assist us in radical planetary transformation.
Credits
Imaginary Explosions, Episode 1, Eyjafjallajökull, 2018
Featuring: Yun Ingrid Lee, Rae Parnell, Caitlin Berrigan, helix pomatia snails, and Eyjafjallajökull. Original sound composition: Yun Ingrid Lee. Voicover: Nina Støttrup Larsen. Shot on location at Gunnuhver, Eyjafjallajökull, and across Iceland; Schloss Solitude, Stuttgart, Germany. Additional animation: Harry Sanderson and Lily Fang. News footage: Christopher Huppertz, Roman Pech, Fedrik Holm, teleSur TV, TageshauTV, ina.fr, BBC, CNN, Sky News.
Imaginary Explosions, Episode 2, Chaitén, 2019
Featuring: Yun Ingrid Lee, Nicole L'Huillier, Daniela Catrileo, Karen Holmberg. Original compositions: Yun Ingrid Lee & Andrie van der Kuit (2019), Nampülwangulenfe / Mapunauta by Nicole L'Huillier & Daniela Catrileo (2018). Voiceover: Edwina Portocarrero. Shot on location at Chaitén, Chile; Berlin, Germany; New York City, USA. Sound mix: Sindhu Thirumalaisamy. Colorist: Marika Litz. Additional Imagery & Footage: Andres Burbano (Drone), Alfredo Barroso (Underwater), United Kingdom Virtual Microscope for Earth Sciences and ALMA (ESO/NAOJ/NRAO).
This project was supported, in part, by the Centre for Geohumanities at Royal Holloway University, Akademie Schloss Solitude, Henry Art Gallery, Foundation for Contemporary Arts Emergency Grant, Academy of Fine Arts Vienna, the Wassaic Project and Art in General.
---