Tuesday and Wednesday at the HTMlles 10 festival!
Participants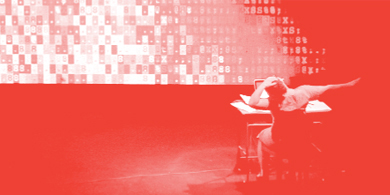 PROJECTION : Perils
Nov. 13, 19h @ 4001 Berri – (GIV)
SPEEDSHOW
Nov. 14, 18h-00h @ Zone Internet, 680, Jean-Talon O.
PERFORMANCE – Open process
Nov. 14, 20h @ Eastern Bloc, 7240, Clark
PROJECTION
Perils
GROUPE INTERVENTION VIDÉO (GIV)
November 13, 19h
4001, Berri (metro Mont-Royal + Sherbrooke)
free admission
Terril Calder (Métis) – The Gift, 2 min.
Elza Fauconnet (FR) – Le Terrier (2), 5 min.
Isabelle Hayeur (CA) – Castaway, 14 min.
Mareike Bernien et Kerstin Schroedinger (UK) – Red, She Said, 10 min.
Mél Hogan (CA) – People this 2012 Shit is Hype, 5 min.
Hope Peterson (CA) – Threshold Economics, 5 min.
Victoria Stanton, Christian Richer (CA) – Arrest, 2 min.
Marik Boudreau (CA) – Récréation, 2 min.
Frédérick A. Belzile (CA) – Something's been answered, 8 min.
—
SPEEDSHOW
co-hosted by EASTERN BLOC
November 14, 18h-00h
Zone Internet, 680, Jean-Talon O. (metro Acadie + Parc)
free admission
Hannah Leja Epstein (CA), Violeta Vojvodic-Balaz (RS), Susanne Berkenheger (DE), lnd4 (DK/DE), Juliet Davis (US), Prema Murthy (US), Département des Nuisances Publiques (D.N.P.) (CA), subRosa (US)
The HTMlles 10 and Eastern Bloc present the first feminist Speedshow. As a format for the presentation of online works, a Speedshow is particularly well adapted to this discipline. The selected works, through a curatorial process, will be exhibited publicly in an Internet café in the Parc Extension neighbourhood of Montreal, for a determined period of time.
—
PERFORMANCE
Open process
co-hosted by PIXEL LIBRE
November 14, 20h
Eastern Bloc, 7240, Clark (metro de Castelnau)
Regular Price $10, Reduced Price $5
The theme of "Open Process" unites four artists, local and international, who will share their creative processes, which is both risky and full of possibilities – "by sharing our creative process with others, we demystify the technology and create a larger community to help each other, and to innovate.
---