The HTMlles 10 | RISKY BUSINESS – Conclusion
Participants
Partenaire·s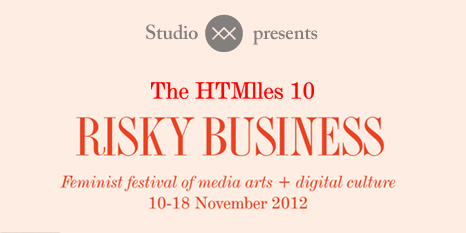 The HTMlles 10 festival, presented by Studio XX, wrapped up its tenth edition on Sunday, November 18, 2012 with nearly 2,000 people attending the week long event. The festival programmed 50 local, national and international artists, offering innovative projects under the theme RISKY BUSINESS. The HTMlles also co-presented more than 30 artists invited by partners of the organization, totaling 24 events in 18 locations.
"New audiences, new collaborations: The HTMlles team strengthened the solidarity among artistic communities ", commented Deborah VanSlet, interim director of Studio XX.
The sold-out performance evening B.F.F. at La Baraque featured Lori Weidenhammer, Devon McKellar, Adina Edwards + Julie Matson and Johnston Newfield + Johnny Forever. The closing party 80085 at Royal Phoenix brought together DJ/VJ/performing artists Dirtyboots + Anitabreak, Un collective, Rickie Lea Owens, DJ Tamika, Patti Schmidt, Imminent Domain and Venus Collective attracting hundreds of people. The Howl! arts collective put together an amazing pre-opening event at the Sala Rossa with d'bi.young, Kalmunity Vibe Collective and Ryan Kai Cheng Thom.
The second edition of Emergence:opinions, an evening of video shorts co-hosted with RIDM at the Cinémathèque québécoise, featured a curated screening of independent screen-based artworks. The Prix du public was awarded to Marie Dauverné as "most promising emerging artist" with her piece Les crevasses médiatiques foisonnent de miniatures hérétiques. Video art lovers also enjoyed Perils, an aptly themed screening of video shorts at Groupe Intervention Vidéo (GIV) and Sarah L'Hérault Risque project was featured in the front window of CQAM.
There were performances of all kinds at the festival – a co-presentation with the Pixel Libre festival featured Nancy Mauro-Flude, Micha Cárdenas, Jim Bell, Anne Goldenberg and was hosted by Eastern Bloc. OBORO invited Alexis O'Hara to present La Couvée, an aural performative installation. Audio artists Gambletron, Jen Reimer and collaborators, and CERRUCHA's video intervention appropriated public space for a night of outdoor art. A speedshow at an internet cafe in Park X co-hosted by Eastern Bloc featured online work by Hannah Leja Epstein, Violeta Vojvodic-Balaz, lnd4, Susanne Berkenheger, Juliet Davis, Prema Murthy, NDP and subRosa offering the public a new way to approach media artworks.
As part of the two-week exhibition at Studio XX (Nov. 8 – 23), the works of artists Susanne Berkenheger, Zach Blas, Channel Two, Lindsay MacDonald + Sheelagh Carpendale, Nathalie Demers, lnd4, Violeta Vojvodic, Elisha Lim, Keg de Souza, Pamela Lamb and Sarah L'Hérault were seen by more than 300 people. The double issue launch of .dpi 25-26 presenting a limited print edition supplement, crowned the opening night party that featured events in the entire building at 4001 Berri. People participated in a 360 ​​° photo shoot with Time Code Lab + Orangium and attended the opening performance, The Ultimate Company : Risque, dominations et profits by Valérie Cordy from Belgium. The HTMlles 10 co-hosted Arkadi Lavoie Lachappelle and Koby Rogers Hall + Frédéric Biron Carmel, a socially engaged exhibition at Skol, Nikki Forrest's video installation à La Centrale as well as Solomiya Moroz and Ali El-Darsa's audio-video installation at the Darling Foundry.
Discussions co-presented with PolitiQ, a queer solidarity collective, generated awareness about different aspects of risk. Whose business is risk?, a day-long conference organized by IGSF (Institute for Gender, Sexuality and Feminist Studies) and Media@McGill further delved into the Risk concept. IGSF and M@M also organized and participated in a meet-and-greet with artists exhibiting in the gallery of Studio XX. Additionally, workshops such as the one given by Micha Cárdenas, co-hosted with Life After Life, on violence across communities, or the one on risky art practices and legal aspects, allowed a hands-on experience of the concept of Risk.
Documentation of The HTMlles 10 festival is available on the Studio XX Facebook page and the festival blog will allow you to continue enjoying your festival experience!
Studio XX would like to express its gratitude to all of the artists, staff, committees, interns, volunteers, partners and members that made The HTMlles 10 possible.
The HTMlles 10 festival is an international platform distinguished by its cutting-edge feminist approach in promoting, disseminating and ensuring that contemporary digital culture is accessible and socially engaging.
Join us in 2014 for the next edition of The HTMlles festival !
Information and interview requests :
Geneviève Godin
Communications Coordinator
communications at htmlles.net | + 1 514 845 0289
The HTMlles 10 | RISKY BUSINESS
Website: www.htmlles.net | Blog: htmlles10.tumblr.com
Look for The HTMlles 10 on Facebook + Twitter: twitter.com/LesHTMlles
Studio XX – 4001 Berri, space 201, Montréal, QC, H2L 4H2
---