LES COURANTS : Nuances – workshops – Salima Punjani
Participants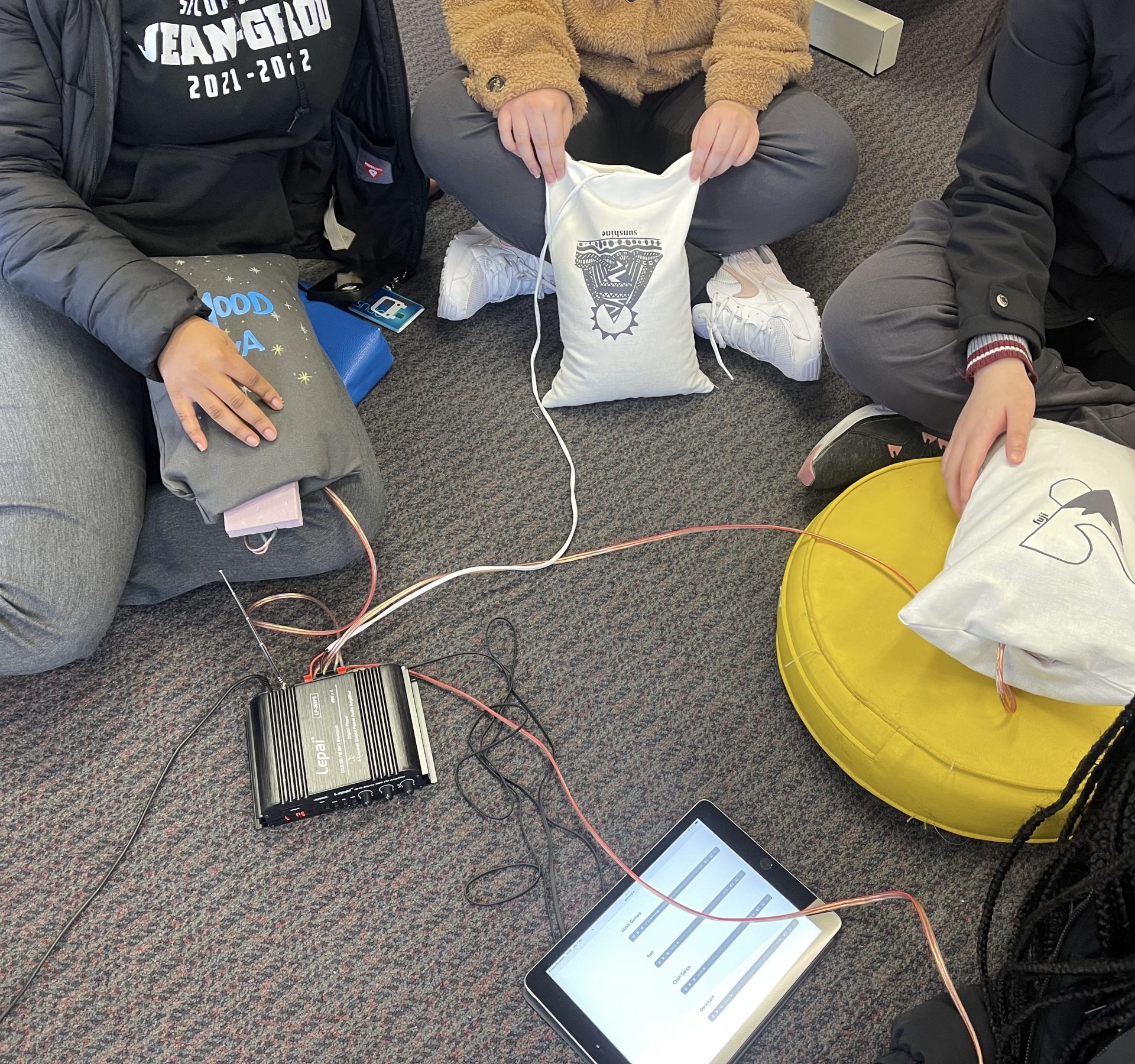 As part of its Slow Tech program, Ada X presents Les courants, a series of activities in collaboration with the Maison de la Culture and the Rivière-des-Prairies library. Running from September 2019 to May 2023, this initiative offered an introduction to the world of digital arts for young people and families.
VOLET 5 :
Nuances
Salima Punjani and students from Jean-Grou School
In the context of the educational program Les courants, 33 students participated between March and April 2022 in digital art workshops with Salima Punjani in the Rivière-des-Prairies library. With the help of Echofab's mobile fablab, the participants made a multisensory listening cushion with which they presented a montage of sound extracts of their choice. The cushion was customized with vinyl designs, different smells such as mint, rose, lavender and chai-based spices, natural as well as recycled fillings like cherry pits and buckwheat hulls. The youth were asked to find sounds based on belonging and well-being. From rain and nature sounds to baketballs bouncing to the sound of eating ramen the students listened and shared their interpretations of well-being together during a collective listening session during the last workshop.
They created their project inspired by the artist's works experienced in the exhibition Nuances, presented at the Maison Pierre Chartrand from January 29 to March 27, 2022.
« In an ever-stretching period of profound isolation, artist Salima Punjani in her exhibition Nuances calls for a disruption of the contemporary social conventions of sterility, singularity, and boundaries between subject and object. The works beckon to be touched, held, caressed, heard, smelled — wholly consumed by the richness of sensorium carefully crafted in these works. In this new exhibition, Punjani brings into conversation two recent works, Progression (2018) and Will you Pass the Salt? (2021), that both call into question how the feeling of belonging is engendered. In their multisensorial examinations of environments ingrained with intra- and interpersonal intimacies, they also practice new forms of belonging. » — Prakash Krishnan
••••••••••••••••••••••••••••••••••••••••••••••••••••••••••••
This program, carried out in collaboration with the Maison de la Culture and the Rivière-des-Prairies library, receives financial support from the Ministère de la Culture et des Communications and the City of Montréal as part of the Agreement on the Cultural Development of Montréal.

---